Category: skincare
04/23/10 01:03 - 52ºF - ID#51441
Mario Badescu-my personal facial routine
Of course, I am a philosophy girl and swear by everything they make, but I have been trying a few new products that I really like and wanted to offer suggestions.... Mario Badescu has been in the skin care business making amazing and affordable products for over 40 years. I have always read about his products and so many celebrities list his drying lotion as one of their favorite products ever... so I thought, hey, I am always looking for the magic cure all- why not try it?
So, I went to a local apothecary and purchased a bottle of the strange looking 'drying lotion' for $17. I was surprised that his prices were actually reasonable- I also purchased the orange face wash for $12 and Lip wax for $5.
I was so excited to get home and do my personal version of a spa facial, using my new products. I washed my face with my philosophy purity face wash, then used the mario badescu orange face wash with my clarisonic. I then steamed my face with a facial sauna for 15 minutes with a clarifying mask (I used Caudalie purifying face mask) (you can steam your face placing your head over a sink and towel over your head). Steaming, I have found, is amazing for your skin and truly makes a world of a difference in terms of how well your product works- helps open the pores, soften the gunk in the pores to get it out, and helps your products absorb and work better.
I then took the mask off with a warm wet wash cloth and put on my anti aging serum (when hope is not enough), eye cream (I use Olay total effects eye cream), then hope in a jar as my moisturizer. After all of the steps are in place, I am ready to apply my new drying lotion, which I am dying to use!
The lotion comes in a little glass bottle with 2 tones of product in it. It looks like this: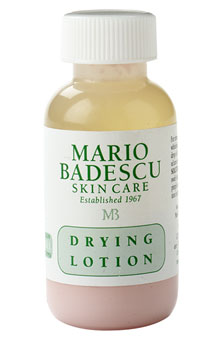 You do not want to shake it, because the idea is that you dip a q tip into the 2 products together, dab it on your already erupted pimple, and let the magic begin.
I could instantly feel it tingle, but in a good 'drying my pimple up and good for my skin' kind of way. Just dab it on and let it dry, and you sleep with it on overnight- and wash it off in the morning.
I was glad to see that my huge pimple on my forehead had minimized greatly, although it wasn't completely gone. It was though, after a second evening.
The drying lotion is great for already erupted pimples, but it is not to prevent pimples from forming. I am going to purchase a few more of his products to try- he has some great masks and creams that look wonderful. I will definitely give a full report on them as I try them!


Permalink: Mario_Badescu_my_personal_facial_routine.html
Words: 493
Location: Buffalo, NY
<-- Earlier Entries
Author Info
Category Cloud
User must have at least 3 blogs in one category for categories list to show.
More Entries