01/08/04 09:48 - ID#32956
Happy Birthday Eric!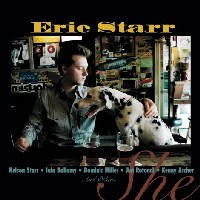 Eric is my favorite brother-in-law. Okay, so he's my only brother-in-law. Anyway, I always have a good time when I get together with my sister and Eric.
This is the cover of his new cd, and as his journal says, he's playing at Lincoln Center on Feb 13. (Hint: good excuse for a Valentine's weekend escape).
Have a Happy Birthday Ic, and have a drink for me (I know you will).


Permalink: Happy_Birthday_Eric_.html
Words: 72
Location: Buffalo, NY
01/06/04 09:54 - ID#32955
Happy Birthday Kristen!
Kristen is one of my best friends. She has a pure heart and is extremely fun-loving. I feel lucky to have her as a friend. Kristen, if you're reading this, have a great birthday!



Permalink: Happy_Birthday_Kristen_.html
Words: 34
Location: Buffalo, NY
<-- Earlier Entries
Author Info
Date Cloud
Category Cloud
User must have at least 3 blogs in one category for categories list to show.
More Entries
My Fav Posts
This user has zero favorite blogs selected ;(