05/18/07 12:29 - 51ºF - ID#39332
hey e-strippers!
Not sure if "e-stripper" is the appropriate way to refer to people in this community, but I wanted to introduce myself to the community and it just rolled off my tongue. :)
At any rate, I'm a grad student living in the Elmwood area and I came across this site a while ago. Although I'm currently working on my PhD in Spanish Literature, I have a degree in Computer Science and have always been a geek at heart. I originally came across this site last year and was impressed with the way that Paul pulled things together, technically speaking, for the site, and also how it seemed to be an active place on the Internet for a community that has a tie to a particular geographic region.
I also just bought a house in the Elmwood area, and it's a real fixer-upper (as are most places formerly owned by absentee landlords, from what I've seen). Yesterday we got a dumpster delivered and I had some friends over to help clear out a few rooms. We'll be busy for a while with drywall, as you might be able to imagine from the video below:
This summer since I have a bit of a reprieve from academic work I'm also thinking about helping Buffalo to be come a more Internet-friendly community. For this reason I started a group called Buffalo Wireless (http://www.buffalowireless.org). I'll write more about this later, for now it's back to trying to fill the dumpster occupying my front yard (I told the neighbors it was a new swimming pool):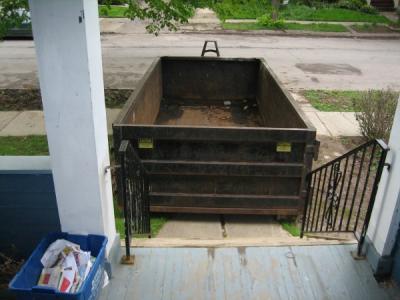 Permalink: hey_e_strippers_.html
Words: 267
Location: Buffalo, NY
<-- Earlier Entries
Author Info
Date Cloud
Category Cloud
User must have at least 3 blogs in one category for categories list to show.
More Entries
My Fav Posts
This user has zero favorite blogs selected ;(