Category: near misses
01/15/07 11:34 - ID#37709
New year, new laptop?
2006 held a couple of great opportunities for new hardware. It wasn't time to upgrade when the first MacBook was released, nor when the 2nd generation MacBook arrived, all decked out with a Core 2 Duo processor. Other options? How about a PC laptop? Sure, just as long as it's free.
When I found that the Toshiba booth at this year's Consumer Electronics show was giving away chances to win one of their laptops, I thought mine was in the bag. So I took my seat in the audience to play their version of the game show Deal or No Deal. I was the first contestant called on stage that round. I made small talk with the host, eyed the wall of cases behind me, and decided that Case #6 must contain the laptop.
Had I chosen wisely? They tried to bribe me with a padded laptop-toting backpack, but I don't need one of those for my aging PowerBook. My good ol' man-purse case works just fine for this tiny machine. The audience shouted CASE! CASE! CASE! I made my decision; the case it must be. As the lovely stage hostess cracked that silver briefcase, my hopes for portable computing in the new year faded a little. I won...another backpack.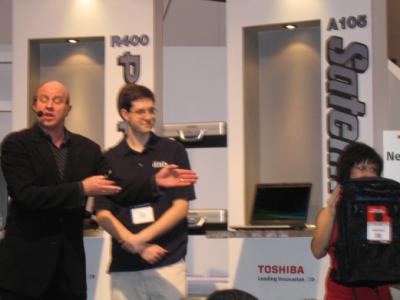 Permalink: New_year_new_laptop_.html
Words: 210
<-- Earlier Entries
Author Info
Category Cloud
User must have at least 3 blogs in one category for categories list to show.
More Entries
My Fav Posts
This user has zero favorite blogs selected ;(