01/02/07 10:55 - 35ºF - ID#37511
A devil in Gods Country
So writing in this thing had better not be as addiciting as myspace was when i first found it.

Buy aye this day is annoying at work my van broke and i was stuck in lyndonville till my boss came and got me. My internet wsnt working when i got home. Now this damn game im playing has literally got me stuck between a rock and a hardplace in a boat trying to deliver 3 keys of coke. God I love Scarface, even though its pissing me off. Everything today was simply stupid but still annoying. I had a feeling though this morning im just like driving thinking "self, yes self, today is going to suck for some reason". Myself was right. Now myself is hungry so im gonna eat.


And damnit this gonna be addicting but expressing yourself one way or another is always good.



Permalink: A_devil_in_Gods_Country.html
Words: 145
Location: Cheektowaga, NY
01/01/07 11:13 - 40ºF - ID#37487
Omerta
First Id like to thank the hosts for opening their home for the party. It was a great time. It was nice to meet everyone i met last night even though i don't really remember names as im sur emine is not remembered either so its all good.

For the new year, work harder than ever for my goals, quit smoking, work out, fight, get to Japan for PrideFC, get rich.

Thanks again to the host of the party last night and everyone else for a great time.



Permalink: Omerta.html
Words: 88
Location: Cheektowaga, NY
<-- Earlier Entries
Author Info
ghostfacehbc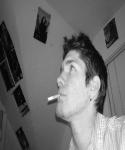 Date Cloud
Category Cloud
User must have at least 3 blogs in one category for categories list to show.
More Entries
My Fav Posts
This user has zero favorite blogs selected ;(