We left on Tuesday the 20th, I had unrealistic plans about leaving early lol. Instead we were still packing in the morning and I ended up working until we left at about 12.
First stop was stopping by my parents' on the way to Tonawanda.

Then we rode down the rail trail to the canal. I always passed this sign and wanted to ride to Rochester, now I was.

First stop was Lockport. We stopped for vegetables at some cafe, I think I had a quinoa black bean bowl that was OK. We also got an iced coffee from Steamworks which is a coffee shop that chose an interesting name.

I don't remember the last time I was in Lockport but I definitely didn't remember that there were Lockport Caves. Are they just part of the canal lock?

Next up was riding to Medina. I got a flat somewhere in between but luckily had the repair kit and new pump, was able to fix it pretty quickly.
I love Medina as far as small towns go mostly because I have a totally healthy obsession with sandstone. The downtown is cute and suprisingly bougie.
Terry and I of course stopped for Mexican at Mariachi de Oro in Medina. They have a nice healthy veggie fajita, and Terry had grilled cheese and cactus tacos. Gulped down a jamiaca/hibiscus drink with it. Would definitely go bvack again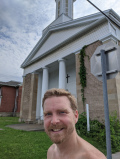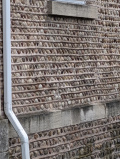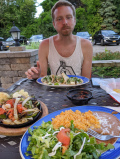 Typical trail between Lockport and Rochester

At some points you are crossing over creeks in a sort of canal aqueduct.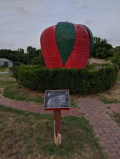 Here is the only road that crosses underneath the canal. Somewhere shortly before here a man came riding up and asked if we wanted to camp in his backyard. We should have taken him up on his offer. We decided to keep riding to a town called Holley instead, because I had read they had a town park with bathrooms and showers.