Out of Macedon we decided to make our next destination Syracuse.
A lot of the canal was missing in this segment as the NYS Barge canal had replaced a lot of the old Erie Canal. So what remained was more of a swampy brush.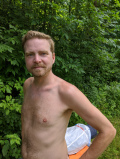 Obligatory stop for snacks in the town of Clyde, NY. It had a nice little square and also a cafe with snacks and coffee.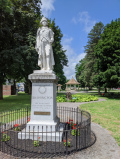 Out of Clyde continuing east, there was a bit of road riding with striped bike lanes. I didn't mind it since traffic was light but on a 90 degree day it was scorching in the sun. I also got stung by a bee for the first time in my life. It flew right into my shirt. Surprisingly didn't hurt that bad.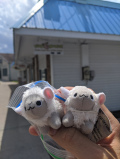 The next stop was a strange town called Weedsport. Twixxie and Ernie wanted to see the Teddy Mountain plushie store. Terry and I ate some Weedsport ice. The cucumber flavor was the most fucking delicious ice I have ever had.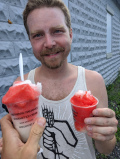 Contiuing on into Syracuse which is suprisingly hilly. After such a hot day and a general need to wash our shorts, we checked into a temple turned hotel called Hotel Skyler. The rooms were very nice and the hotel clerk had locked our bikes in one of the rooms. They also had halved capacity for COVID.
Downtown Syracuse was actually put together. I think they urban renewaled less than Buffalo in their core. Armory Square had a lot of shops and restaurants, and of course a vegetarian friendly burrito place.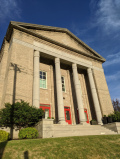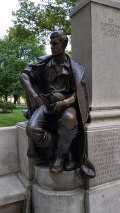 What is he covering?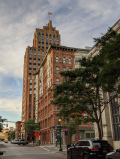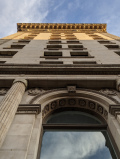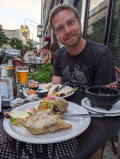 Syracuse does have a monument to Columbus downtown, with Native American heads attached to all the corners. WTF?