A dumpling place with a C-grade health inspection, 6 hours of marathon crunkness for
(e:paul)
's birthday and a nameless Korean friend.
The women's march was happening the Saturday we were down. 9 hours after the protest started, it was still going.
(e:hodown)
said they had three times the turnout they were expecting. Fuck Trump and his tacky tower.



Down the street from the protest was a Microsoft store with people playing VR in the window.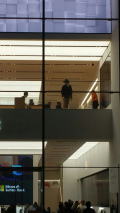 (e:paul)
and
(e:hodown)
in front of a church. That's evidence to get into heaven if they ever need it.