The place we stayed in Albion was not the best, because even though it was a tiny town and we were staying somewhat outside of it, it was summer and people continued to use the bike path at night, including screaming children.
So we got up pretty early and rode on to Holley in a drizzle. I am glad we didn't reach Holley Town Park the night before, because they banned cyclists camping or showering there (boaters are still allowed for some reason). Seems like a tiny town would want the tourism, but because of this
(e:terry)
and I looked around the park and continued on.

The Holley Canal falls were nice. Here's Ernie and Twixxie with a photo-op. The falls are entirely manmade, meant to keep release water from the canal.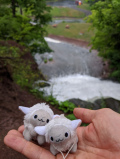 Next places were Brockport, Spencerport and the west side of Rochester. There was a bit of a downpour by the time we got to Rochester, but once you are wet, you are wet!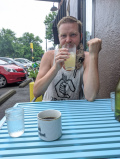 We ate at Voula's Greek Sweets, downtown Rochester, which despite it's name is not just a dessert place. Omg it's so good. Everything is vegan and vegetarian, I got a seitan gyro.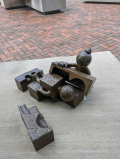 The rest of the day was spent riding around downtown Rochester, along the trail into fancypants Fairport, and eating at of course, a taco restaurant called Lulu.
The canal east of Rochester became a bit more interesting since it followed a creek.
At night we set up camp in Macedon town park, which had free camping on an island in the canal not too far east of Rochester. The town was absolutely tiny and the camp side was nice and quiet.