so yesterday was a big cluster fuck. I woke up and Paul asked if I wanted to go to the mall with him after his dr's appointment. I rushed to get ready and as we're pulling out of the driveway he runs over a huge rock that separates our driveway from the church's. it was 10 degrees out but my weather app said it felt like -10. Paul had to cancel his appointment and it took like 2 hours for him to get it unstuck. he ended up smashing it to pieces with a sledgehammer. a+ Paul!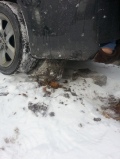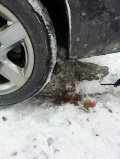 so we got to the mall and Paul traded in a purse for a new purse. sadly, it wasn't the one that got great reviews on purseblog.com but I think he will live.
then we went to H&M and I went shopping for ~professional clothing~. I got a bunch of cute stuff. I hate trying things on so much. I also got a new purse because the old one I've had for like 5 years = totally thrashed.

after that we ate at Jack Astor's. much yummy.
we got home and almost immediately got out of the house again to go to Don Tequila's for Caroline's birthday. lots and lots of margarita's. I wish I didn't have such bad heart burn.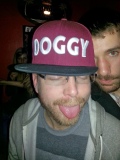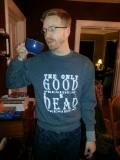 We left and went back to the house for about an hour until we left to go to a party. some douche bag brought a dog though so we couldn't go. we just ended up doing to Underground for Radiation. Robert met up with us and he brought me Tums!!! and then I proposed to him and of course he said yes.