Fellyconnelly's Journal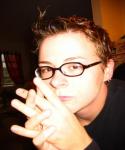 My Podcast Link
12/25/2008 15:49 #47185
xmoose
I'm at my brothers. My dog won't stop crying. He missed
(e:lauren)
. I think its time to go home.
12/22/2008 06:43 #47134
cereal
Its kind of cute how every morning as I eat my cereal at the computer desk, my cat sits patiently at the edge of the desk, staring longingly at the bowl. He never gets any, but somehow he knows that what is in that bowl is reaaally good.
Last night I was trimming ralphie's obscenely long nails and cut one too close. He was bleeding so much, both
(e:lauren)
and I were crying. He was fine, we were crying.
we went to my uncle's on Saturday night. He lives on fort niagara. As in his house is next to the giant walls of the fort. He actually lives in the lighthouse keepers house. We walked through the castle by 'candlelight', froze to death and then played 'you might be a redneck if' with a few family members.
(e:lauren)
and I won. Oh yeah.
Shoveling is good exercise, huh? I got to dig out my car twice this weekend, and
(e:lauren)
's car once. The problem is that we have no place to put the snow in the parking lot, so I was throwing the snow over a 6 foot plus high fence. My shoulders are crying.
And last night we ran out to wegmans for some essentials and when we got back, some idiot was parked across two spaces. I had to squeeze into the last space that was barely possible, and I'm sure that somebody did not get to park in the lot.
(e:lauren)
wrote 'douche' across the back of their car in snow, but when I looked outside later - somebody had wiped it off. how sad.
I'm unsure as to how this morning is about to progress. I'm rather nervous, to be quite frank, of going outside, digging myself out and attempting to drive to, of all places, Springville. I have to be there by 8:30. I should be leaving in two minutes if I want to get there on time.
I have tucked my dress pants into my tube socks. what the hell is wrong with me?
12/19/2008 13:23 #47112
drat
sorry i missed the party last night...
it was almost ten when i finally got home and was too exhausted for partying. Retail is hell this time of the year.
sounds like a great time though, and I'm thoroughly jealous. I wish it was tonight! Of course then it would have probably been snowed out.

today im painting while lauren works on her paper.

tomorrow is family time (drinking with family=interesting ALWAYS)

sunday or monday lauren is leaving me for like... a week...

how lame boring and alone.

ah well... get a helmet.

12/16/2008 08:07 #47077
tis the season
Holiday shopping season is in full swing and I am determined to make my mark. I am not one of those crazy money hungry salespersons - but I need to keep myself in a high swing positive push towards excellent sales. No, you are not wasting my time paying your bills. I love paying your bills. Why don't you pay your bills online again?

I digress.

We watched Wall E last night and I have to say, it was absolutely adorable. Cute as hell and 'hello' did anyone notice that Wall E is actually Johnny 5?

I'm going to go visit my family this weekend. As in the family that lives 45 minutes north of me across the lake. Yes I need to plan entire weekends around such an event. We will probably go to fort Niagara and see the 'Castle by Candlelight' which is pretty sweet.

New years we are heading out to Lake George again. Weds through Sunday, which means a) we will not be going to the estrip new years party and b) we will not get to go to my employee appreciation party on saturday - which is the buffalo bandits game with open bar/buffet etc. Garbage.

anyways, off to work!

12/09/2008 11:00 #47004
in my pants


not for work.