11/22/07 06:47 - 28ºF - ID#42244
First Course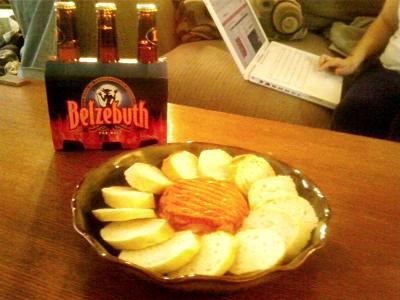 The first course of Thanksgiving was stinky cheese. Not the stinky cheese of Olmos, but the stinky cheese from
Premier
. I forget what kind of cheese it was and
(e:jbeatty)
tossed the container. Suffice to say the woman at Premier told us it was the stinkiest cheese they had. And was it ever good. Especially with
Belzebuth
beer with. The beer is a very strong blonde ale which is reminiscent of
Wagner
Tripelbock. The cheese was similar to a strong tasting Camembert. Yum.


Permalink: First_Course.html
Words: 86
Location: Hollywood, FL
11/22/07 05:34 - 28ºF - ID#42241
First night back in Buffalo
So, I haven't been in Buffalo for a few years. Last time was when
(e:jbeatty)
and I drove out to a Sabres game when we were both still living in Syracuse.
One thing that's hard to find in Florida is good wings. So we overdid it a bit on our first day here. We went to Colter Bay for lunch and had wings and hummus.
Following lunch, we spent several hours in the rain shopping for Thanksgiving ingredients. Our stops included Wegmans, Premier Gourmet (and Premier Wine) and Delaware Camera. Hey, I needed slide film, ok? Provisions included mussels, escargots, chorizo, a bottle of Laphroig, veal chops and Belzebuf beer. More on that later.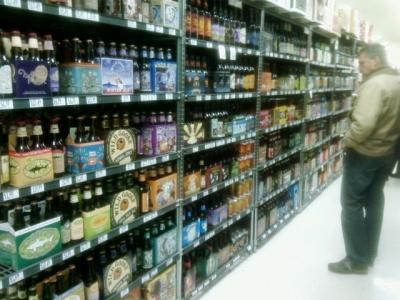 Eventually, we found ourselves at Laughlin's for the Sabres-Sens game. Again, we had wings, along with a good amount of beers. And some find music on the jukebox thanks to my bank card. I'm all about spending the money to monopolize the jukebox wherever I am. People have such crappy taste in music that I feel the need to take over if I'm out for the evening. Luckily the jukebox contains such essential things as the Clash box set, the Curtis Mayfield and James Brown best of discs and more. I did resist the temptation to program in the 25 minute Tweezer from Phish's A Live One.
Sabres won 4-2 and we drank a good amount of beer. Laughlin's wings beat out Colter Bay, but they're both good. We'll probably overdo it and have them again before we leave. I'm not sure where, though. Probably Duff's.


Permalink: First_night_back_in_Buffalo.html
Words: 261
Location: Hollywood, FL
<-- Earlier Entries
Author Info
Date Cloud
Category Cloud
User must have at least 3 blogs in one category for categories list to show.
More Entries
My Fav Posts
This user has zero favorite blogs selected ;(