Category: casino
12/06/05 07:30 - 20ºF - ID#28244
The Silos Coming down?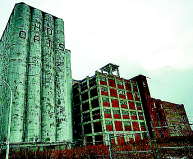 I have to admit that I think a casino is a good idea. However this article in the buffalo news makes me wonder. The way that I understand the story below is that the sencas are going to knock down the Silos also known as grain elevators in the picture above. This is a sign that they are not doing things the right way. First of all if they are protected nocking them down would be illegal. But If it is a soverign country that may not apply, not really sure. But there there is bigger question. First of all if the silos are protected then why was the land they are on was sold. To me that makes no sense. I could see if a historic bilding was on land that was sold to someone else and as part of the deal they where fully aware of what they can and can't do to the building. If it is protected there are all sorts of permits you have to get approved based on what kind of changes you want to make. Basicly you can only restore it to its original condition most of the time. But another question comes to mind. If you don't know if you are going to buy the D&L terminal then how can you plan what you are going to build whare and if that building should come down. It seems to me that something fishy is going on and Buffalo may have already screwed things up before they get started, lets hope the entire process isn't like this. I think The Senca's want to knock it down So they can have room to Put up a Hotel there. I would like to hear peoples views on the article and the casino even if you disagree.
Senecas to raze historic city grain elevator
---
Preservationists suing to save H-O Oats site from demolition as part of casino project
By MARK SOMMER
News Staff Reporter
12/6/2005
Dennis C. Enser/Buffalo News
Before construction of a new casino moves forward, the Seneca Nation wants the H-O Oats grain elevator downtown to come down.
The Seneca Nation of Indians is planning to begin demolition of the historic H-O Oats grain elevator and mill Thursday.
The Senecas took ownership Saturday of 9 acres in the Cobblestone District to develop a casino. The site, which includes the defunct mill and silos, is bordered by Perry and Fulton streets, and Marvin Street on the east.
A wrecking ball is scheduled to smash into the building at 10:30 a.m., one day before the Dec. 9 deadline to meet the terms of a gambling compact with the state. Gov. George E. Pataki is expected to be there for the ceremonial groundbreaking.
Preservationists, who are furious over the demolition, claim the nation is ignoring federal, state and city preservation laws and showing a lack of respect for Buffalo's history.
The H-O Oats complex was one of 16 grain elevators in Buffalo made eligible three years ago by the state Office of Parks, Recreation and Historic Preservation for listing on the National Register of Historic Places.
"H-O Oats is a magnificent landmark," said Tim Tielman of Campaign for Greater Buffalo, which is filing a court injunction with other organizations to block the potential sale of the nearby Delaware, Lackawanna & Western Railroad terminal for conversion to a casino.
"We're losing the type of industrial architecture that is valued so much that people elsewhere are resorting to building fake industrial loft space."
Seneca spokesman Phil Pantano declined to comment on the future of the H-O Oats site. With the nation continuing negotiations to acquire the DL&W Railroad terminal, it could choose to use the newly acquired property to build a new casino and/or a series of parking lots.
H-O Oats came to New York State in 1893, and the brick-and-concrete mill opened in 1912, one of several mills in Buffalo. The familiar towering concrete silos, painted silver with "H-O Oats" inscribed in black, were added in 1931. It has long been a landmark to travelers driving along the Niagara Thruway.
Oat production at the grain elevator ended in 1983, and a fire in 1987 destroyed a portion of the facility.
The building once had three distinct kinds of silos - wood, steel and the surviving concrete, according to Lorraine Pierro, president of the Industrial Heritage Committee. Its unique history was one reason the Department of the Interior compiled a Historic American Engineering Record on Buffalo's grain elevators in the 1990s, according to Pierro, who expressed regret at the Seneca's decision.
Geoff Butler, who lives across the street from the grain elevator in the Lofts at Elk Terminal, expressed anger at the pending demolition and the lack of any public input.
"I think it's a damn shame. A big reason you move down here is because the neighborhood is like living in a historical museum. I would have reconsidered moving here if I had known there was going to be casino parking," Butler said.
But John Webb, who lives nearby on Perry Street, said he thought removing the grain elevator would be a boon to the area.
"I don't have attachments [to the buildings]. I think it will bring a lot of jobs to the area," said Webb, adding that he is part-Cherokee and glad the Seneca Nation is in Buffalo.
Empire Dismantlement, a demolition company, has been working at the former H-O site since Saturday. Electrical, gas and water lines were severed in recent days, and asbestos abatement is continuing..
The demolition of the mill building is expected to take as long as two months. The silos are expected to be demolished at a later date.
Several critics of the project said the Senecas were showing insensitivity by not including the public in its decisions.
John Laping, chairman of the Buffalo Preservation Board, regretted there has been none of the scrutiny or public input required in Buffalo. "It's too bad the Seneca Nation does not feel the same kind of civic responsibility," said Laping.
Richard Lippes, the attorney filing the lawsuit against the purchase of the DL&W site on the grounds that it violates state and federal law, agreed. He hopes the Senecas will reconsider its decision to destroy the H-O Oats complex.
"The Senecas, perhaps more than most, should understand the importance of our history and our environment, and respect these historic structures," Lippes said.
e-mail:
msommer@buffnews.com
Permalink: http://estrip.org/articles/read/metalpeter/28244/The_Silos_Coming_down_.html
Words: 1076
Location: Buffalo, NY
12/05/05 08:57 - 25ºF - ID#28243
Various thoughts
First of all wow about 14 people on line acording to the count, cool!! I Have to admit I kinda like shoveling the snow flakes as long as I'm not reading something deep or political. Much better then shoveling real snow. I flipped between the Sabres and the Raiders game last night. The hockey game was a great game to watch it was verry exciting and then there where fights also. On mondays I like to read the Link section of the paper sometimes there is some interesting computer stuff in there and some times there is a lot of stuff I don't get. But sometimes there are some really interesting articles. I read in the local section about a car jacking on Elmwood then later the guy crashed the car. It was on page 3 where they have a bunch of couple paraph articles usaly about roberies or fires or thing s like that.

Permalink: http://estrip.org/articles/read/metalpeter/28243/Various_thoughts.html
Words: 153
Location: Buffalo, NY
Category: elmwood
12/04/05 06:23 - 28ºF - ID#28242
Chains or is that Diamonds?
Yesterday as part of my Elmwood excursion I took some pictures on bidwell Parkway. As I took these two pictures of the two houses connected by the new store front I got more then what I was expecting. This guy started talking to me on the corner. I hadn't noticed that next to delshi I think the palce is called is a Jewerly store. Aparantly it is a chain Jewlery store. The guy was verry upset and thought it didn't belong on Elmwood. He said something about he was going to make flyers about it. I admit I don't know if I think it is a good or a bad thing. It is true that there should be mostly local places but then what about Burger King, Blockbuster, Rite Aid, HSBC and maybe a few other places I forgot about. Maybe the Jewlery store will bring in another crowd. Maybe that is good for elmwood maybe it is bad. I don't know if locals spend enough money to keep all the businesses open or if for them all to survive they need some suberbinites. I also don't know Who paid to fix up the building was it the owner or did the diamond place fork over some cash. That conrner building was an eye sore for many years and was falling apart. Wich reminds me of the bills I can't belive they lost, I could kind of feal it as I watched. The Sabres are on tonight I think at 9pm hopefully they can win. I wonder if a sports store will ever open on elmwood. Elmwood is always changing and growing I hope Abrahms is a move in the right direction. I guess we shall see.
Elmwood & Aurburn Finally all fixed up
Permalink: http://estrip.org/articles/read/metalpeter/28242/Chains_or_is_that_Diamonds_.html
Words: 298
Location: Buffalo, NY
12/04/05 12:08 - 26ºF - ID#28241
Eminem
I may have messed up the spelling of Eminem but I watched him on Showtime last night. I thought it was a very good concert. I wish he would have played all of "Stan" it seemed like it cut it short but all in all I had fun. I don't know all of his stuff but the stuff I do know I like.

Permalink: http://estrip.org/articles/read/metalpeter/28241/Eminem.html
Words: 63
Location: Buffalo, NY
12/03/05 08:03 - 26ºF - ID#28240
Posting news
I was planning to Read the paper on friday and put up some interesting story up on the site. The problem was that there where to many interesting stories like about Elephants at the zoo, the buffalo bandits and the signature bridge wich looks like it will look really cool. So I thought I would talk about the Concert Last night. Before I forget if any one wants to buy Girl scout cookies they are being sold at The Galleria Mall. Also at the Galleria mall there is a Toys For Tots Bin out side KB Toys or you can all drop toys off at Linin and Things near the Galleria Mall. I want to go back next week and do that I didn't get to it today. They also have two stores where you can buy stuff from around the wold. The one I looked in had Dragons, Budhas, Indian Gods, Totem Polls, and all sorts of interesting stuff.
First of all
(e:Jason)
was correct I really did enjoy soulive (pronounced Soul live as one word). They where the headliners and I had to sit from being so tired for part of there show. I forget the first bands name she was a hot sexy black chick who could really sing it started with a D and her last name was cotton she was really good and so was her band I should have bought a CD for not doing that I'm a fool. Living Colour was very good, I didn't know there new stuff but it was still a great time. The Doors where supposed to open at 7pm but didn't open untill 8 at least. At 7 there was still hardly anyone there but by the time the first band came on it was packed good. The show didn't end untill about 1:30 am by my watch. On my way home I went down Allen St. and froze my ass off. There where People standing around outside nietches and Allen St. Hardware and a couple other places like it was nothing and I was frezzing, but all in all I had a fun time. I bught one of soulive's CDs hopefully I will get to listen to it soon. If i'm into it I may buy somemore of them. I forgot to mention there was a hot group of girls there also wow they where smoking hot those lucky guys.
Permalink: http://estrip.org/articles/read/metalpeter/28240/Posting_news.html
Words: 401
Location: Buffalo, NY
11/30/05 08:19 - 33ºF - ID#28239
Sleeping early

I hate when I fall asleep to early it messes everything up the next day. I was listing to the sabres and missed most of Bones, a smckdown special and the Sabres. But what it also did was make me sleepy this morning and I could never really wake up. I did have turkey for lunch and dinner so maybe that is what did it. Luckly we didn't have much work today so it worked out good. But I have a fealing we may get barried I hope not. But I also don't want to finish up to early either. Well I'm off to catch the end of that 70's show I forgot to tape this christmas special Brian setzer is performing. He is the guy from the stray cats. Wich brings up a point does anyone know of any good Funny christmas music? maybe it could be about rudolfs nose being red from using cocaine, or about your crazzy family. Also does anyone know how to change the text Color of your journal enteries? I used to do it all the time but don't know how since there is that try color breakdown I don't know what that is or what it does either and help would be cool, thanks.

Permalink: http://estrip.org/articles/read/metalpeter/28239/Sleeping_early.html
Words: 211
Location: Buffalo, NY
Category: hockey
11/29/05 07:35 - 48ºF - ID#28238
Sabres Guins
I will be watcing the sabres in a minute or two. I hope they win But I'm also a penguins fan, so if they lose it won't be so bad. I like to multi task and watch TV and listen to the game it is a cool way to do things.

Permalink: http://estrip.org/articles/read/metalpeter/28238/Sabres_Guins.html
Words: 51
Location: Buffalo, NY
11/28/05 08:06 - 62ºF - ID#28237
Colour
I like the bright green Color. I think it is an interesting theme. This weekind I was hoping to go See Aeon Flux, it looks really good but I don't know if I will have time, with the Christmas Shopping. On Friday night I'm going to Townballroom to see Living Colour. I admit I don't know much of there new music. They are with a band called Soulive or something like that who's mucis I also don't know. I have seen Living Colour twice before. One time was free and it was a great show downtown and the other time was a long time ago. That was in the days of 14 X it was a rock station on am 1400 and there vechile was a hurse. I can't remmber the place I saw the show I think it may have become runways or there was another place near runways not sure. I really hope this show is great I'm sure it will be.

Permalink: http://estrip.org/articles/read/metalpeter/28237/Colour.html
Words: 162
Location: Buffalo, NY
Category: casino
11/27/05 10:40 - 36ºF - ID#28236
Gambling
I admit that I'm in favor of a casino. I think that like a lot of things in Buffalo if it is done the right way it could be verry good. But if done incorrectly it could be a a big problem. I think Niagara Falls Ontario has done a good job. If entertainment starts to go there instead of going to Townballroom, Icon, Club Diablo and Sheas then that is a problem and the casino was done wrong. I think that a lot of people in this fine city of ours look at what to do as opposed to how to do it. The how you do something is often more important then the what you do. For example the Bisons. I know there was a big Push to get Buffalo a Major league team. But at the end of the day Buffalo could not have supported one, that is why Buffalo wasn't in the running when the MLB expandend again. I think that was a great decision. The Buffalo Destroyers left, What happendend to the Blizard (soccer team) are the raptors still around (roller Hockey). That was a cool game to watch. I think that if a Downtown Casino is bulit one key aspect of it has to be Lot of free and easy to access information about gambling addictions and how to get help. That would be one of things that they have to get right. My pint kinda ties in a little bit with the article below form the Buffalo News. It is kinda long for a blog but if you want to read it. Or you can go to the Buffalonews site wich also has some pictures a preaty good one of the judge mentioned in the article.
High rollers, big losers
---
Area casinos have exacted a terrible toll from some local gamblers, and the state has done practically nothing to treat people who get hooked
By ANDREW Z. GALARNEAU
NEWS NIAGARA BUREAU
11/27/2005
Sharon Cantillon/Buffalo News
Video poker machines line a hall in Ontario's Niagara Fallsview Casino Resort. Anti-gambling activists note rise of gambling addiction as more casinos open.
Associated Press
"Ninety-six or 97 percent of the population can readily handle gaming as a pastime. It's those who can't that are beginning to proliferate."
Mark Farrell, Amherst town justice, on problem gamblers
NIAGARA FALLS - If you were being swept toward the brink of Niagara Falls and your feet suddenly caught on a crack in the limestone, would you call that lucky?
A 47-year-old Buffalo accountant gambled away several thousand dollars in the Seneca Niagara Casino on March 19, 2003. He wrote a goodbye note and stepped into the Niagara River.
Authorities never named the man, but investigators said he had lost more than $600,000 in Ontario's Casino Niagara, in addition to his Seneca losses.
Cameras recorded the accountant's rescue. Otherwise, he would have been just another invisible mark on the balance sheet of the region's plunge into casino gambling.
Politicians and casino owners boast about casino benefits. About 2,400 people have jobs at the Seneca Niagara Casino, 900 more at its Allegany cousin. A casino planned for Buffalo is expected to create another 1,000 jobs.
State and local governments are sharing a piece of the action. The Niagara Falls and Salamanca casinos generated $57 million for them in 2004, with one-fourth of that going to the cities.
But behind the casino glitz, there is a seamier side of gambling, one where costs are harder to measure, but no less real.
• Four out of 100 gamblers flooding through the casino doors will become addicted, recent research suggests, and those addictions often lead to bankruptcy or suicides, hurting families and businesses. Living within 10 miles of a casino nearly doubles your odds of developing a gambling problem, according to a recent study from the University at Buffalo's Research Institute on Addictions.
• Crime rates haven't risen locally, but opponents say casinos can change a community's moral climate. Problem gamblers are more likely to steal from friends or businesses, drive drunk or attempt suicide when they lose.
• Bankruptcy cases in Western New York skyrocketed in 2005. Although much of the increase was driven by filers determined to beat the introduction of a stricter federal law, bankruptcy lawyers also say more gamblers are coming into their offices as casinos open nearby.
"The industry would like you to think that there are no such costs because you can't meet the burden of proof, to tie it specifically to the casino," said Edward Morse, a Creighton University professor who wrote a book on the economic and social impacts of gambling.
"I think we're getting to the point where people are starting to ask these hard questions about what really are the costs."
Bankruptcy lawyer Jeffrey Freedman has seen the price people pay firsthand.
"As more ways to gamble open up," he said, "more and more people have gambling problems."
"I wanted to kill myself'
The accountant from Buffalo on the brink of Niagara Falls is but one example of gambling's dark side. Freedman has seen many more.
Gamblers forge a spouse's name, or a friend's, on a credit application.
Parents mortgage their paid-off home to cover a child's losses.
A wife gambles secretly until her husband has to cash out his pension to pay her debt.
"A husband and wife will come in here, and the wife will announce that she's got $50,000 in gambling debt - and the husband's ready to have a heart attack because he has no clue," Freedman said.
"Young adults will rob their own parents and sell stuff just for gambling," he said.
The debts of secret gamblers tear apart families with a ferocity "you just don't see in regular cases," he said.
Take the situation of Tony, who told his story on the condition of anonymity.
He was 12 when he started playing cards for money. He graduated to holding games in his parents' garage, then moved up to the Native American casinos.
He married at 21. By 22, he had a gambling addiction that drove him to the tables for 12-hour stretches, until he had blown through $10,000.
It also drove him to the brink of the Niagara River. He described hitting bottom - after losing $7,000.
"I wanted to kill myself," he said. "I was right by the Niagara River."
He called his wife instead, and she persuaded him to get help.
At 23, he said he is a recovering gambling addict - and will be for the rest of his life. He avoided bankruptcy, but is working 70 hours a week as a steelworker and in other jobs to pay his debts. He relapsed a few months ago as he counted out a cash drawer at the end of one work shift.
The stack of money in his hands made him feel like he did back then, with a 4-inch thick wad of bills, playing blackjack for $400 a hand, tipping the drink girls $25 chips.
"I loved being a big shot, people watching me," he said.
Judge tries a new way
Three years ago, Amherst Town Justice Mark Farrell tried something new with those accused of crimes linked to gambling.
If the evaluation of a defendant showed a serious gambling problem, the case could be transferred to Amherst's gambling court. There, in the first gambling court in the nation, Farrell used routine plea bargains to attack underlying gambling problems.
"Getting a pathological or compulsive gambler to admit their problem is tougher than getting them to admit they're a heroin addict," he said. "I can't run a blood test or a urine test for it."
Farrell can consider only defendants charged with a misdemeanor in Amherst, so the gambling court's caseload remains small, 12 to 15 cases at a time.
"We've had instances in our courthouse when kids were involved in criminal possession of stolen property, petty larceny, emanating from those safe little Texas Hold 'Em games that the parents sponsored for Saturday nights so they could keep all the young men at home," he said.
After the game, Farrell said, the teens were stealing to pay off their debts.
"I'm not a hypocrite. I'll go up to the casino once or twice a year and have dinner, and maybe go out and try my luck and lose," Farrell said. "Ninety-six or 97 percent of the population can readily handle gaming as a pastime. It's those who can't that are beginning to proliferate, and what are we doing to take care of them?"
Given the casino in Buffalo and other gambling expansions, he said, there's no chance a relatively new gambling court in the region will run out of customers.
Teens playing poker
There are other services to help problem or addicted gamblers.
Jewish Family Services of Buffalo, a gambling addiction treatment provider, accepts patients regardless of religion. And the director of that treatment said the sting of gambling addiction cuts across racial, ethnic and socio-economic divides.
"There's no one you can point at and say, "They won't be a problem gambler,' " said Renee Wert.
There is no typical bankrupt gambler either, Freedman said.
It may be a 75-year-old grandmother or a 20-year-old college student. Gambling addiction engenders secrecy, and when other family members discover the truth, it can have a devastating impact, he said.
Yet the state's entire anti-gambling budget is about $3 million, used for prevention programs and treatment.
In Ontario, a $30 million annual budget pays for prevention programs, treatment for gambling addicts, and more. Jewish Family Services has seen a growing number of first-time cases since gambling options expanded in Western New York. Wert remains wary of what the future will bring.
"We don't know what's going to happen, especially if a casino is built in Buffalo," she said.
Meanwhile, Tony and others who have seen the down side of gambling worry.
Now Tony works on getting his satisfaction from working hard and doing right by his son and wife.
"I messed up pretty big, and she's still there behind me supporting me 100 percent," he said. "Makes me realize every day how lucky I am to have her and my son."
He has heard the casino is coming to Buffalo. He knows already that he will feel its pull.
"I work in downtown Buffalo," he said. "I'm going to have to see it every day."
e-mail:
agalarneau@buffnews.com
One of the pictures from the article on how to get help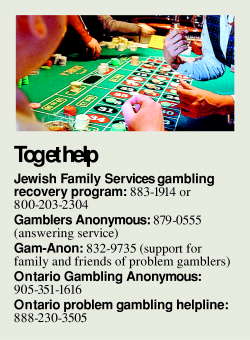 Permalink: http://estrip.org/articles/read/metalpeter/28236/Gambling.html
Words: 1721
Location: Buffalo, NY
Category: movies
11/27/05 10:01 - 34ºF - ID#28235
just 49 friends
First of all last night after I saw one movie and before I watched the other I picked up my pictures at walgreens. I saw two hotties one dressed up as some type of cow girl and one as a construction worker, or at least they looked hot from a far I'm sure they where. So as I'm leaving people start piling out of one of those S&S limo coach things. Two other nice looking chics asked me if I was going to the Disco I said no but that I would think about it for next year. Disco isn't really my thing But it might be a way to get some great pictures. Plus to view some fine ladies in the process. Also on my way home there was a lot of traffic for Kleinhans I really need to get a list of what is going on there. Ok back to my movies. I went to see Just Friends. It was good but was kinda more of a date movie then a romantic comedy. I thought it was funny but it wasn't as funny as I thought it would be. Not sure why they went PG-13 with it. If they had some real nudity maybe it would have made it a little bit better. Last night I finally saw Ladder 49. I thought it was verry good. With out giving away to much of the story it is told in a differant way. You have your normal story that movies along a stright timeline. Then when the fire fighter gets traped it goes into flashbacks. But then we leave the flashbacks and go back to present time and the present story of trying to get out alive. I thought it was a realistic view on firefighting. There are also a few people who you will recongize if you watch movies, all in all I thought it was verry good.

Permalink: http://estrip.org/articles/read/metalpeter/28235/just_49_friends.html
Words: 321
Location: Buffalo, NY
<-- Earlier Entries
Author Info
My Fav Posts
This user has zero favorite blogs selected ;(