Two Fridays ago, I went with
(e:paul)
down to the central library. Our original intent was to check out the 3d printer, but taking a class is required and we hadn't signed up. So
(e:paul)
got a library card and we're going to do that another time.
I hadn't been to the library outside of the auditorium since I was starting to pick up PHP 3 years ago.
They have a high-end maker bot 3d printer, and a second smaller one. You only have to pay for materials.
They also have a 3d scanner in between the two. I'm interested to try that out.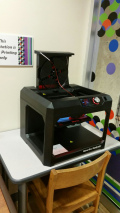 After that we checked out the science book exhibit on the second floor. There were exhibits about Galelio, Bernouli etc - light on information, and though the books were obviously old there was no indication about where or when they're from (if they were originals they should have said it).

What's with this crazy creature on a this map? Breasty mer-bird?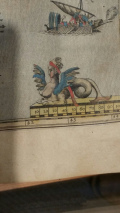 Also an artifact of time - payphones. The second last one I can think of in Buffalo besides the one on Elmwood and Summer.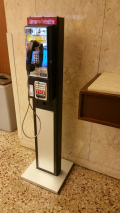 The most interesting part was the Grovesnor room. It has almost any Buffalo related book that was ever written - including books like "Parolees and pensioners in the first ward, report 1912". The room probably contains the most arcane info about Buffalo anywhere, that almost noone left living knows. I wonder how many of these have been scanned, if any.
There were books on being carless in Buffalo, written in the 1960s!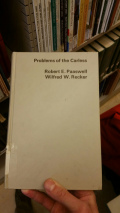 And all the original bike culture in Buffalo.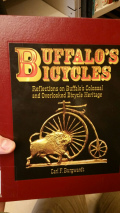 And an encyclopaedic book written about the NFTA and all it's predecessors, with every line and model of the rolling stock cataloged in depth.

A whole bookshelf dedicated to Timothy McVeigh. Creepy.

And a workbook about immigrants in Buffalo, where one of the activities is "Draw and color pictures of Buffalo immigrants in native costumes"
In one of the sections there were annual reports from Roswell Park. At one point there was a semi-famous BMT doctor there named Geoffry Herzig. Not related to my grandpa as far as I know (this one is from Cincinatti) bu he resembles him a lot.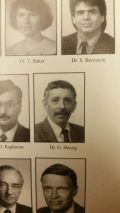 instagrams of
(e:paul)