Category: hockey
05/15/07 06:41 - 72ºF - ID#39291
sorry, Sabres...
...I don't think this is your year to win the Stanley Cup. That said...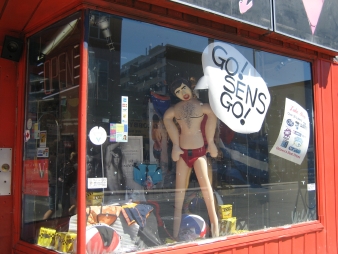 Go, Sens!!!
(That's a pic from my recent trip to Ottawa - and yes, that is a blow-up doll from the window of a gay sex shop cheering on the Sens. I tell ya,
everybody
in that town is excited about their hockey team.)
Permalink: http://estrip.org/articles/read/lizabeth/39291/sorry_Sabres_.html
Words: 61
Location: Syracuse, NY
Category: travel
05/15/07 05:51 - 72ºF - ID#39289
if you're the stalking type...
Just FYI... I'm going to be in the central NY area the last weekend in June if any of you (*ahem*
(e:carolinian)
*cough*
(e:bugmuncher)
*ahem*) wanted to maybe meet up in Ithaca for a day or something.
I'm going up there with my mom and we're renting a big vehicle to ferry all the stuff I've still got in storage up in Syracuse down here to FL. After I clear that storage area out, I'll have no more physical ties to NY (tho' of course I'll still have lots of people up there I'll want to visit).
Oh, and since I named the category for this post "travel" - my husband & I just got back from a trip to Ottawa. You B'lo folks aren't as close to Ottawa as people in Syracuse, but you're still not that far away - and if you've never been there, you should go! Ottawa's a pretty cool town. I know Ottawa is not exactly a happy place for Sabres fans right now, but maybe in the fall or something, when all the cup hoopla has cooled a bit, it could be a nice destination for a cross-border road trip. Keep it in mind, anyway.
Speaking of Ottawa, I have a picture to share with you from my trip, but I'll have to crop it first... gimme a min...
Permalink: http://estrip.org/articles/read/lizabeth/39289/if_you_re_the_stalking_type_.html
Words: 227
Location: Syracuse, NY
<-- Earlier Entries
Author Info
Category Cloud
More Entries
My Fav Posts
This user has zero favorite blogs selected ;(