Had a bunch of leftover FSA money and bought all these medical supplies including this amazing massage gun which I got for 50% off.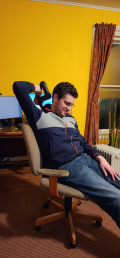 Then after the FSA expired, we submitted and it turned out it didn't qualify ;( I would have never spent this kind of money on it, but I like it at least.
Everything else I bought on [link]https://fsastore.com[/link] to make sure it worked.
Like a brand new Lithman stethoscope. You might ask, "why did you pick a stethoscope?" Well I had already picked tons of bandaids and most everything else was some sort of electronic that would eventually fail.