Friday we spent the day wandering some more. We took the blue line to WIcker Park with the intention of visiting Humboldt and Garfield Park.
First we ate at a delicious veggie restaurant called Handlebar. The vegan chimmichanga
(e:terry)
ordered was so good.
Then we walked over to Humboldt Park which to be honest was nothing special.
We kept wandering south down to Garfield Park, where there is a free botanical garden. Later I found out from a Chicago native that if there's a neighborhood tourists shouldn't be wandering this would be it. We had no issue though.
The Garfield Park botanical garden is amazingly tall and free. Like most of the plants have probably three times the height to grow versus Buffalo's.
The garden was designed to be less potted plants and more of a natural setting than other gardens. Supposedly there is no floor, just Chicago's dirt underneath the beds. The fern room had a rushing brook and waterfall, and cactus room was beautiful. I'd visit a lot here if I lived here.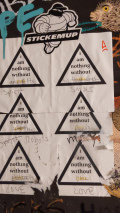 Wandering to Boystown that night we came across a store exclusively for rabbit related things. They even boarded rabbits and had social groups for them. I thought
(e:robert)
would appreciate it.