Next morning was a late start with a long climb out of Syracuse. It was another very hot day.
Right on the edge of Syracuse there's a state park called Green Lake. Due to the minerals in it, it's a brilliant blue color. I would have loved to swim in it but it was a roped-off lifeguard situation, and was packed with families. Maybe another time.

Breakfast in Canastota. We were able to find a place that had a tofu scramble. I thought it would be hard to find vegan food in rural New York but it was not. The place was called "The Toast" and it was great. Unfortunately writing this in November it appears to have closed.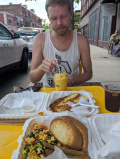 Right east of there was Oneida, New York. Next time I would like to see it because it basically was a utopian cult turned company turned town. Very interesting.
(e:terry)
was getting beat by the heat. He was a little cranky by the time we got to Rome around 3pm. I convinced him we would go to Utica and stay in a hotel.

In Utica we ate at Zenia's Lebanese restaurant. It was so good.
We stayed at the Rosemont bed and breakfast. The building was a classy Victorian house.
I had never stayed in an actual bnb before, so I didn't know what to expect. The woman at the desk took our preferences for breakfast the next morning, had a whole list of recommendations of what to do etc. It was very nice. I think we stayed in the "Wine and Roses" room, lol.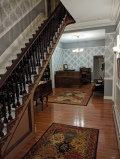 Sheep getting ready for bed.
Utica obviously had seen some much better days but there was some remnants of some nice houses and architecture. The neighborhood around the hotel had brick houses nicer than Allentown, but a lot of vacant lots. Aroud the corner was a beer store, while I waited for Terry outside I saw a ton of drug deals.