Did you know that a simple page is visualized like this by LaTeX?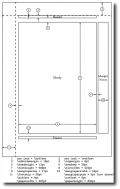 But I am convinced M$hitWord must view it like this:

I am seriously so annoyed right now that I need to suffer through Word (in addition to wrestling with LaTeX) just because people haven't even heard of LaTeX. Why do I have to even make a crap Word document when I have already compiled a good enough PDF from tex? Why??
Because of the decades of misthinking and mistakes M$hit has heaped upon the world, that's why.