Category: life
06/10/08 10:25- ID#44609
Where have I been?
Well, around. Just haven't been in the blogging mood lately I guess.
So what's up with Senor Deadly++?
Not much I guess, which is probably why I haven't been blogging. And yeah before you ask I've been having a real hard time sticking to my weight loss initiative as of late, argh. It really is hard to stick to your guns. Now summer is here and I'm carrying the extra weight I promised myself I wouldn't be when it came around. Oh well.
I saw Speed Racer on the Imax last week. My advice: unless you see it on the Imax (which you now can't because it's been replaced by Kung Fu Panda), save your money. It wasn't that hot as a standalone film. But on the Imax it was pretty pretty.
I joined the Switcher crowd (or as
(e:enknot)
would say, drank the kool-aid) and moved from PC to Mac last month. Or at least in the work portion of my life. I still have a Windows PC as my computing solution here at home.
I love it though. If it weren't so cost-prohibitive I would make Mac my main platform in all realms of my life.
More updates...
I won my first round of poker in early May. Score! Too bad we weren't playing for money, lol.
I traveled to my personal Mecca and visited the Pro Football Hall of Fame in Canton, OH a few weeks ago. What a blast. Although they surely don't add
that
much stuff each year, I would love to make it a yearly excursion. It was fun to get away for an overnight trip with a couple buddies. You can see my photos
here
.
Um, what else? Let's see, my sister-in-law got married this weekend (well actually in January but the ceremony was this weekend -- don't ask). Both my wife and I plus our two girls were in the wedding which sounds stressful but really wasn't too bad as it was all a pretty laid back affair.
The highlight for me was that at her house later that night she had a post-reception reception and a good friend of hers from CA was doing tattoos. Before you gasp, the dude was totally legit and has a
professional operation
. And his work is GREAT. Take a look.
So I got my (first) tat on Saturday night. It's been something I've been planning on getting for over two years and once I got the vasectomy in October, I knew exactly what I wanted: something with my kids' name/initials worked into it. Knowing now that the chances of a #3 entering our lives is nil, it made it easier to come up with a design.
Warning: Religious-type "God stuff" ahead ** :)
So I got a tribalish Christ with a crown of thorns and my girls' initials beneath it on my left arm. I don't have a camera with me at the moment so I can't snap a photo and show the world but it's pretty simple to describe.
Do a Google image search for "Jesus tattoo" and it's like the second one that comes up (yeah, sad and unoriginal perhaps but I don't care -- I love the design anyway). For those too lazy to search, here it is: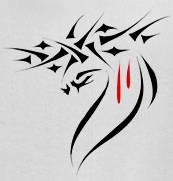 I first found it back in November 2005 and have had it bookmarked since then. Back then it wasn't that high in the Image Search results but whatever. Maybe I should try and Google bomb alternate images to bump it down, lol. But then again knowing
(e:strip)
after I click the "publish" button I'll probably have the #1 item in about 10 minutes! Like I said, whatever. It doesn't matter.
Anyway, below it is DGCF in an Old English-type font. The G and F are my girls' middle names (Grace and Faith) and are red like the blood, while the D and C (my girls' first names) are black like the rest of the design.
So in the scope of the whole design, "Grace" and "Faith" are directly correlated with the blood that Christ shed.
Next up is figuring out how I can work a Darth Vader helmet into my skin canvas! Just kidding... sort of.
So that's been my life for the past month and a half / two months. Work has been kind of stressful as of late so when I come home I just try to decompress and live as "unconnected" as possible (meaning computer stuff). I've actually been going to bed a lot earlier lately, as well.
Blah, blah, blah. See you around,
(e:strip)
.
Hopefully it won't be so long next time!
Permalink: http://estrip.org/articles/read/mrdeadlier/44609/Where_have_I_been_.html
Words: 771
Category: life
03/30/08 11:23- ID#43830
I interrupt people a lot
Not as much as some people I know, but definitely more than most people I know.
We're doing a study in church on the book of James (not not
you
,
(e:james)
) and one of the main themes is that of holding your tongue.
All the examples that our pastor keeps using are pretty condemning. But in a good way... I definitely don't want to be construed as a "me me me" kind of person.
Something to work on.
Permalink: http://estrip.org/articles/read/mrdeadlier/43830/I_interrupt_people_a_lot.html
Words: 79
Category: life
03/28/08 09:45- ID#43811
I am a tired, lazy man.
Sorry... that's all I got.

Permalink: http://estrip.org/articles/read/mrdeadlier/43811/I_am_a_tired_lazy_man_.html
Words: 5
Category: life
03/22/08 02:28- ID#43757
Naked from the neck up
On a whim, I shaved off my beard today. Talk about instantaneous regret. I look in the mirror now and feel so unbalanced...

Permalink: http://estrip.org/articles/read/mrdeadlier/43757/Naked_from_the_neck_up.html
Words: 23
Category: life
02/17/08 06:10- ID#43375
The Benefit
Last night was great. We raised over $1400 for the Fahmer family and the Neonatal Unit at Childrens Hospital.
I wish I had brought my camera because the amount of sugary chocolate goodness was just ridiculous. Ridiculous.
Side note: I had the best cake I've ever had in my entire life last night. It was the red velvet from Olson's Bakery (in Williamsville I think).
It's never too late if you want to help out. Go to
and follow the PayPal links if you want to assist them.
Permalink: http://estrip.org/articles/read/mrdeadlier/43375/The_Benefit.html
Words: 91
Category: life
02/16/08 12:49- ID#43358
Out on a Friday night? What?
Last night was the first time I was out on a Friday night (or Saturday night, or any other night for that matter) past midnight in I don't know how long.
After dropping the kids off at my in-laws (hey I'm starting to like this), Chrissy and I hit Wegmans for some sushi. Yeah, I guess that's how married couples date sometimes. We then went home so she could continue studying for one of her teaching certification tests she has coming up in a week or two.
My best bud Jeremy is in from out of town so once Chrissy got settled in he swung by and the two of us went to visit my sister, who bartends at the Shannon Pub way down Niagara Falls Blvd. It was fun surprising her since she didn't know he was even in this weekend. My mom and then later my dad met up with us after a while to spend a little time because they wanted to see Jeremy and get caught up a little.
The first 10 years or so of my life were spent with he and his family living in the house directly behind my parents' on the other side of the block. We're almost exactly the same age so it was like we were fated to be best friends. His family moved to Virginia in 1986(?) but we've kept in contact ever since. Even though there were like 9 hours of car travel separating us, I still kind of feel like we grew up together.
Dude, the Shannon Pub is sweet. They had a live Celtic string band and then later bagpipes playing. Awesome. I don't really drink so it's not like I ever get out to experience that side of life too much. I knocked back three Kalibers (NA Guinness) while I was there though. Yummy.
Anyway, after that we hit the billiards place on Delaware just north of Sheridan Dr. I've never been there, and last week was the first time in almost 10 years that I've played pool so I was in the mood. I don't know why I don't play more often. It's pretty relaxing stuff.
But yeah it was nice to get out and spend some time with Jeremy. Our visits always seem too few and too far between. Tonight is the benefit for Jacob Fahmer
but I'm hoping to hang out with him again tomorrow...
Permalink: http://estrip.org/articles/read/mrdeadlier/43358/Out_on_a_Friday_night_What_.html
Words: 405
Category: life
02/03/08 01:13- ID#43154
Almost proved her right
Going to bed just now reminded me of how I woke up this morning.
Each night I go to sleep with my iPod earphones in. I've become so dependent on listening to music at bedtime that it's pretty pathetic.
Over the past two and a half years my wife has mentioned several times how pissed she's going to be if she wakes up next to me strangled to death by the earphones. "Pshaw," I always tell her. "Stop being so melodramatic," I say. "Ain't nothing like that gonna happen, you crazy woman."
So I wake up this morning and go to get out of bed and realize these things are freaking looped about my neck -- twice! One more roll and I might have woken up blue. I must have been tossing and turning a lot last night. Don't tell her this though. It'll just be our secret,
(e:strip)
.
Or maybe she... Nah, that's not her style.
Anyway, goodnight. First song on tonight's playlist is "New Soul" from the MacBook Air commercial.
Permalink: http://estrip.org/articles/read/mrdeadlier/43154/Almost_proved_her_right.html
Words: 173
Category: life
01/28/08 08:59- ID#43068
Encouraging words
Remember several posts back (
(e:mrdeadlier,42948)
) when I mentioned my friends' baby that was born with Trisomy 18?
Well, for those that are interested, they've set up a blog chronicling his life day-by-day.
It's
http://fahmer.blogspot.com
. I've also placed a link under my
Fav Links
listing ("Jacob Ryan").
On the site there are links to some beautiful photos as well.
Permalink: http://estrip.org/articles/read/mrdeadlier/43068/Encouraging_words.html
Words: 61
Category: life
01/25/08 09:50- ID#43027
State of Love and Trust
I remember we could talk about anything
I remember when we used to want to hang out
I remember we could talk about everything
I remember, I remember, I remember

We never talk about the future
We never talk about the past anymore
We never ask ourselves the questions
To the answers that nobody even wants to know

Oh well, oh well, oh well
So much for the afterglow

Permalink: http://estrip.org/articles/read/mrdeadlier/43027/State_of_Love_and_Trust.html
Words: 69
Category: life
01/19/08 01:13- ID#42948
Rough week
As the title states, this was a rough week.

First, our friends just had a baby that they knew was going to need immediate care because of a heart defect. What they didn't know was that the defect was only a symptom of larger issue. Turns out the little guy has a genetic syndrome known as Trisomy 18 which is kind of like Down's Syndrome (aka Trisomy 21) but much more dangerous. Most babies die within the first week or two and 95% that don't eventually die within the first year.

The whole thing is freaking heartbreaking. Chrissy's been up there almost every night, spending time with the mom and just trying to support however she can. They have 2 other boys (5 and 3) so we've taken them for a few several hour stints this week. We actually took them to the movies tonight as well.

One thing that strikes me is that the first 2 kids were born naturally but this one was taken through C-section, which means she'll always have the scar to remember this by. I don't know if that's good or bad.

They are both committed Christians (he was actually a youth pastor for a while) and are very accepting of the whole situation. Not that they're robots who are sleepwalking through this whole mess but they have this crazy peace about it that is foreign to me even being the self-professing believer I claim to be. They're definitely grieving but like I said the peace is supernatural. What an inspiration -- I can only imagine myself in that situation cursing God and feeling incredibly bitter. ...Just being honest.

It makes me so thankful that the 2 kids I have been blessed with passed the whole "10 fingers and 10 toes" test everyone always references when they're expecting. Not that it would matter even if they didn't pass it. Those little girls are the defining points of all that matters to me.

So anyway, after that whole situation this week, we get a call saying that a different friend of ours' mother was in ICU after being rushed to the hospital last night. I guess her blood became toxic (?) and all the antibiotics they gave her only lowered her blood pressure.

She died tonight, just a couple hours ago. It sucks: by the time everyone else got there (including her kids) to see her she was already intubated (sp?) and sedated, so no one got to say their goodbyes. Our friend -- the one whose mom it was -- is due to have a baby next month. Talk about having a lot of balls in the air.

Next week will suck as well, I'm sure what with the related fallout of these 2 crises and all.

Permalink: http://estrip.org/articles/read/mrdeadlier/42948/Rough_week.html
Words: 450
<-- Earlier Entries
Author Info
Date Cloud
Category Cloud
My Fav Posts
This user has zero favorite blogs selected ;(