Category: life
06/10/08 10:25 - 63ºF - ID#44609
Where have I been?
Well, around. Just haven't been in the blogging mood lately I guess.
So what's up with Senor Deadly++?
Not much I guess, which is probably why I haven't been blogging. And yeah before you ask I've been having a real hard time sticking to my weight loss initiative as of late, argh. It really is hard to stick to your guns. Now summer is here and I'm carrying the extra weight I promised myself I wouldn't be when it came around. Oh well.
I saw Speed Racer on the Imax last week. My advice: unless you see it on the Imax (which you now can't because it's been replaced by Kung Fu Panda), save your money. It wasn't that hot as a standalone film. But on the Imax it was pretty pretty.
I joined the Switcher crowd (or as
(e:enknot)
would say, drank the kool-aid) and moved from PC to Mac last month. Or at least in the work portion of my life. I still have a Windows PC as my computing solution here at home.
I love it though. If it weren't so cost-prohibitive I would make Mac my main platform in all realms of my life.
More updates...
I won my first round of poker in early May. Score! Too bad we weren't playing for money, lol.
I traveled to my personal Mecca and visited the Pro Football Hall of Fame in Canton, OH a few weeks ago. What a blast. Although they surely don't add
that
much stuff each year, I would love to make it a yearly excursion. It was fun to get away for an overnight trip with a couple buddies. You can see my photos
here
.
Um, what else? Let's see, my sister-in-law got married this weekend (well actually in January but the ceremony was this weekend -- don't ask). Both my wife and I plus our two girls were in the wedding which sounds stressful but really wasn't too bad as it was all a pretty laid back affair.
The highlight for me was that at her house later that night she had a post-reception reception and a good friend of hers from CA was doing tattoos. Before you gasp, the dude was totally legit and has a
professional operation
. And his work is GREAT. Take a look.
So I got my (first) tat on Saturday night. It's been something I've been planning on getting for over two years and once I got the vasectomy in October, I knew exactly what I wanted: something with my kids' name/initials worked into it. Knowing now that the chances of a #3 entering our lives is nil, it made it easier to come up with a design.
Warning: Religious-type "God stuff" ahead ** :)
So I got a tribalish Christ with a crown of thorns and my girls' initials beneath it on my left arm. I don't have a camera with me at the moment so I can't snap a photo and show the world but it's pretty simple to describe.
Do a Google image search for "Jesus tattoo" and it's like the second one that comes up (yeah, sad and unoriginal perhaps but I don't care -- I love the design anyway). For those too lazy to search, here it is: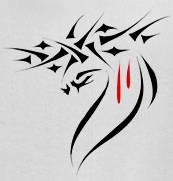 I first found it back in November 2005 and have had it bookmarked since then. Back then it wasn't that high in the Image Search results but whatever. Maybe I should try and Google bomb alternate images to bump it down, lol. But then again knowing
(e:strip)
after I click the "publish" button I'll probably have the #1 item in about 10 minutes! Like I said, whatever. It doesn't matter.
Anyway, below it is DGCF in an Old English-type font. The G and F are my girls' middle names (Grace and Faith) and are red like the blood, while the D and C (my girls' first names) are black like the rest of the design.
So in the scope of the whole design, "Grace" and "Faith" are directly correlated with the blood that Christ shed.
Next up is figuring out how I can work a Darth Vader helmet into my skin canvas! Just kidding... sort of.
So that's been my life for the past month and a half / two months. Work has been kind of stressful as of late so when I come home I just try to decompress and live as "unconnected" as possible (meaning computer stuff). I've actually been going to bed a lot earlier lately, as well.
Blah, blah, blah. See you around,
(e:strip)
.
Hopefully it won't be so long next time!
Permalink: http://estrip.org/articles/read/mrdeadlier/44609/Where_have_I_been_.html
Words: 771
Location: Buffalo, NY
<-- Earlier Entries
Author Info
Date Cloud
Category Cloud
My Fav Posts
This user has zero favorite blogs selected ;(