Category: movies
06/26/10 07:44 - 73.ºF - ID#52047
Double Sandler and Karate Kid
So I wanted to do a video post about this but why staircase was to dark, I didn't have time with buying food to go down elmwood and talking to a camera on a bus with people on it seemed a bit off.......

I thought the Karate Kid was very good. When I saw the preview I expected it to be just like the original. Don't get me wrong I don't remember all the story of the 1st two I was young the last time I saw it. I will admit they had to set up the story before they got into the action and that is ok. I myself thought it was very good. Oh yeah one thing that through me a bit is how much the kid really looks like will smith, it is scary and was tough to get used to but I still liked the movie.

Tonight I'll be watching Funny People (Adam Sandler). I am hoping that it will be very funny. Comedy is a strange thing sometimes what shouldn't be funny is and sometimes it is the other way. Grown Ups to me at least strated out very funny. I thought there was a great cast and a good story. The thing with most of Sandler's films is that they aren't all jokes all movie long, they do put that family or meaning or getting your life on track that kind of thing in his movies and yes that was in there as well. I enjoyed it and had a good time. It was also nice to see Rob Schinder get some movie time and not just saying "You Can Do it". Guessing if you like his other movies you would like this..........

Permalink: http://estrip.org/articles/read/metalpeter/52047/Double_Sandler_and_Karate_Kid.html
Words: 289
Location: Buffalo, NY
Last Modified: 06/26/10 07:44
Category: estrip
06/23/10 05:06 - 81.ºF - ID#52018
Elmwood and Soccer aka Futbol
So so far I like the New Estrip. One thing that I have to get used to is that if someone has multiple posts Like
(e:vincent)
has 3 showing
(e:paul)
has 2 that I don't have to go in order if I click on the newest one then I can also see the older posts and just go down the line. I haven't tried yet yet to go forward and see how that works.
Oh yeah the Youtube Video I figured I should test out so I made one. Yes it is dark and after that looks kinda trippy. The point I was trying to make is that Yes The World Cup is a big event but I just can't really get into soccer. I think part of what I don't like is that it takes time to go down the field and then often once you get down there no one scores. I'm also kinda the same way about Elmwood. I like the strip and there are a lot of great places but often I don't go places or I forget about places, I just went to the New ETS last weekend. I was going to buy an I heart shirt when I first saw them but then all the girls started wearing them, so I was like I don't know they are like a girl style now. I didn't really say all this in the video though. I have wanted to try Toyoko Shanghi since it opened and never gone, I forget about Louie's all the time, I can't tell you the last time I was in an elmwood bar, guessing St. Pats to Jackdaw (Yes ran into Timika and Jenks so that was some time ago), that is just a guess. So as much as I like Elmwood I don't use it as much as I should. I do think that part of it is because I think of Elmwood as for 4 kinds of people and I'm not any one of them:
1. The Cool People
2. The People who live really close and shop there
3. The Un-cool people who are now cool for not being cool (would that be a hipster)
4. The people who come from the burbs.
Well this all started out just as a test to see if the video works hope some people like it. I'm also hoping to use Elmwood more then I do......
Permalink: http://estrip.org/articles/read/metalpeter/52018/Elmwood_and_Soccer_aka_Futbol.html
Words: 408
Location: Buffalo, NY
Last Modified: 06/23/10 05:06
Category: movies
06/19/10 07:53 - 77.ºF - ID#51967
A-team and Jonah Hex Rocked
So I will be the first to admit that yes I wrote a blog about the A-Team previous to when I saw it. Turns Out I was a bit wrong. Murdock was amazing. I was laughing but it just might be me. From what I understand the guy playing him was the same guy from District 9. You would never be able to tell really so that is a good piece of acting. I like how the movie started out. Yes there was good action and still a story line. Hey "I love it when a plan Comes together" means you still have to have story. Now some might not agree but it was worth it to wait through the credits, like you don't have a couple of minutes extra with all the money you just paid to see the movie, plus you want to see who did the music some of the time anyways. Hannibal was great also, and I love the BA Fight scene can't say anything else, don't want to give anything away.

Couple preview things. Insurection with Leonardo DiCapio looks really good and really confusing. Predators looks like a through back to the first movie I want to see that. I don't remember what it is called but there is going to be some movie with Bruce Wills, Sly, The Gov of Cali, and Jason Strathen (Jet li Movies, Transporter, Crank). That should be interesting. Oh yeah the new Resident Evil movie in 3D looks increadable. But that brings up a question I have. There was this ad for Wonka bars, yes they look like they are coming right at me off the screen, it was amazing it really was, but if they can do it in an ad why not in these 3D movies?

Onto Jonah Hex. Yes I admit Megan Fox is hot and I won't say all the dirty kinky things I would love for her to do to me. But in this movie that is the role is playing plus I think she pulls off the action Parts. I have heard that this movie has been bashed and things from the comic have been changed, but I never read it so..... I thought action wise it was pretty good. I liked the story and the settings. There where also some pretty cool visual things as well, and I don't mean just Fox, again don't want to say anything to give anything away. What I will say is that the movie really moved quickly and had great rocking music. The stuff in the end credits was really good, wish I could have thought of more interesting stuff to say to the hot lady who comes in to clean about the movie music, like hey have you ever seen this band live, who knows if anyone can fill you in on the music in the movie that they like it might be someone who works there.

All in alll I really liked both movies. Here is what I will say is if these are your type of movies you will like them, if romantic comedy is your thing go see Killers (haven't seen it but it looks like it will be funny, yes I want to see it) I had stuff I had to get at target so I missed the Zillycakes 1 year cupcake thing, it sounded really tasty to, oh well. I guess I'll try them some other time.

Permalink: http://estrip.org/articles/read/metalpeter/51967/A_team_and_Jonah_Hex_Rocked.html
Words: 575
Location: Buffalo, NY
Last Modified: 06/19/10 07:53
Category: wishes
06/18/10 07:00 - 81.ºF - ID#51952
Wish #6 Spontaneous
I wish I was Spontaneous. I think it would be great to see that say some musical is playing in NYC and just go there and buy a ticket and have a good time and then zoom Home (yes it is an 8 hour drive or longer by bus or train). Or it would be great so see the Blue Jays are playing some where and then just go there. Or it would be great to like just go on an adventure somewhere. In my mind this was going to be much longer but this is all I can think of................

Permalink: http://estrip.org/articles/read/metalpeter/51952/Wish_6_Spontaneous.html
Words: 100
Location: Buffalo, NY
Last Modified: 06/18/10 07:00
Category: event
06/16/10 07:50 - 72.ºF - ID#51903
2010 Artfestival Art
The above site is for one of the people's art I bought. I know the festival gets bashed by many but I do like the art that they have, well some of, and I'm sure some people don't like what I do. This post is also a test the one I did yesterday was in Safari and this one is IE just want to try it out and see if anything is different well here is that guys art that I bought: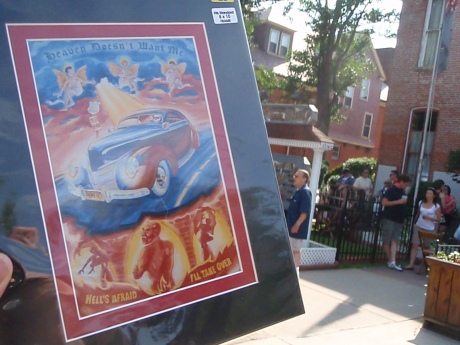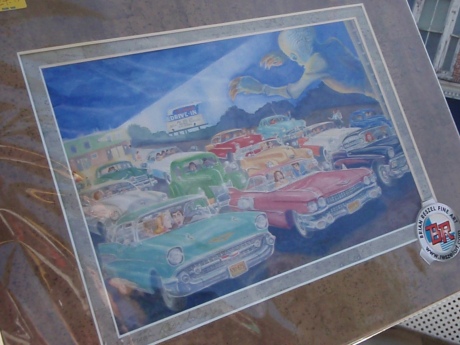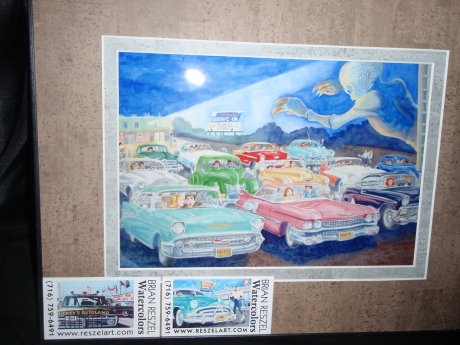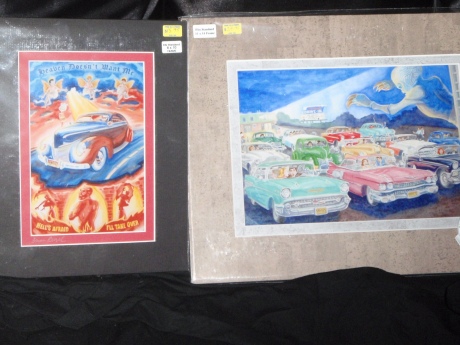 Rip Bodman has some really interesting art and is pretty interesting himself .
That should lead to the piece of art I bought, I forgot to take a picture of it. It is real bright colors and good contrast. I have thought of buying his stuff in the past but haven't I think price was a factor not sure if it was cheaper now or what my mind set was.
Paul Massaro is a Tattoo Artist
But he also does paintings. I bought prints. I think his work is amazing. I don't know what it says, or if it does. The one that I really wanted he didn't have a print of but I think you may enjoy his stuff. I had to come back on sunday. Yes I did like the Jesus Arm Wrestling Santa claus but it wasn't the one I really wanted but I like the two that I got.
The One I really wanted the most:
The reason I like it is you have the historical stuff like the moon and the bombers. What does a burning time magazine mean and what about that mask on the TV? But also in the room that animal has an arm and is the same thing that is happening in the picture, plus the entire thing is so striking.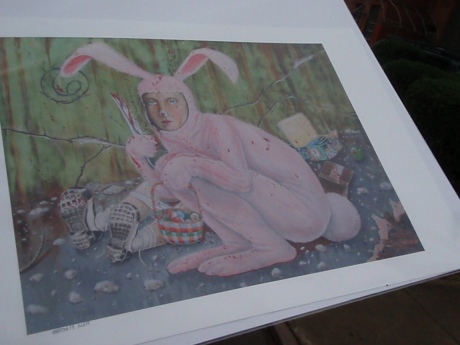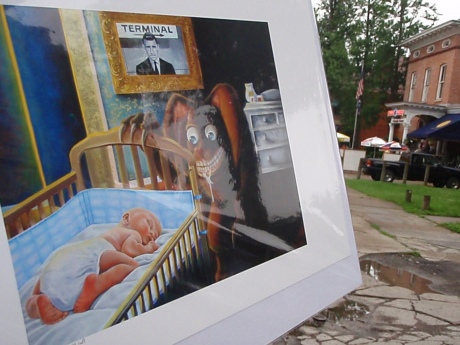 Well I might as well include some pictures from the festival and the general sense of things: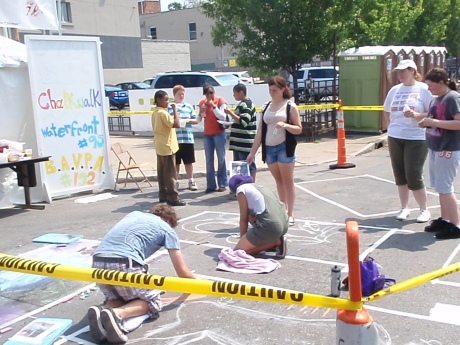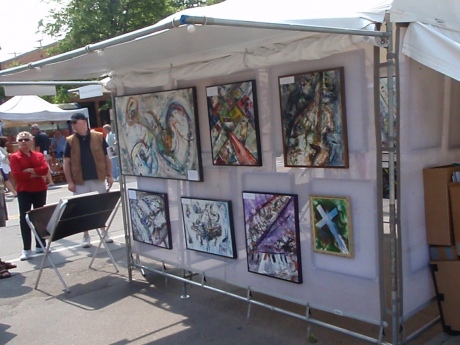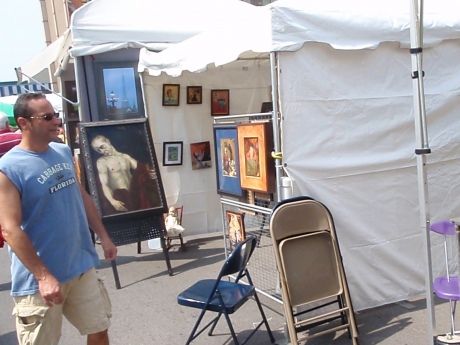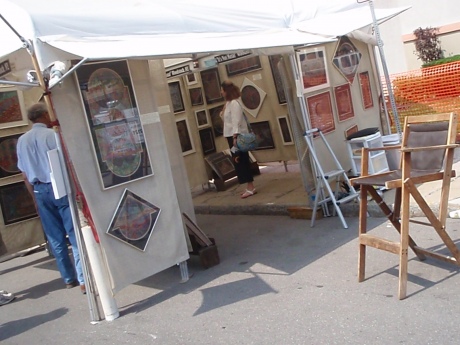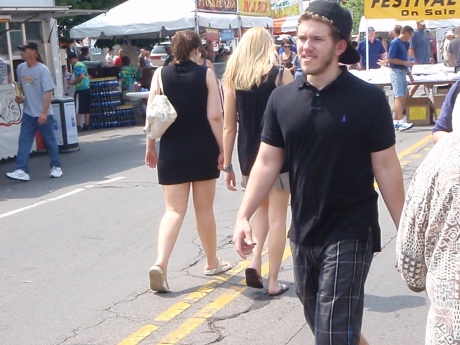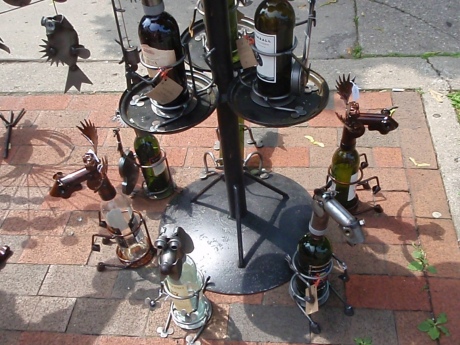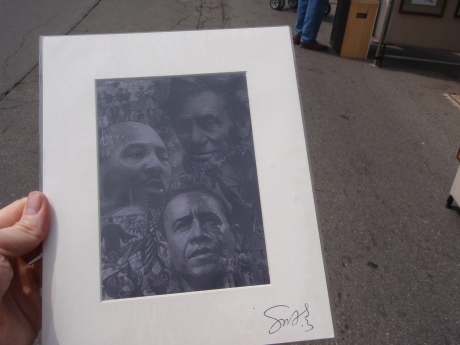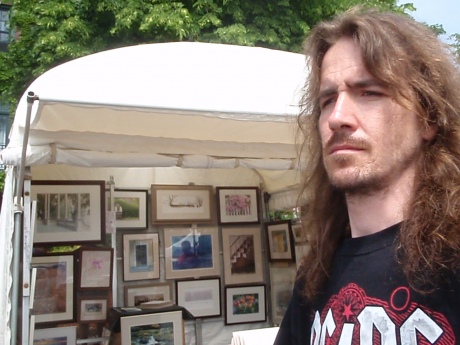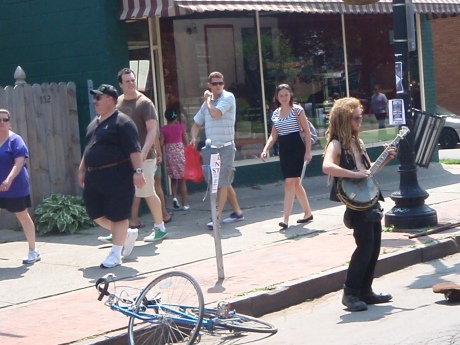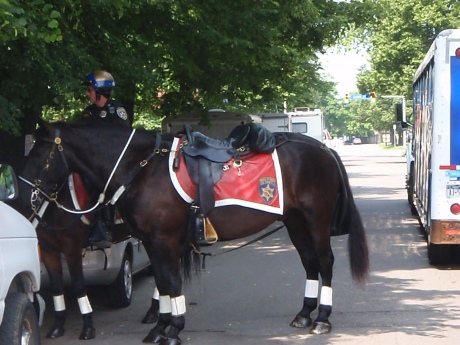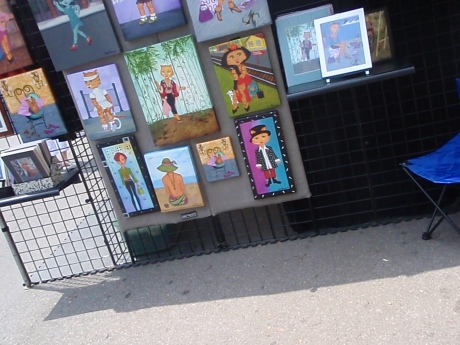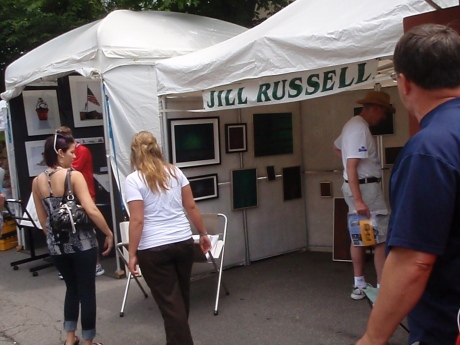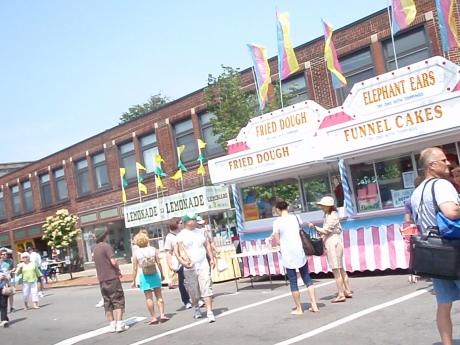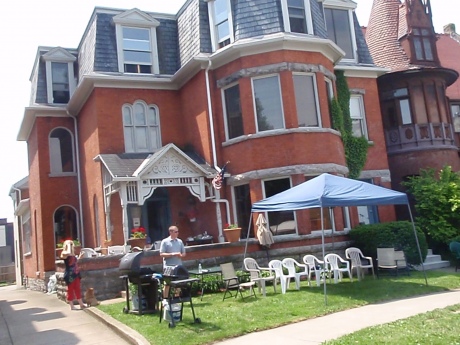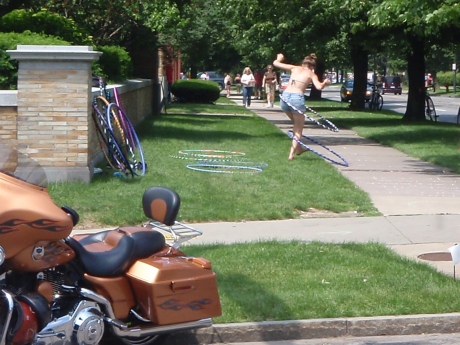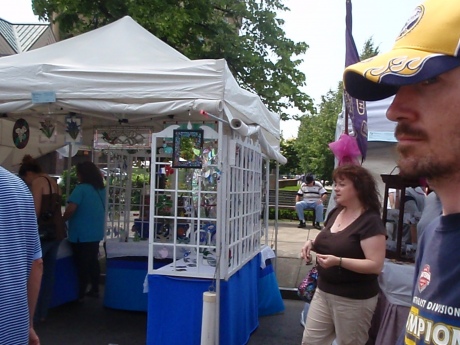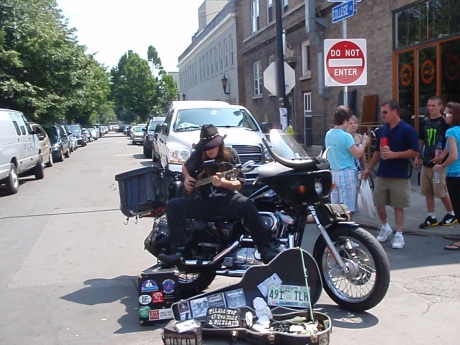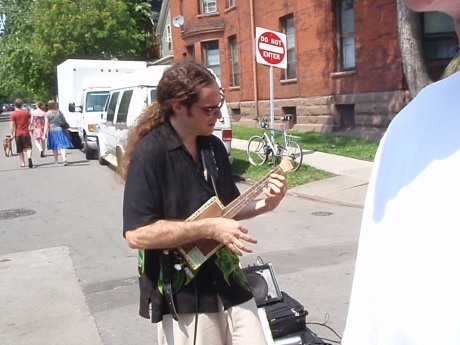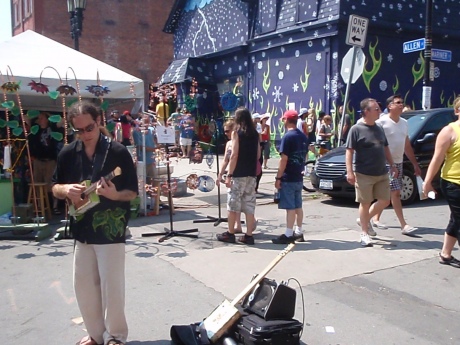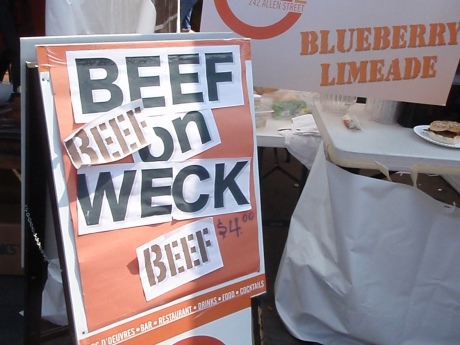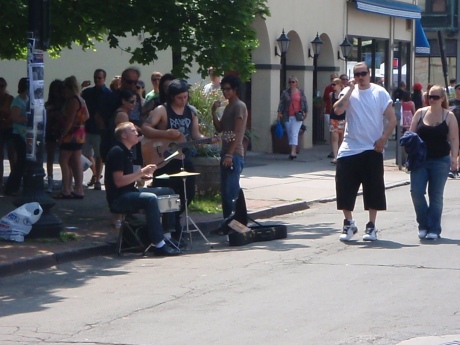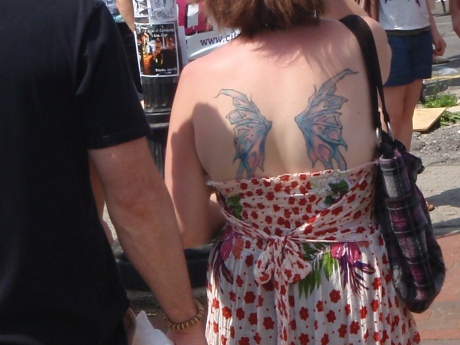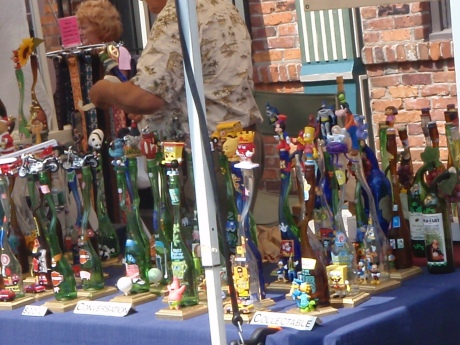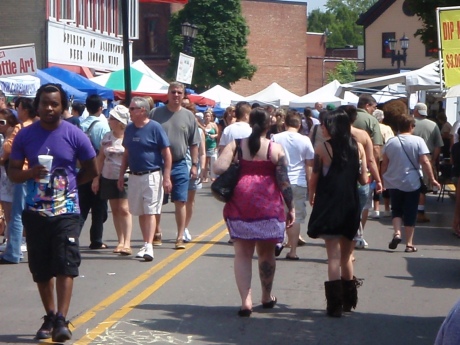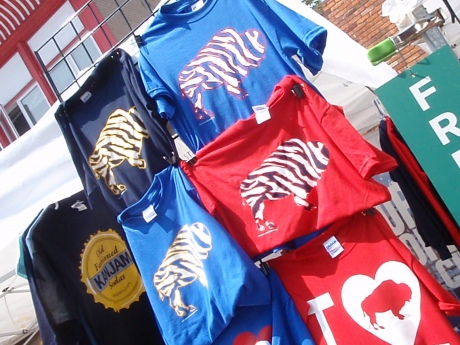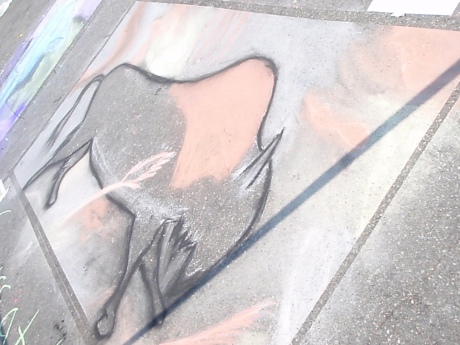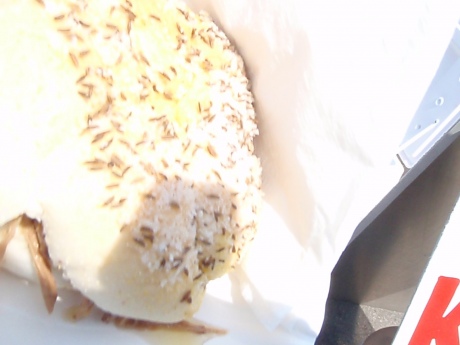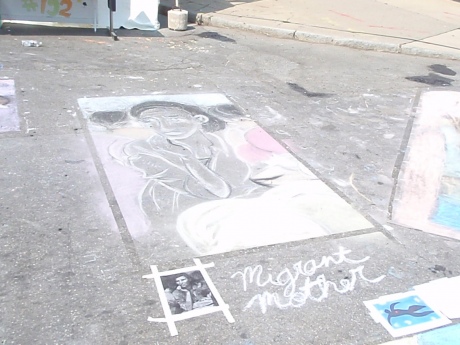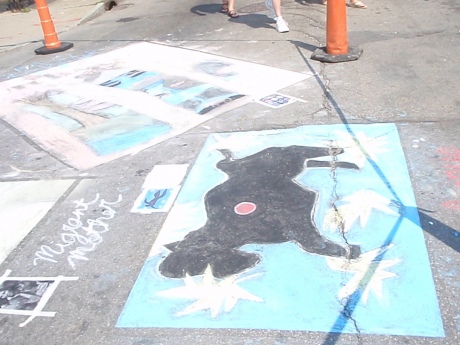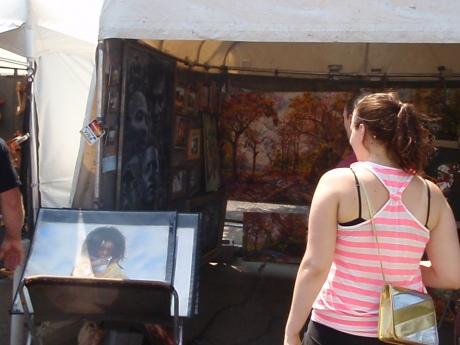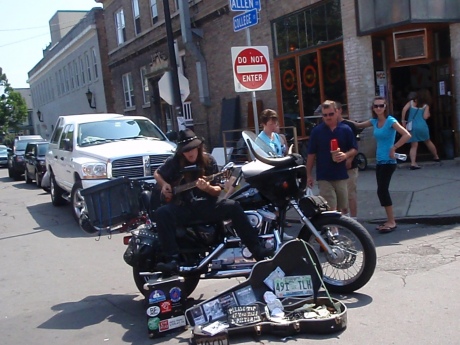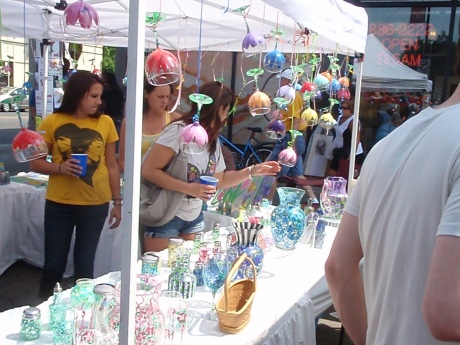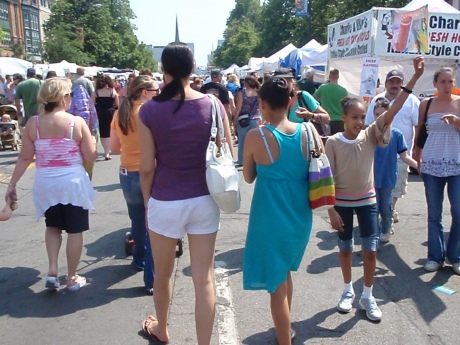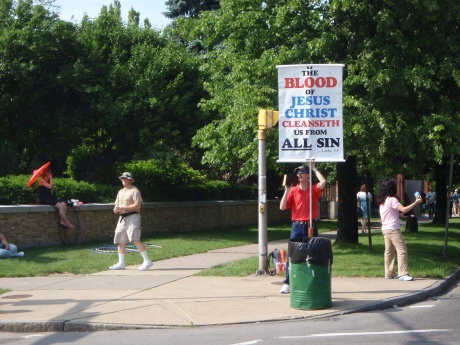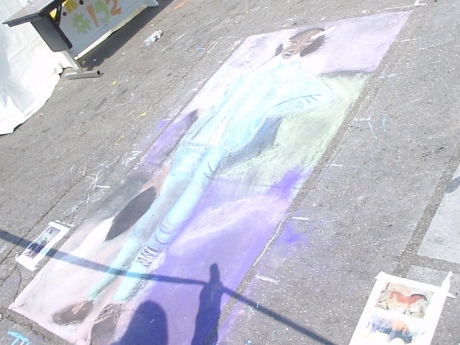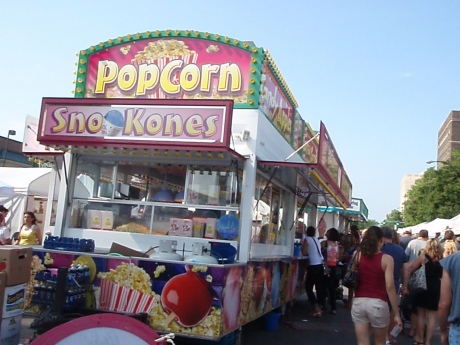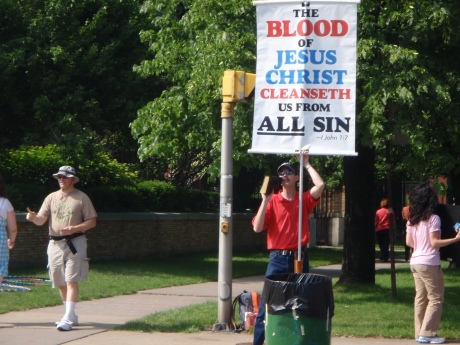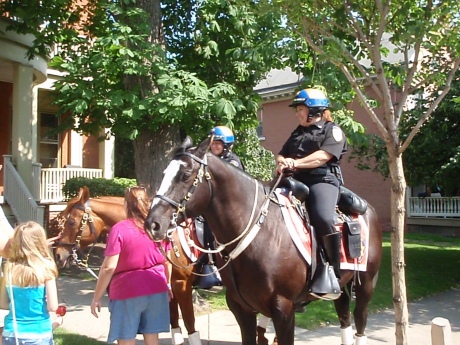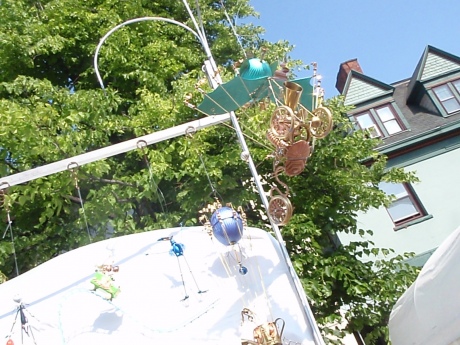 Before I got to a few pictures from Sunday I have to say that is sure seemed when I was there that less people where there compaired to last year. But that is just me.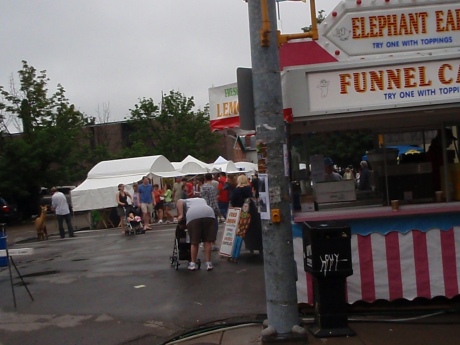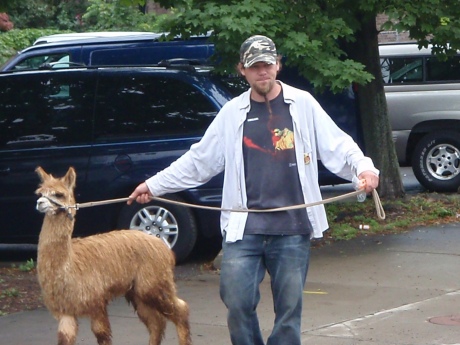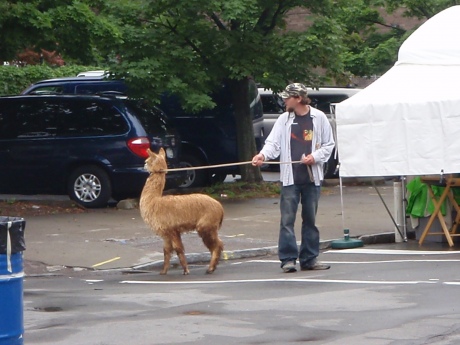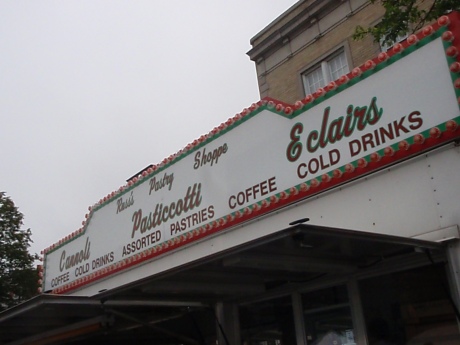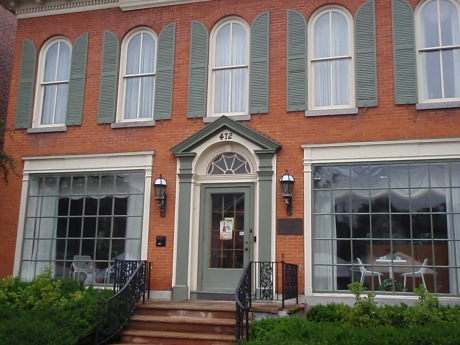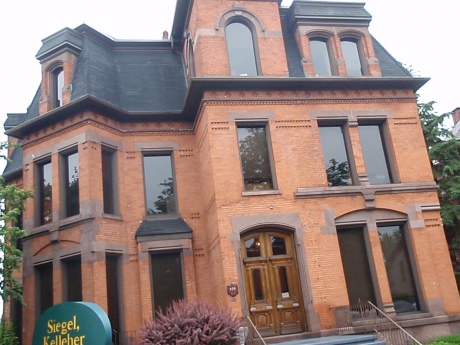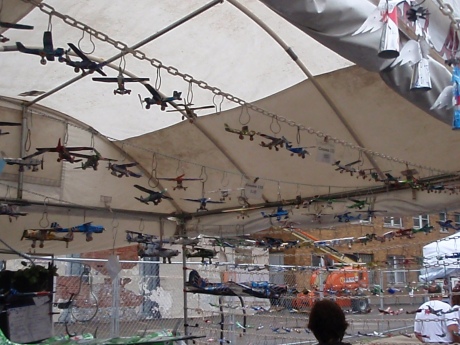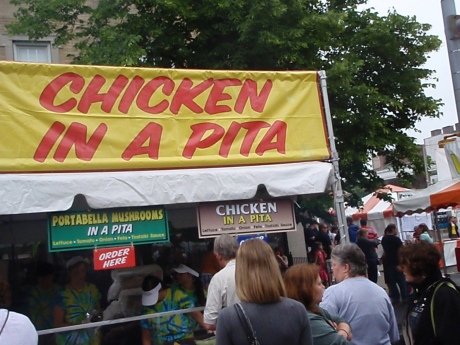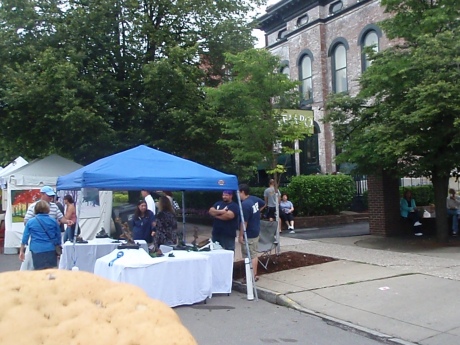 Well Now it is time to see how it comes out, I enjoyed the festival hope those that partok or didn't had a good time.
Permalink: http://estrip.org/articles/read/metalpeter/51903/2010_Artfestival_Art.html
Words: 542
Location: Buffalo, NY
Last Modified: 06/16/10 07:50
Category: event
06/15/10 08:05 - 70.ºF - ID#51895
MIA Press Conference
So this past weekend was The Allentown Art festival. Yes I did buy some art there but that is secondary. This is also going to be a test post to see how Pictures show up and that kind of thing. On Sunday at 3PM there was a press Conference for this Years MIA. They Also had a Photo contest with facebook and Delaware Camera, you could bring the photos in, in person and not online if you wanted to. A few of my pictures where selected I wound up winning some Olympus stuff so that is cool, I'm just happy to have my pictures displayed. Also at the recording studio they had Mark Freeland Art up.
Before the Official Start: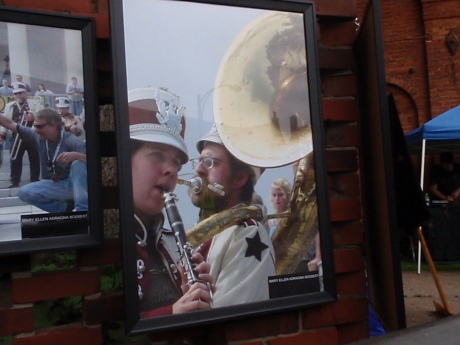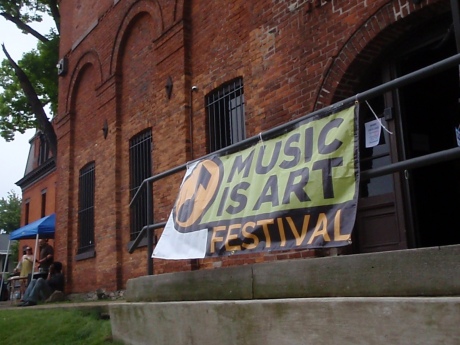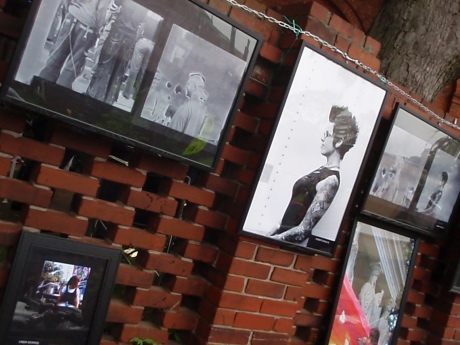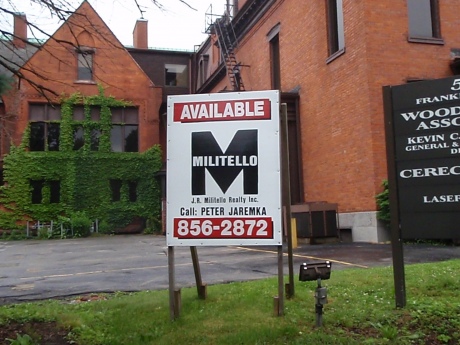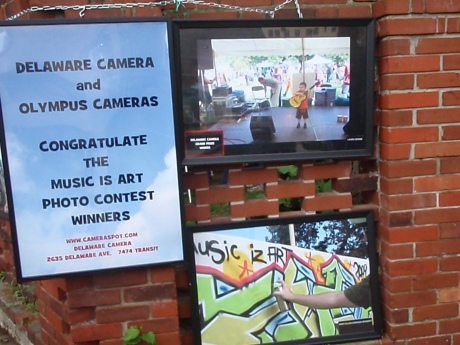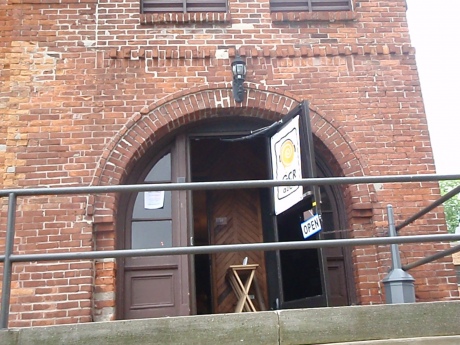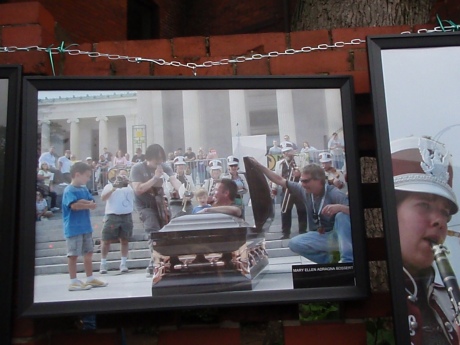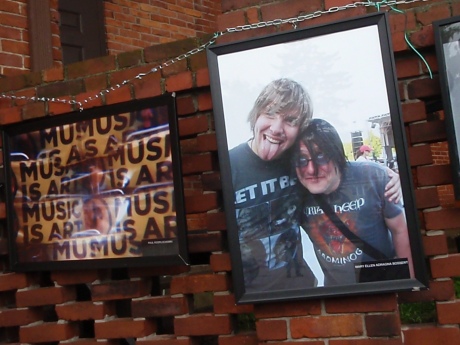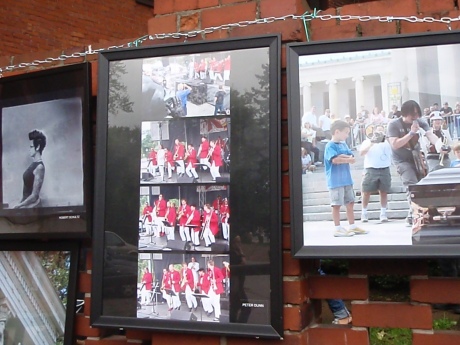 I should ad that the pictures I took are of the guys in the red suit coats called "Those Idiots", they do rock songs kinda as polka kinda, if you have seen them you know what I mean.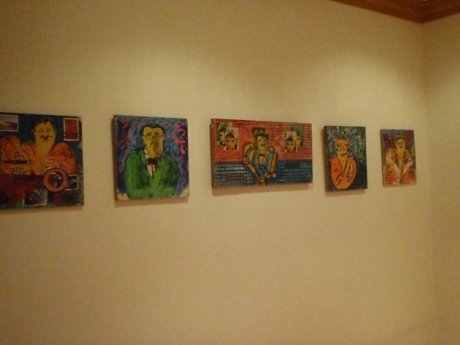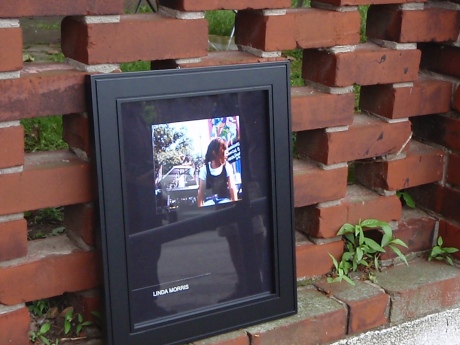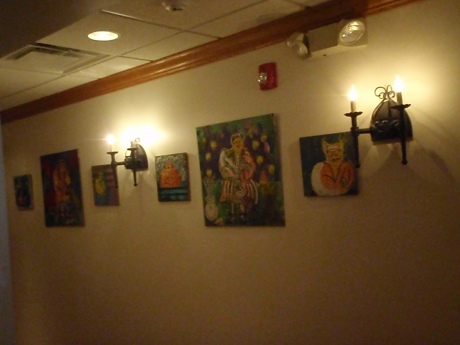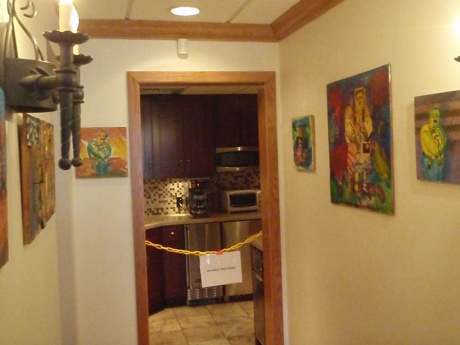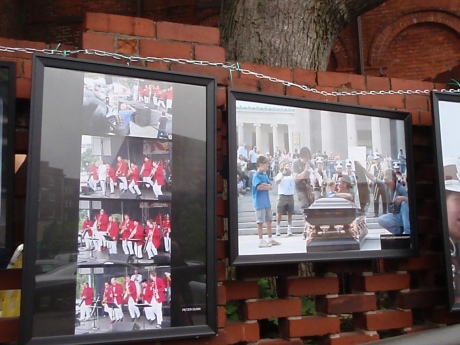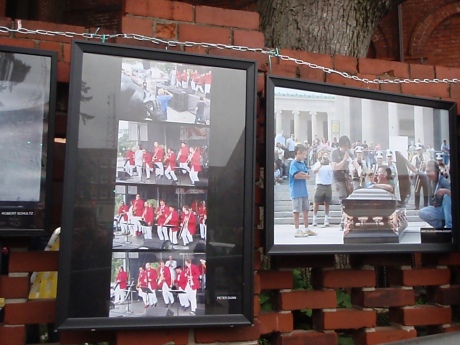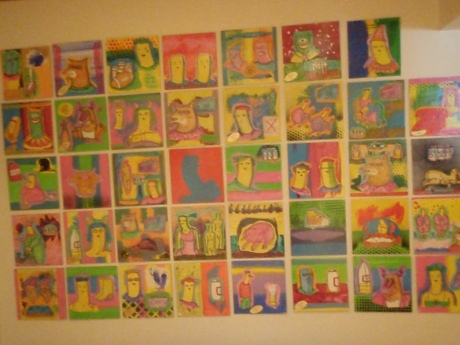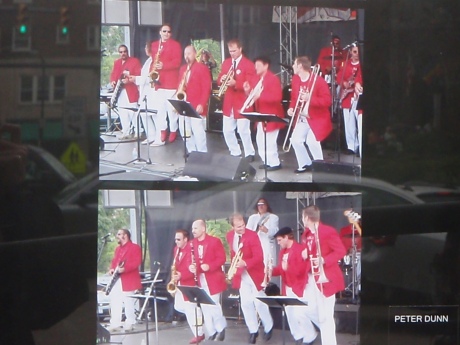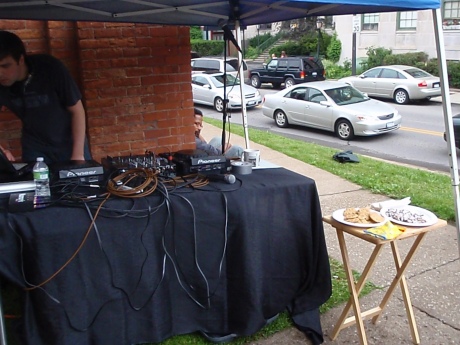 Well Just learned You can only do 10 pictures at a time, I used to only 9 mostly anyways.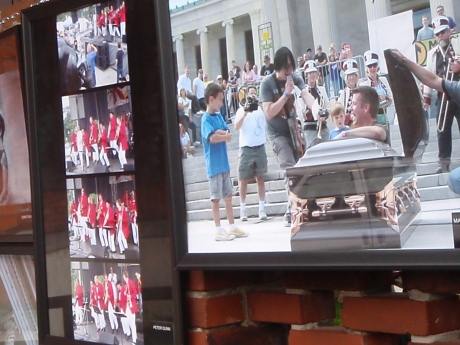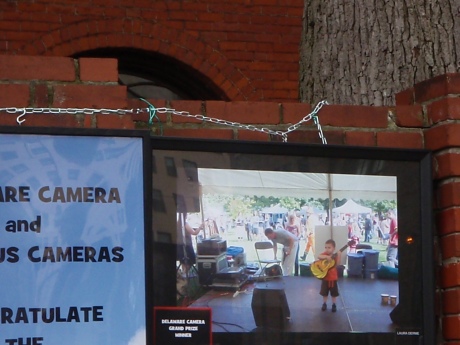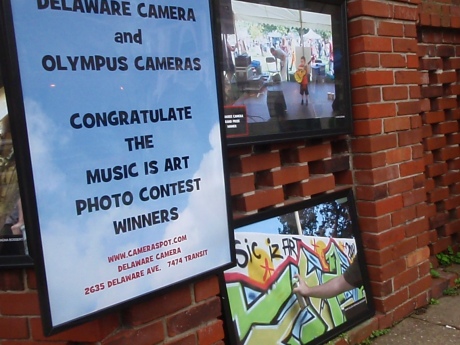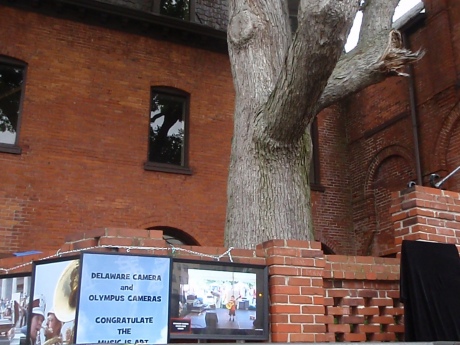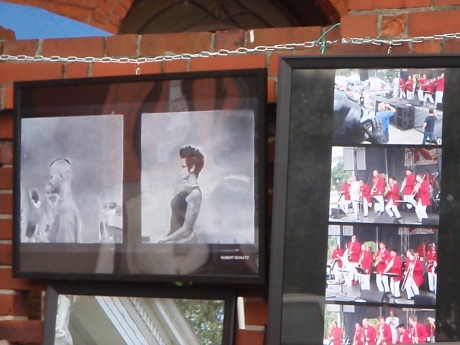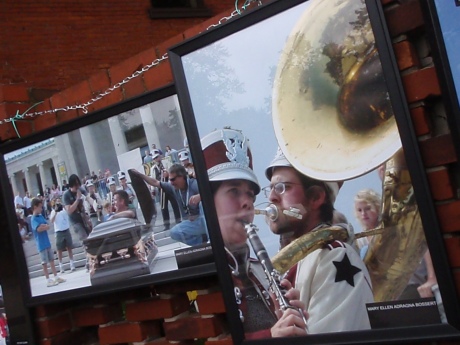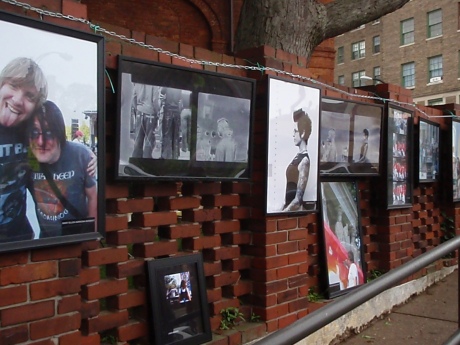 It Starts: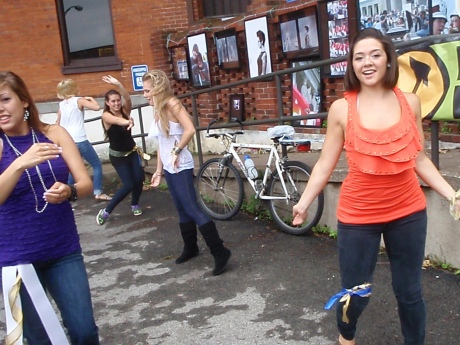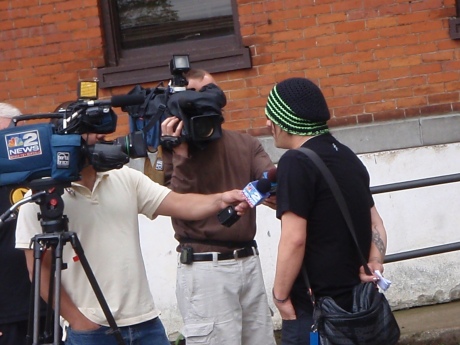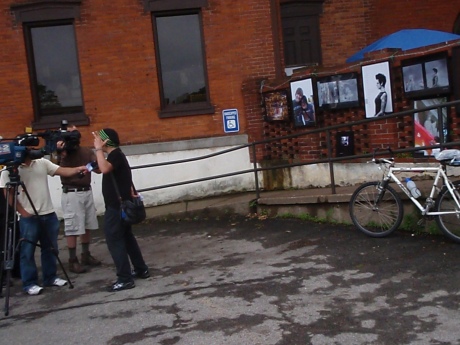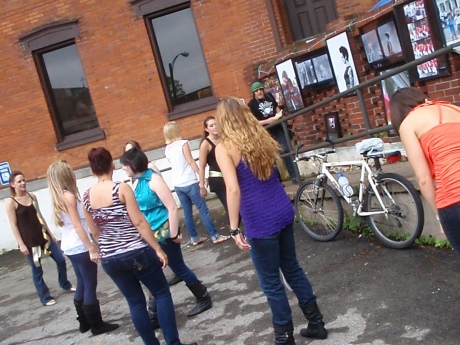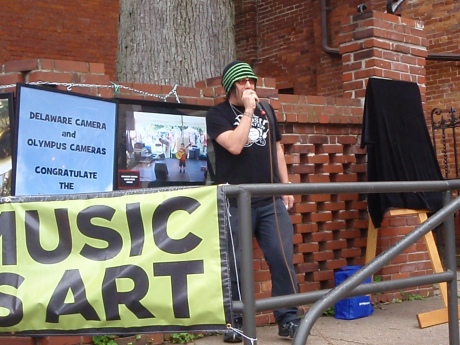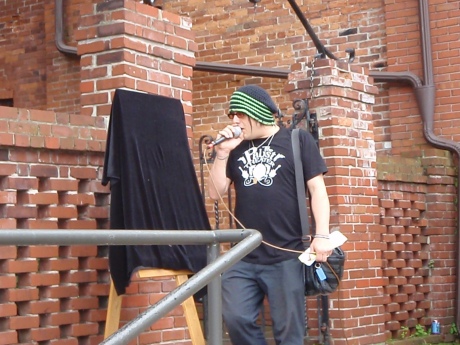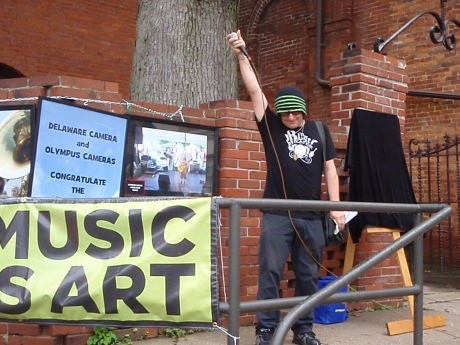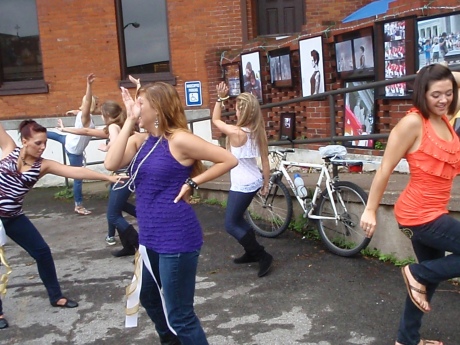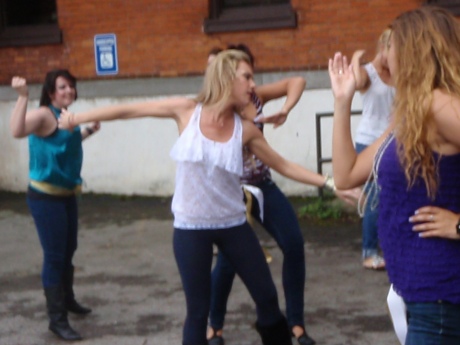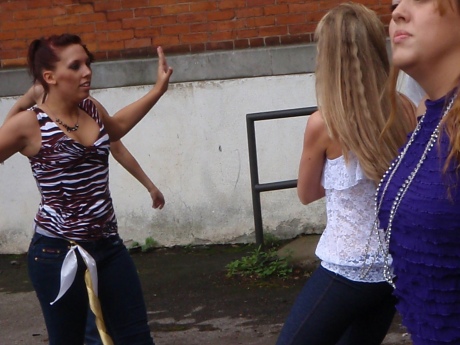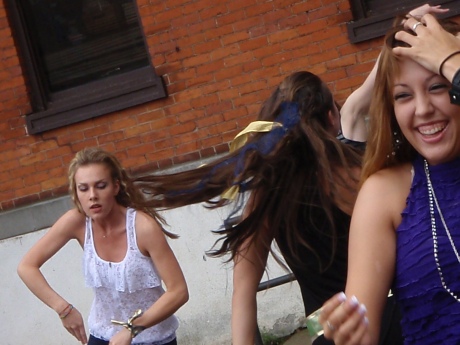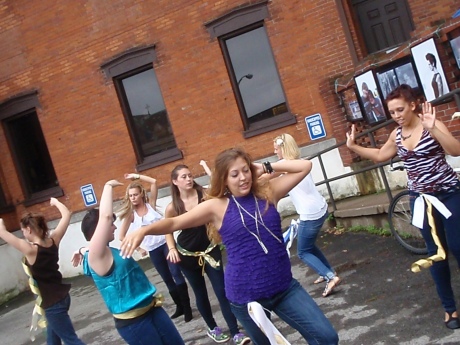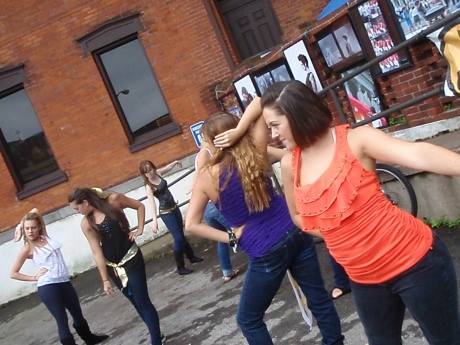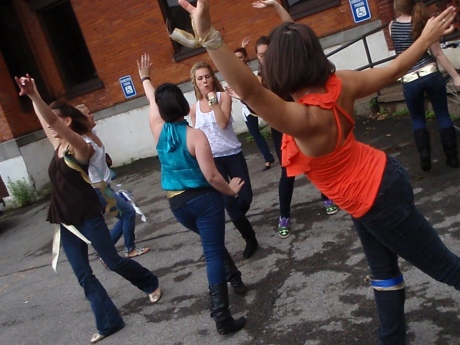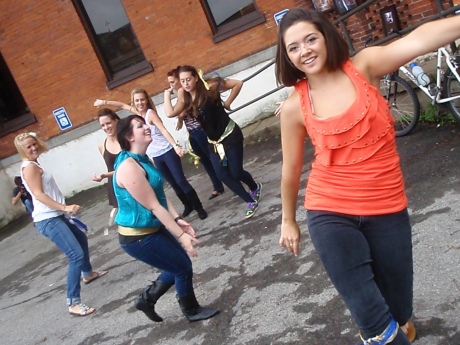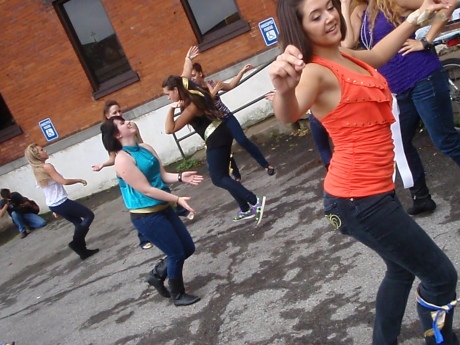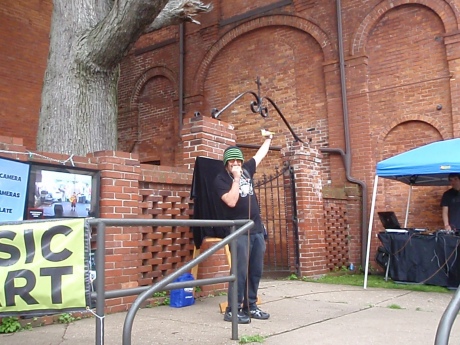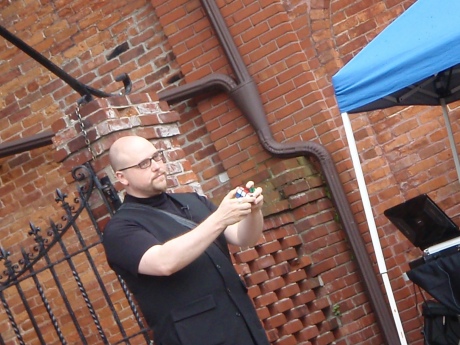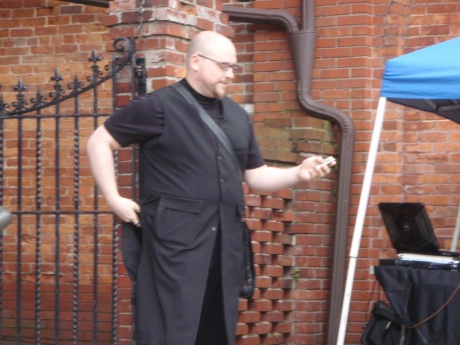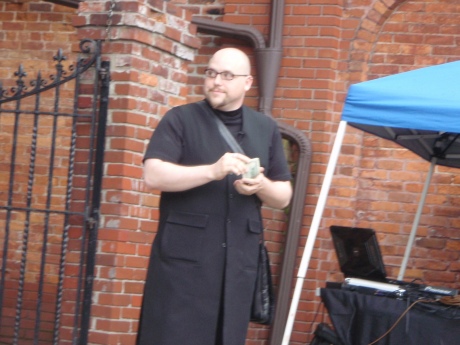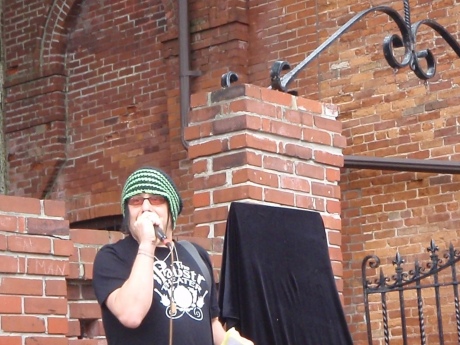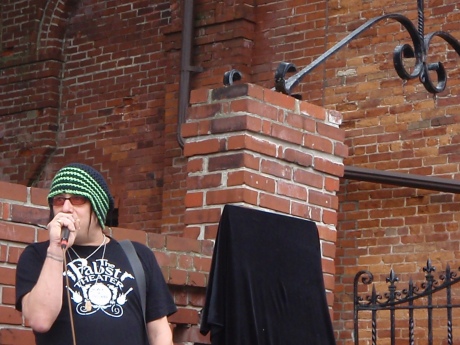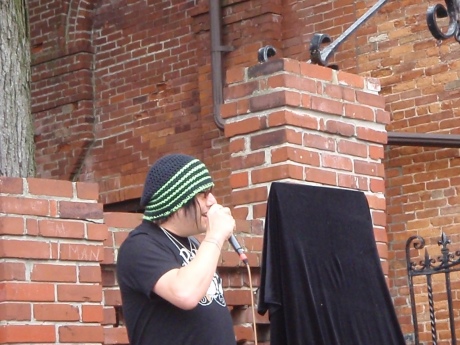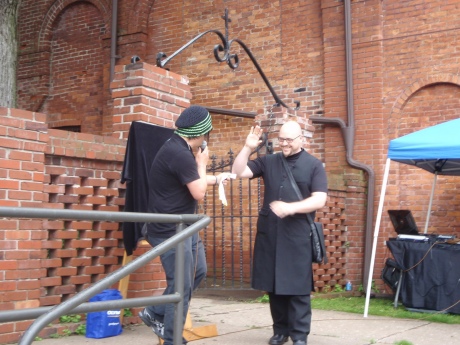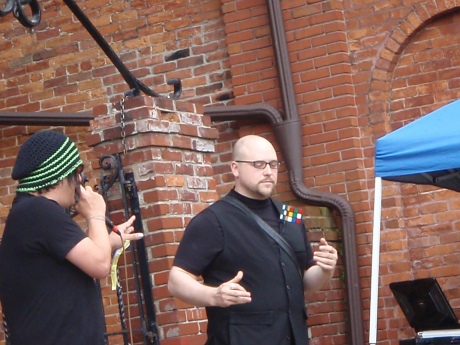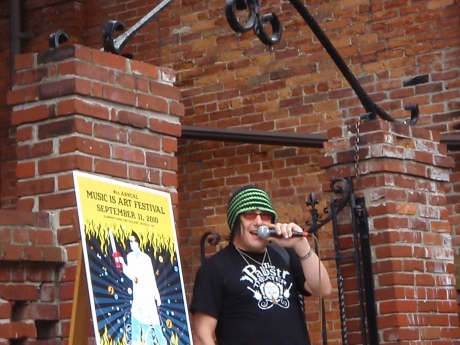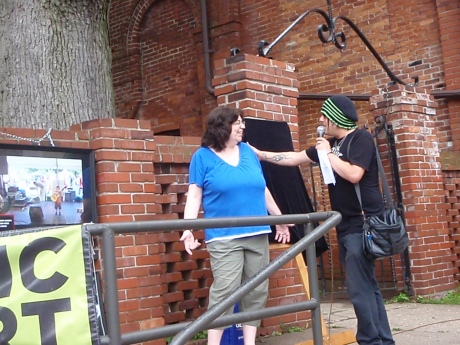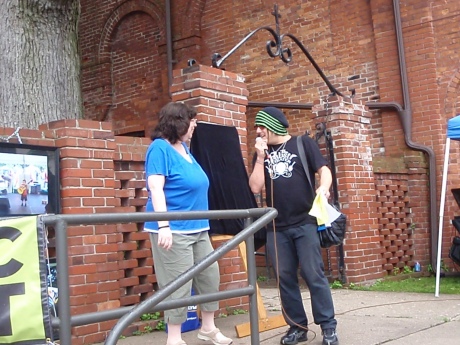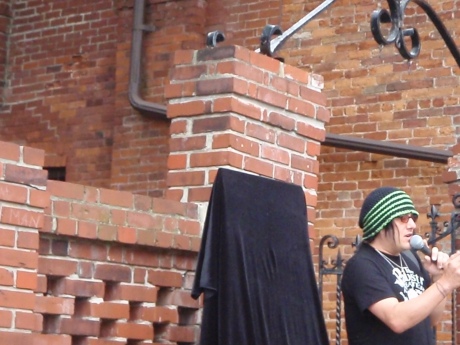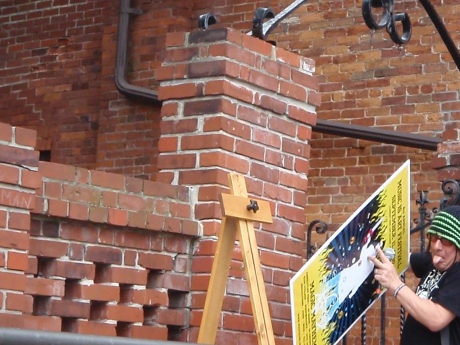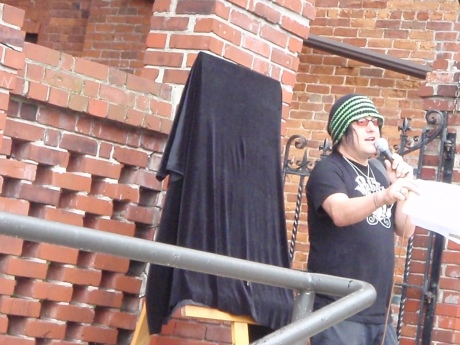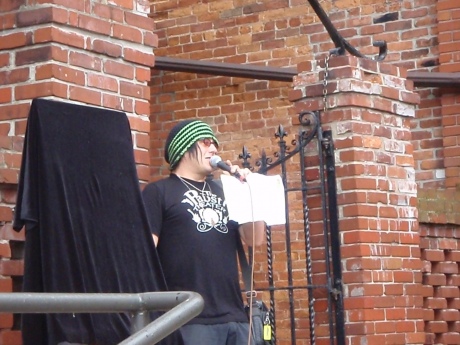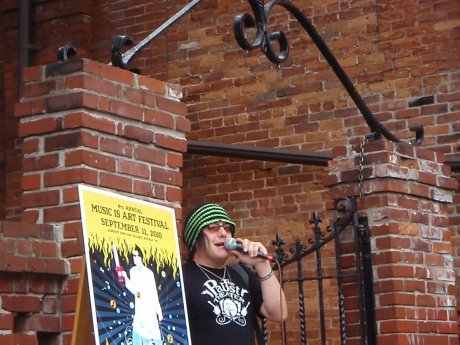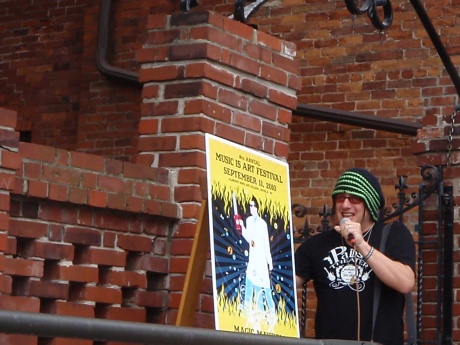 Then After the Reveal more dancing: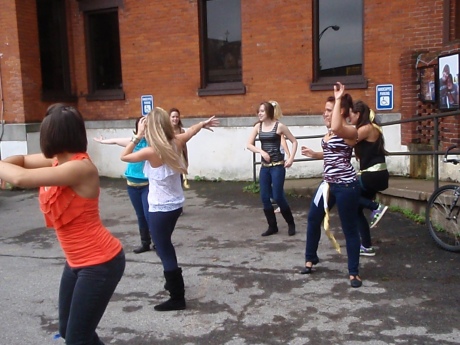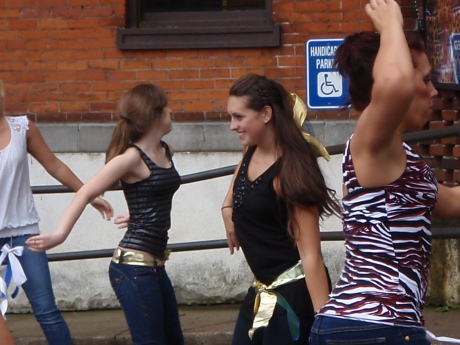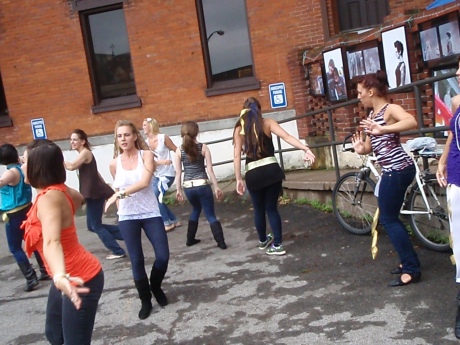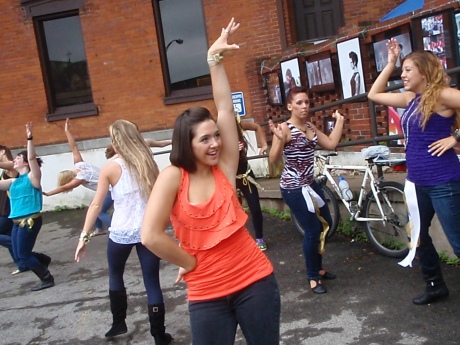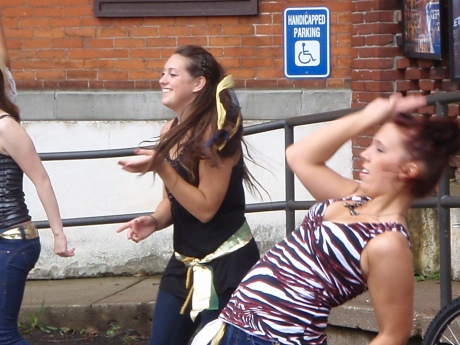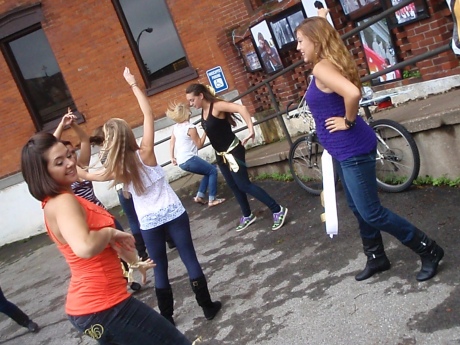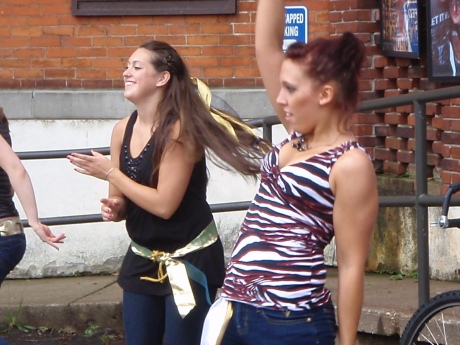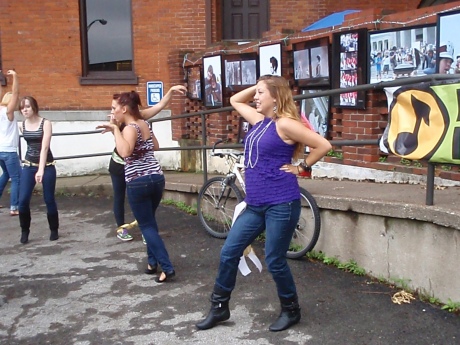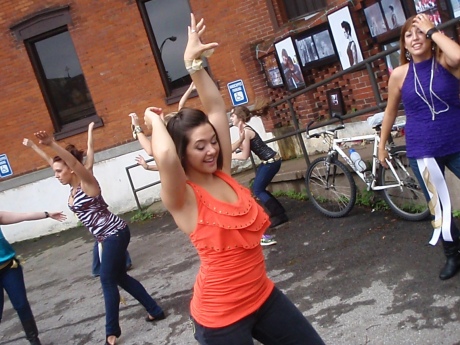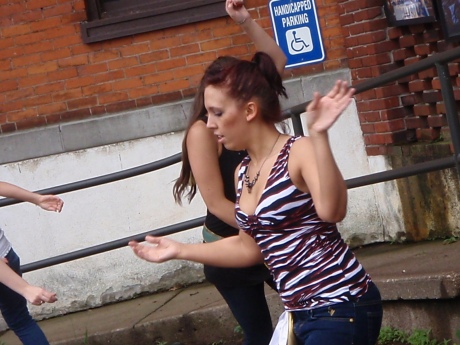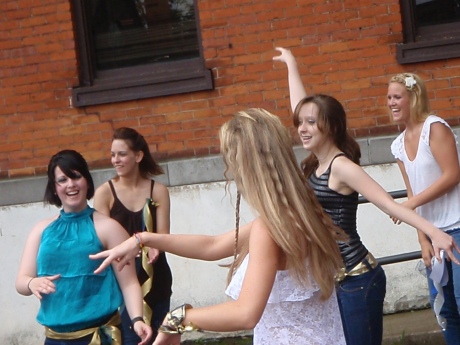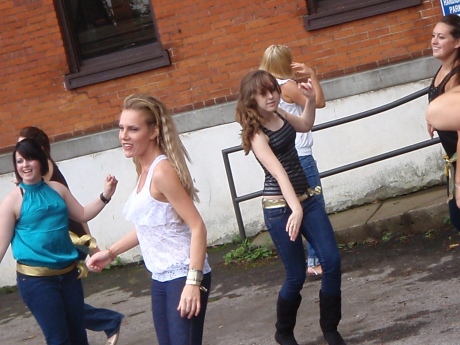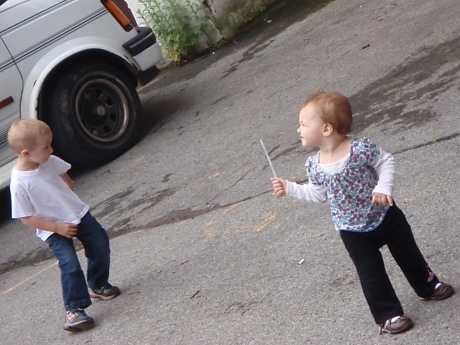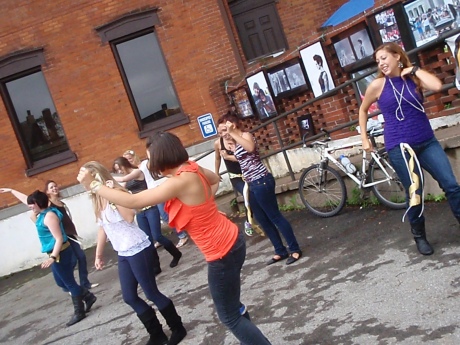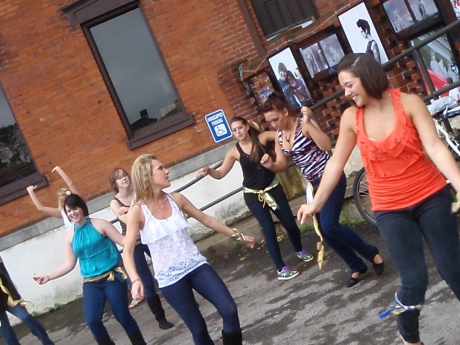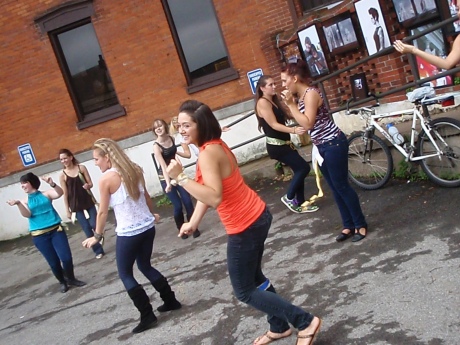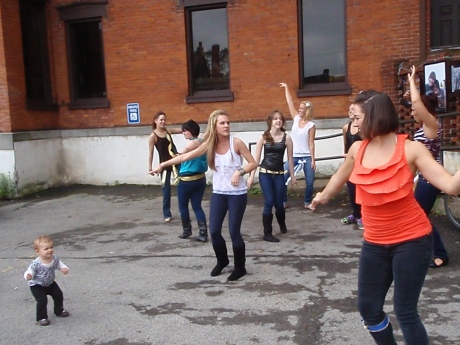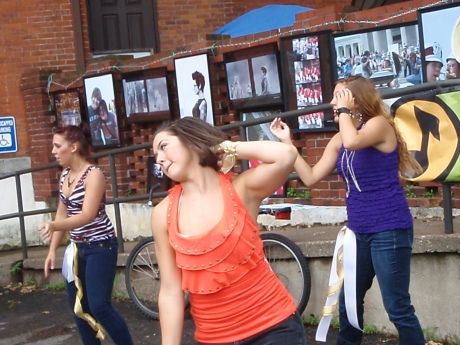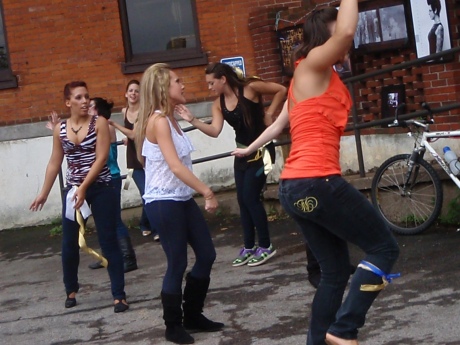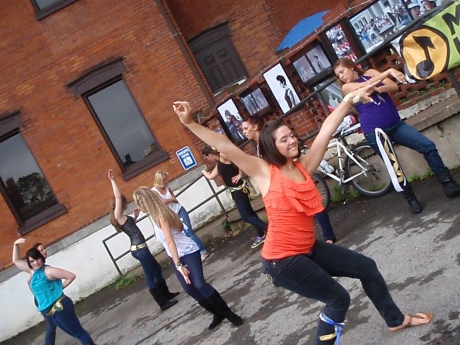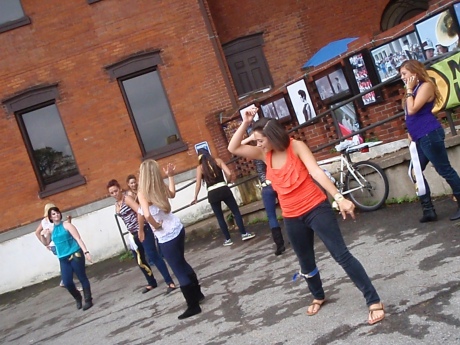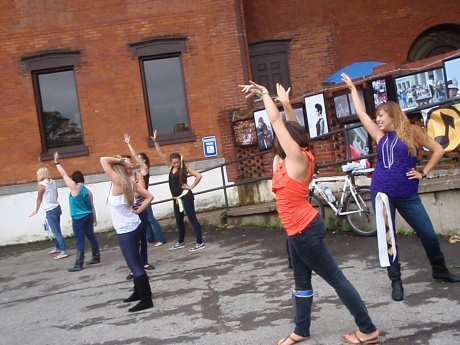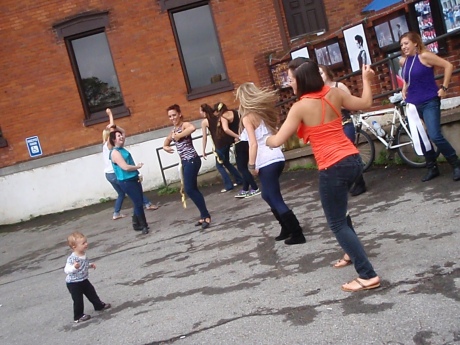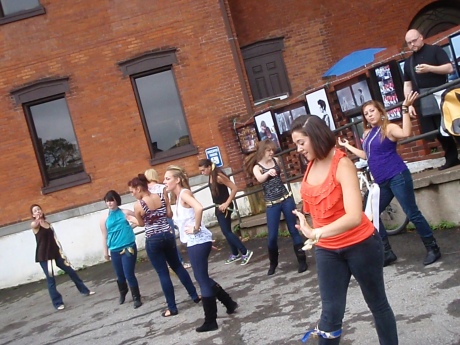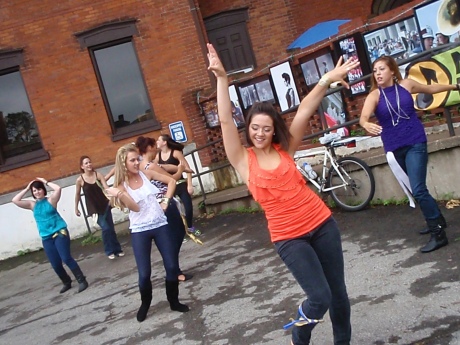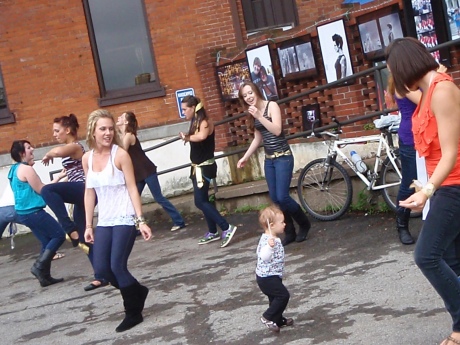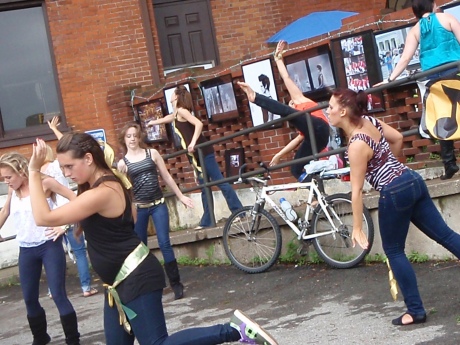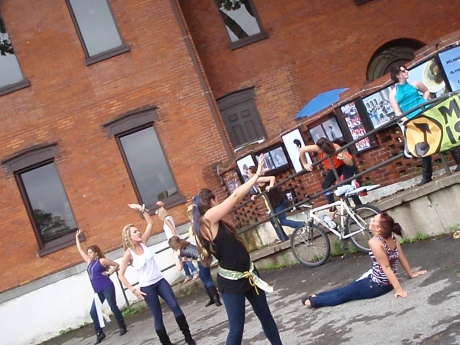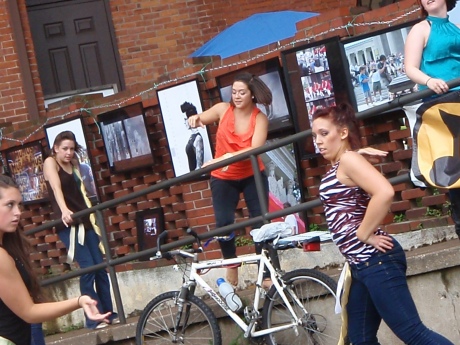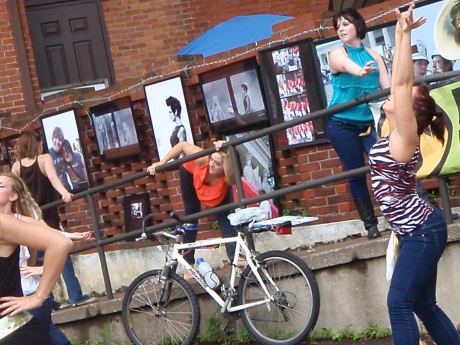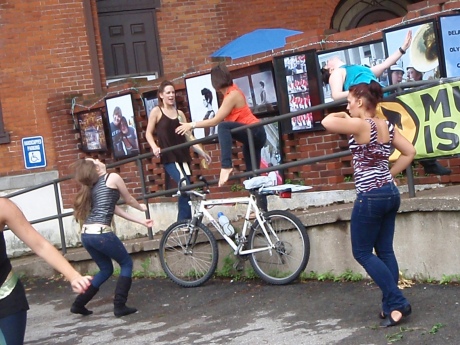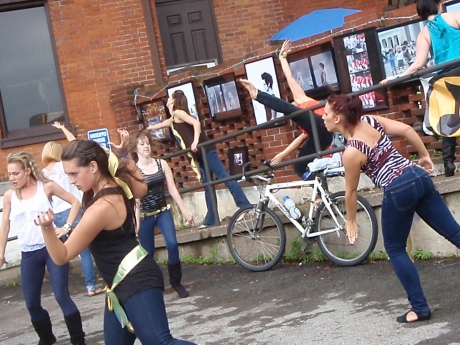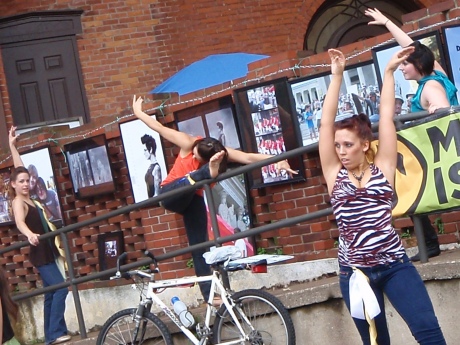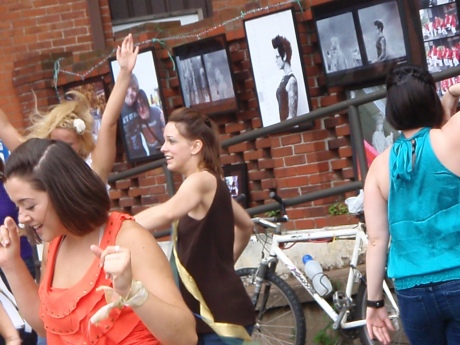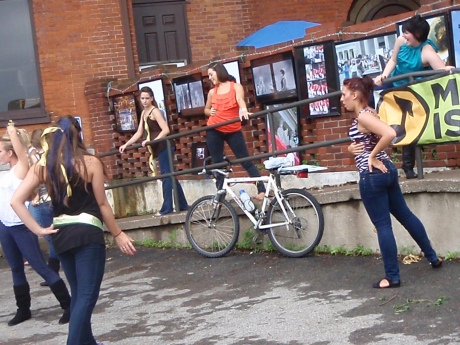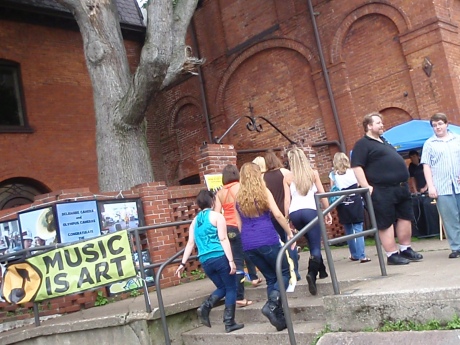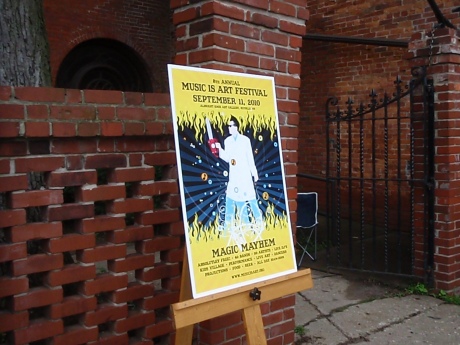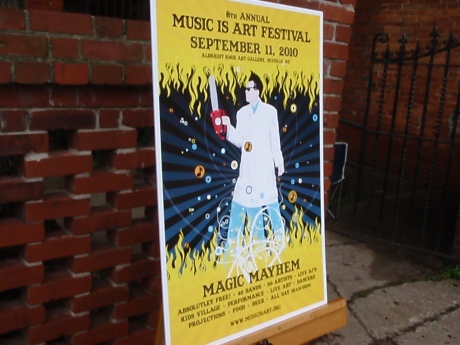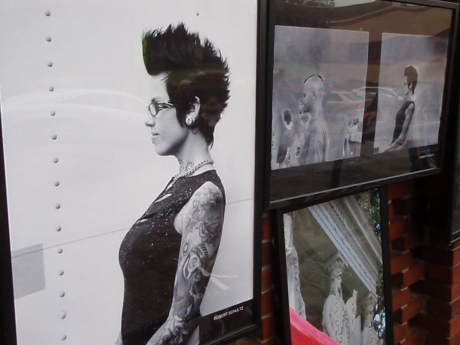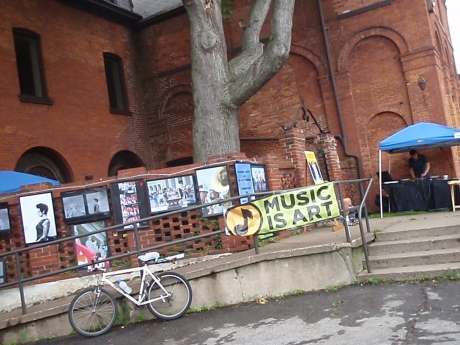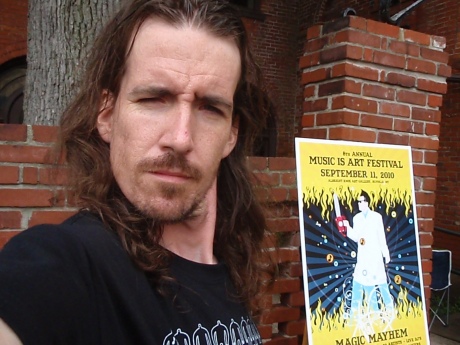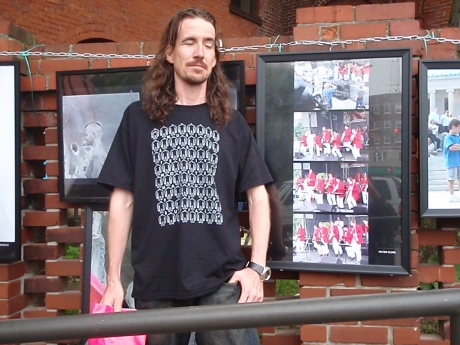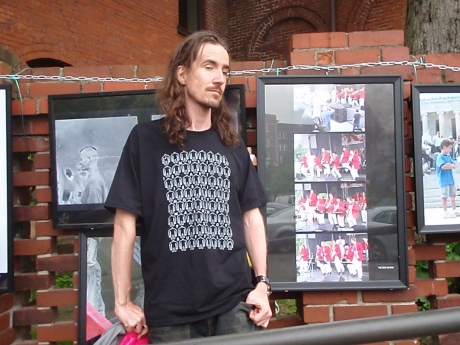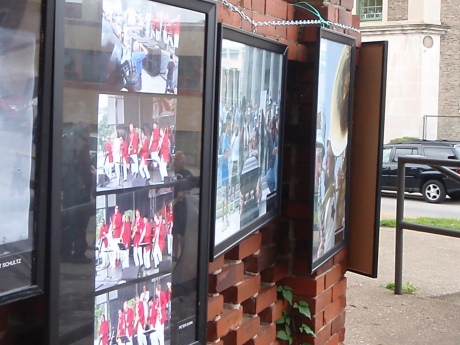 I just have to add a few things. The picture of me next to the pictures I took wasn't taken by me, it was by Bob (robert) the guy who took the great picture of the lady with all the tattoos. The picture of David Butler in the casket looked amazing, it is hard to tell here how much depth it had it was really amazing looking. The same Person took the picture of the Marching band, yes the girl is my cousin and she is married to the person (seth) Playing what ever that huge instrument is called. It was a nice time now to see how the pictures look and if they are spaced or if to do that I have to move them apart by hitting the space or enter key we shall see.
Permalink: http://estrip.org/articles/read/metalpeter/51895/MIA_Press_Conference.html
Words: 536
Location: Buffalo, NY
Last Modified: 06/15/10 08:05
Category: summer
06/11/10 06:47 - 72ºF - ID#51854
Allentown Art Festival
I have to admit that Part of me is glad to be posting something that has no pictures for once. So the Art Festival is this weekend. In the gusto there are two articles about it I think or maybe one was from yesterday. I will admit that I have lost some of my love for it, with the crap they Pulled with Music Is Art. But I still enjoy the festival....

How I go about things is I try and get their early and walk the entire festival and see what I can. I never buy anything until I have seen everything (this isn't true because sometimes people aren't set up till later and I know there have been people who have only been there for one day). One thing that bothers me is that some people don't have prices clearly marked. Sometimes it is a tough choice on what you want to get. You have things that are framed and unframed. Then you have different sizes and shapes. You kinda have to decide price for the size and frame and factor all that in. Sometimes you see something and know you have to have it, and it is easy. But some people alone have multiple things you like. I have been known to buy things on both days.

I wish I could Just post pictures of everything I bought there, but I have a lot. I have these cool oddities (also at elmwood festival of the arts), bought things for my family their like photos (local guys). Pen and ink dragon pictures, 3D underwater art, Hidden Villages, the point is a lot. I would like to see some more dark art there. Like maybe models dressed as fairies with waterfalls behind them or something.

This year however is going to be different for me for one reason. Last year I just Missed some how the Press Conference for MIA. This year I will be there. If you know where Robie's Studio on Franklin is, it will be at 3pm. I am to be there before then, from what I understand one of my pictures will be on display there on Sunday. I'm not sure If I won anything or not but just having my picture On display. It may be on display all day sunday, I'll slide by early and then come back later, well depending on the weather. I admit I would love to have won something it would be great. If I understand it correctly that the pictures displayed are from the winner in each category of the MIA/delaware Camera photo contest from last year. I was just happy to go see the Press Conference and now I get to go see a picture of mine (not sure what one they liked the best, of Those Idiots). Well what ever happens I'm looking forward to it [hoping no rain]. What I also think this means is anything I buy I want to buy on saturday.

Well hope everyone has a great weekend . and enjoys the festival. Oh yeah I almost forgot that The Recording studio I think is where MIA used to be every year is also having Mark Freeland art inside on display all weekend long............

Permalink: http://estrip.org/articles/read/metalpeter/51854/Allentown_Art_Festival.html
Words: 542
Location: Buffalo, NY
Category: photos
06/10/10 06:55 - 68ºF - ID#51849
Pride Parade 2010
So Before I get into Pictures from the Parade there is something I have to talk about that got to me. Now I'm not bashing anyone because they are gay, infact you see this same problem at any parade. This I think is why in places like NYC where they have those big Parades or even torch runners, they have baricades. Yes this is a problem at the St. Pats Parade also. The street is for the parade not for you to stand in. I get that you want to see and want to get a good pictures, but when you are allready at the front getting more in the front just fucks other people up. I had this great angle to get good shots and these two people show up and stand in the street to my left they where further out into the street then the people next to me. When you are in front of someone instead of next to them for them to see they have to step up to where you are . At St. Pats there where these ass holes who walked up and stood infront of people who where there a long time before they where and who where in chairs. How are you going to stand infront of someone in a chair. This is the reason I didn't stand at Spot this time. Last year it was crazy. As I walked by this year there was a cop car there all ready Maybe it was so no one would use that street but I think it was to keep down the crazyness. That same thing happened last year I was up on the curb then the parade starts and a bunch of people come out of nowhere and get in front of me. Ok now that my parade bitching is over on to some pictues.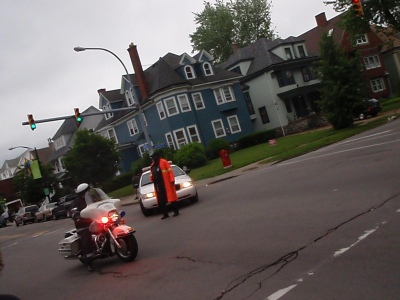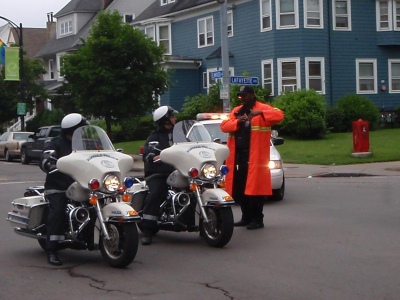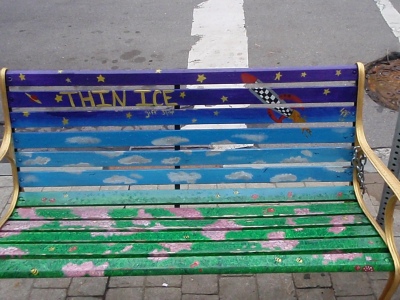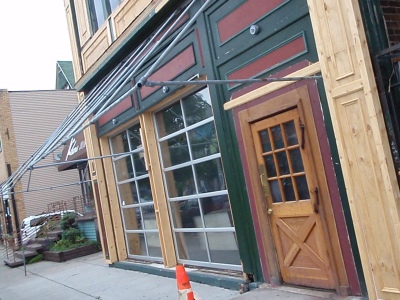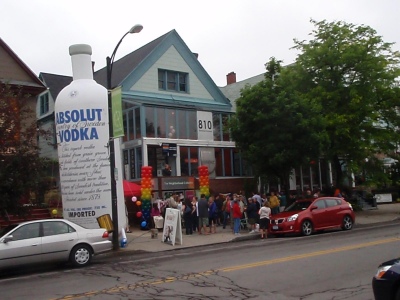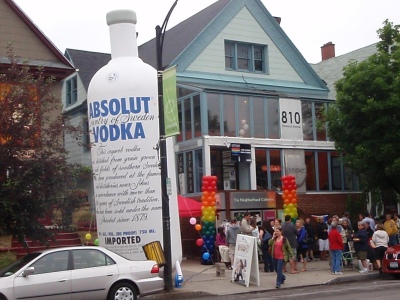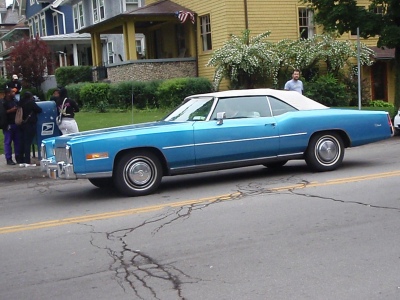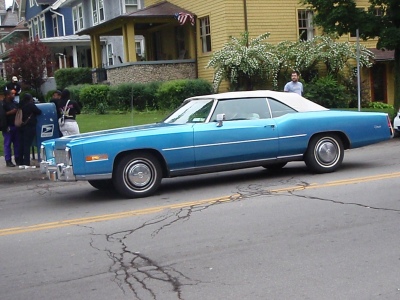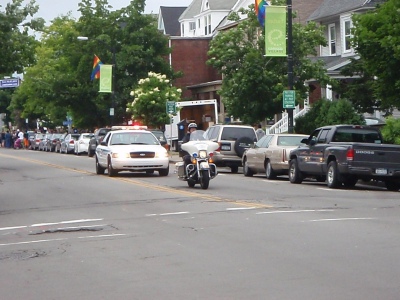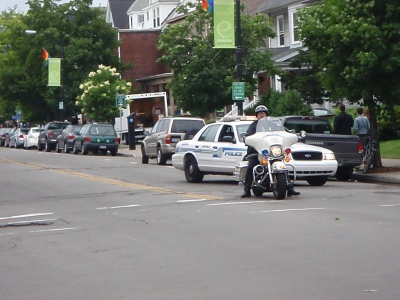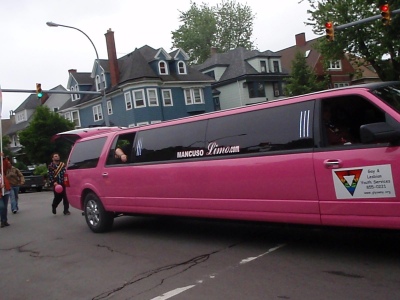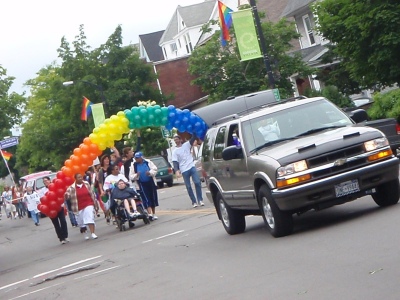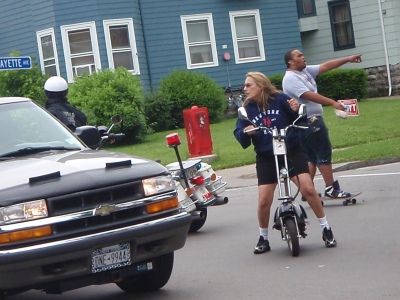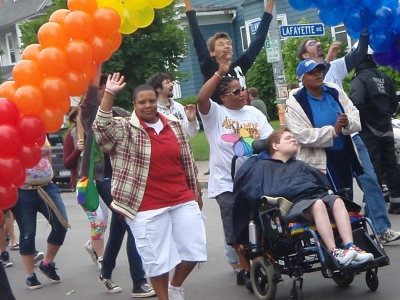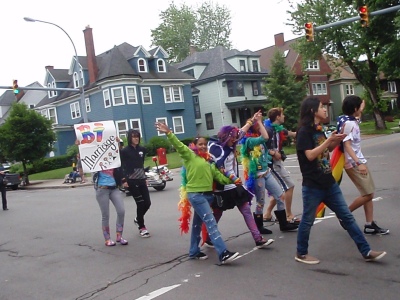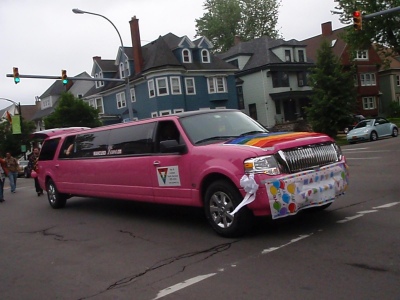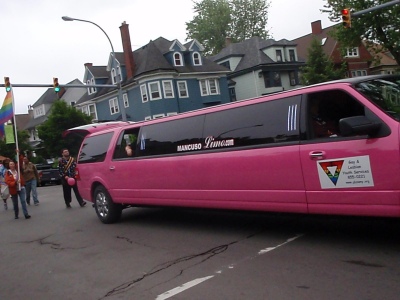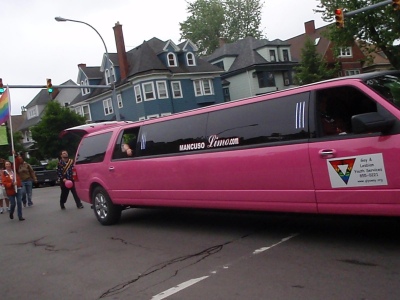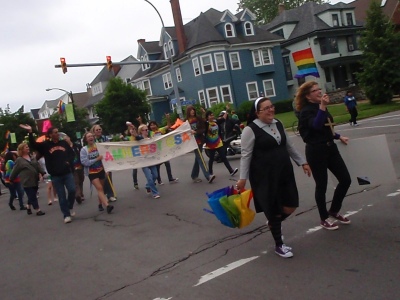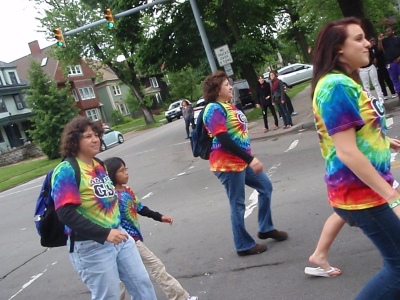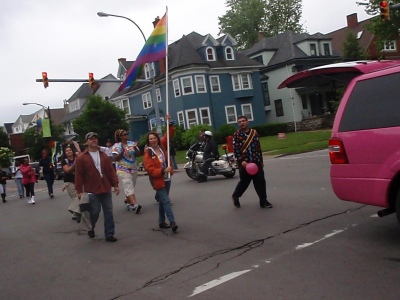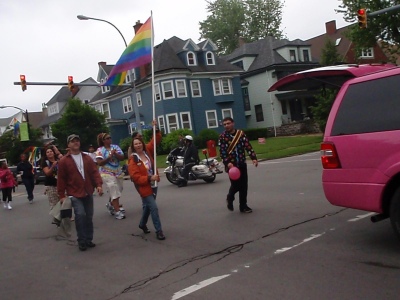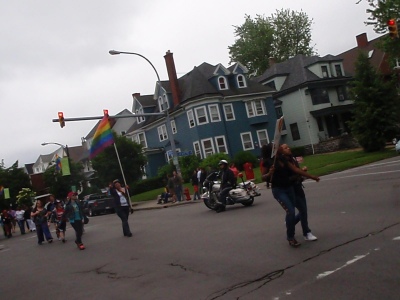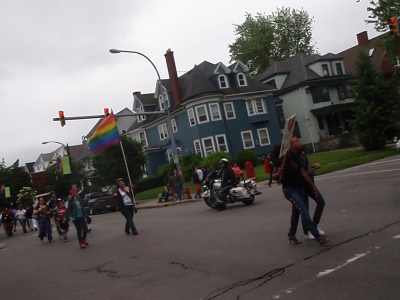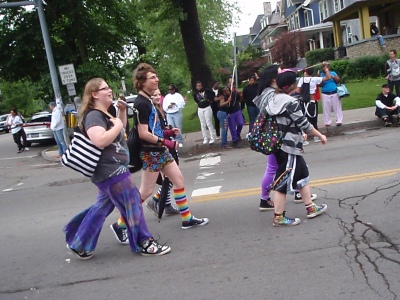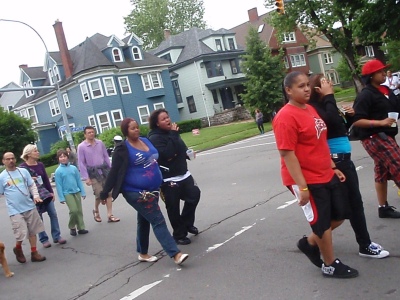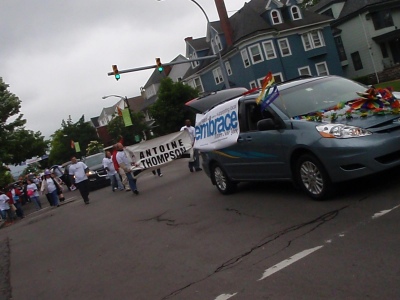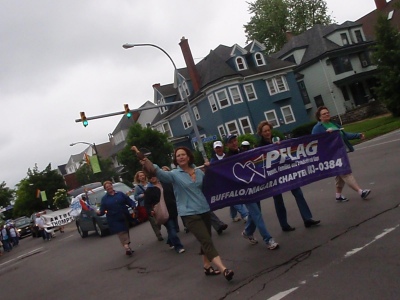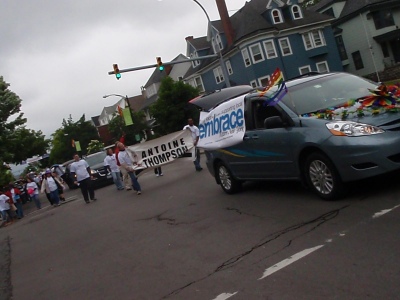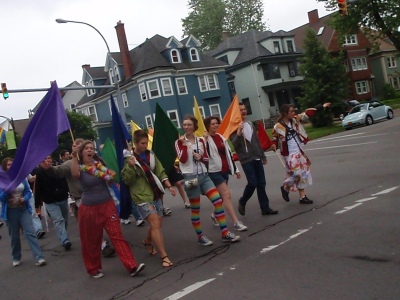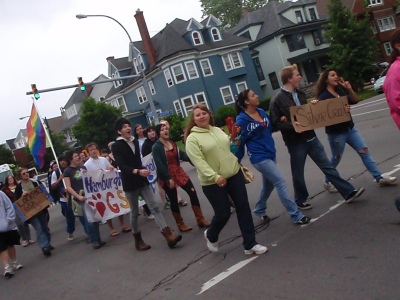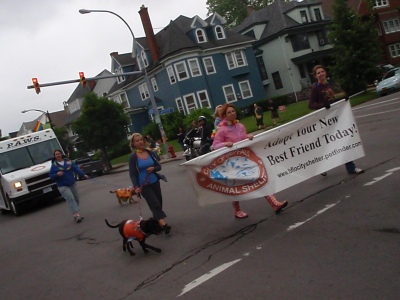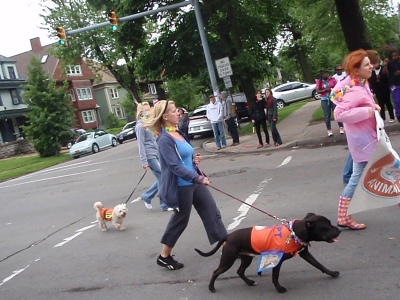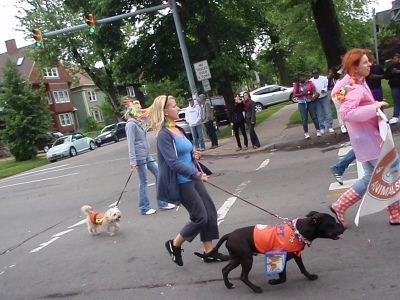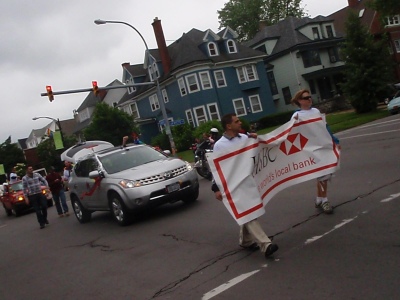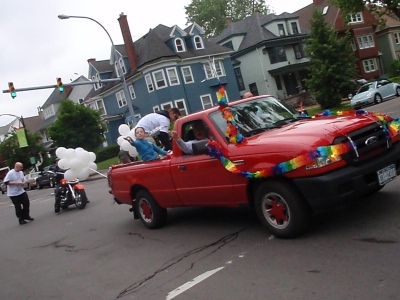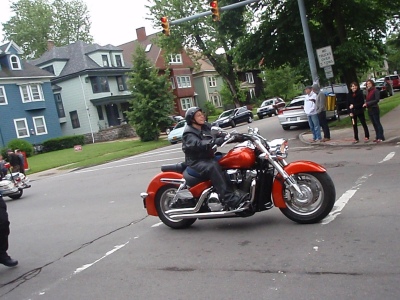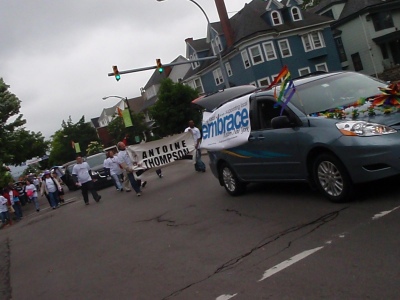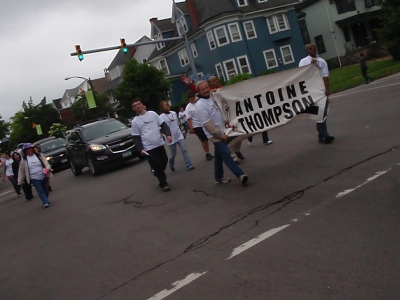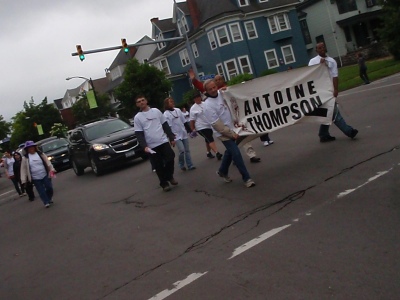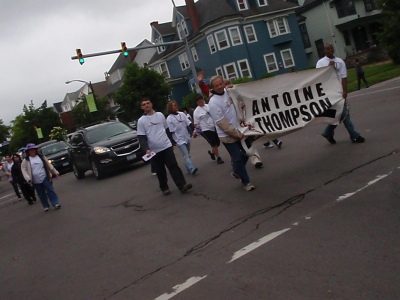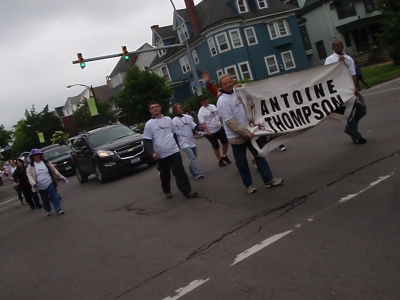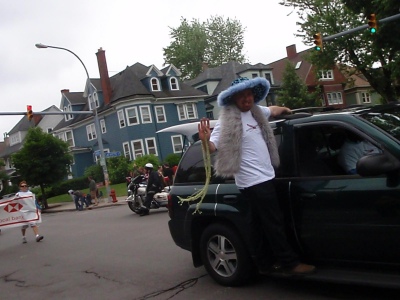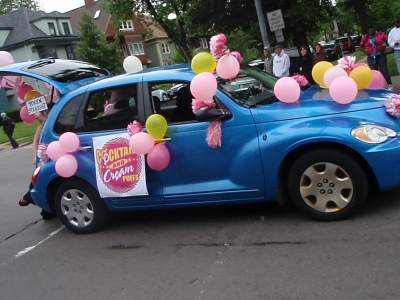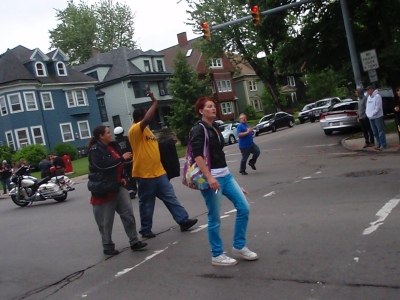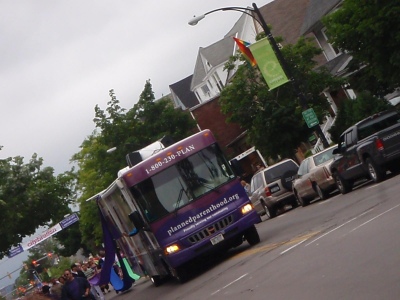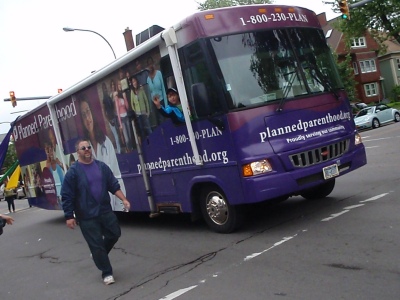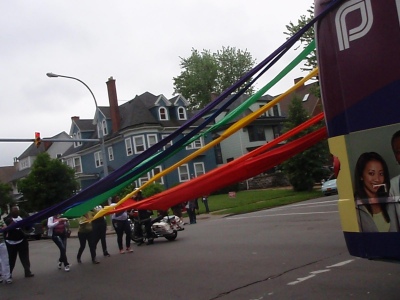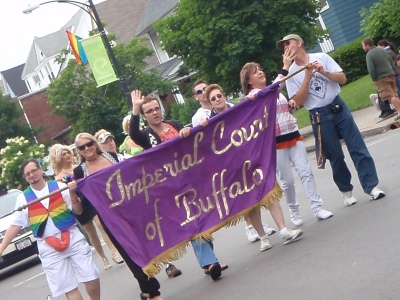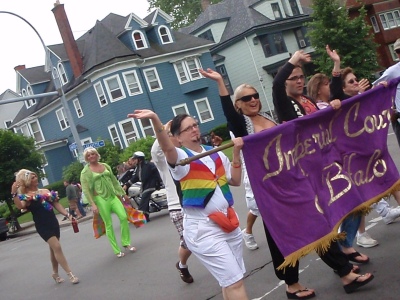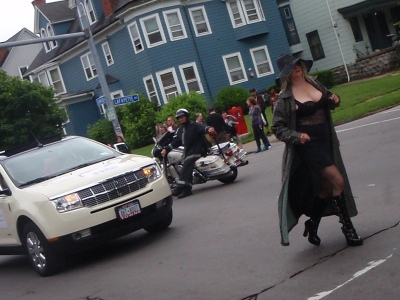 I just have to mention one thing. I'm not saying that politicans don't want equal rights for everyone. I just never completely trust that those are their real fealings on an issue. Things like Parades and Festivals are a great way to get your name out there. In Hoyt's case I do believe him, I'm just saying I can never completely trust them......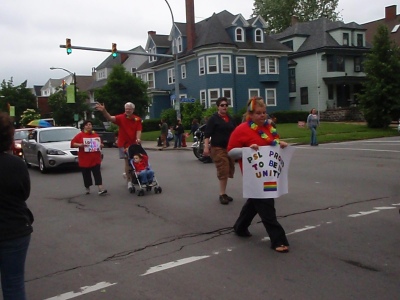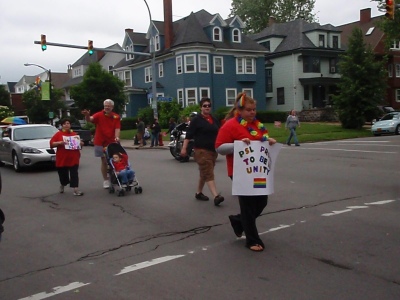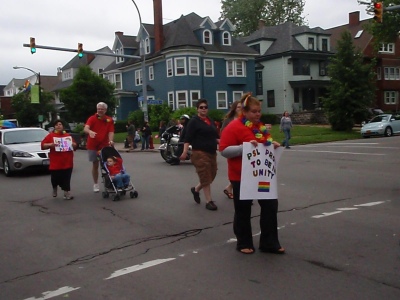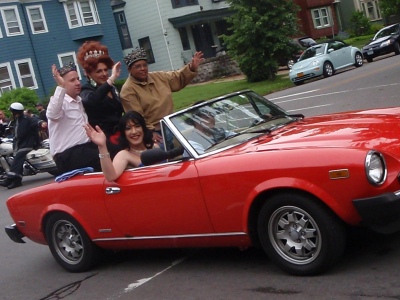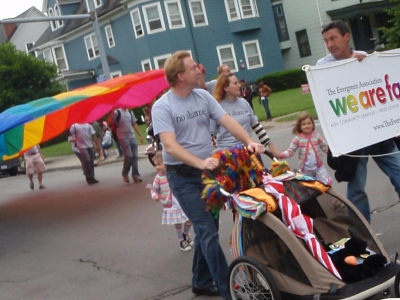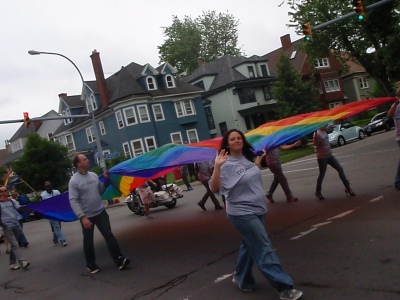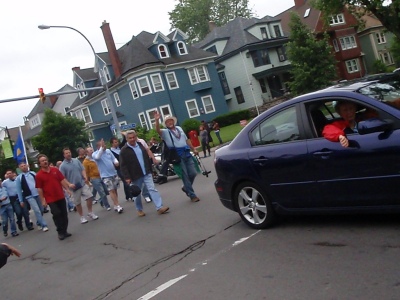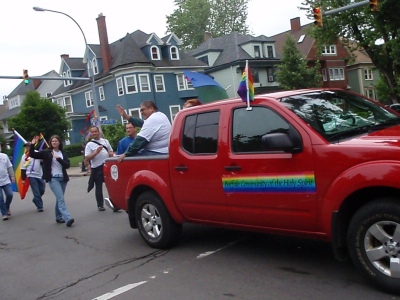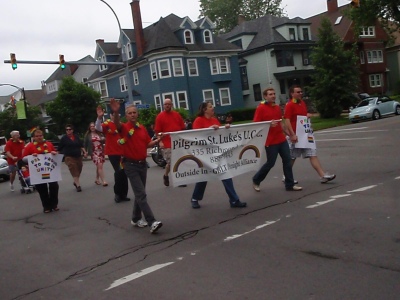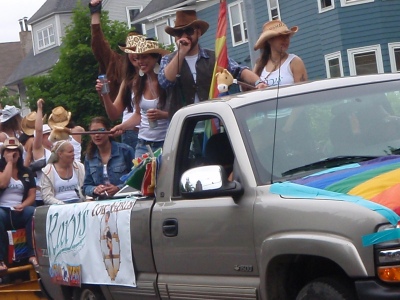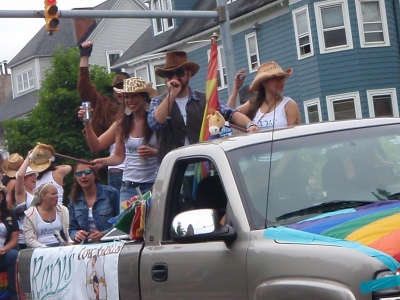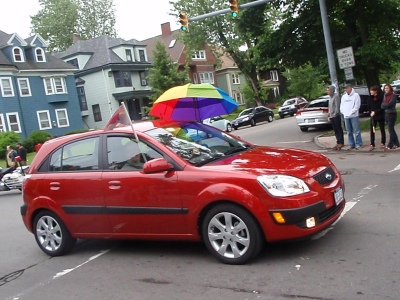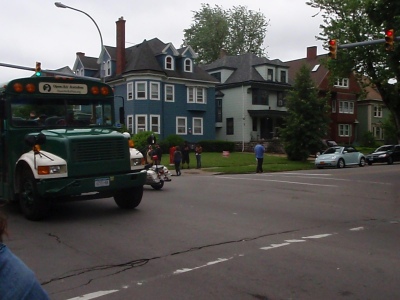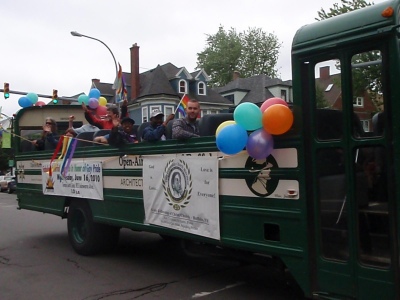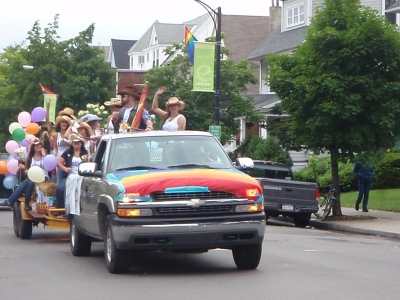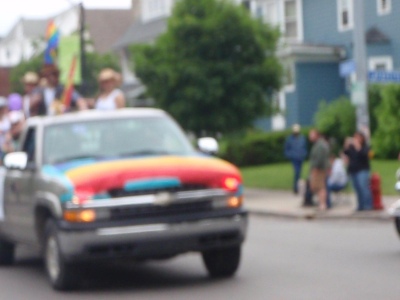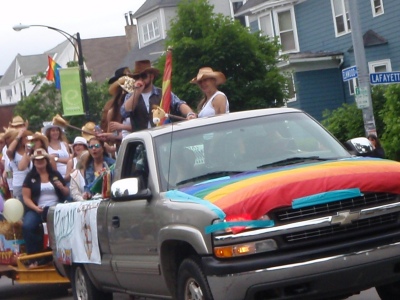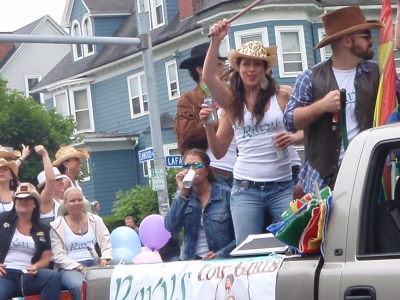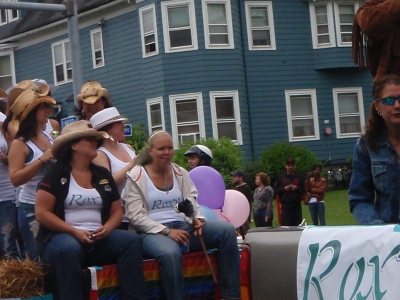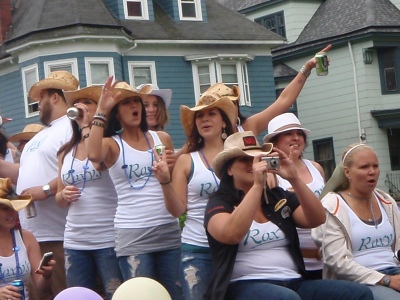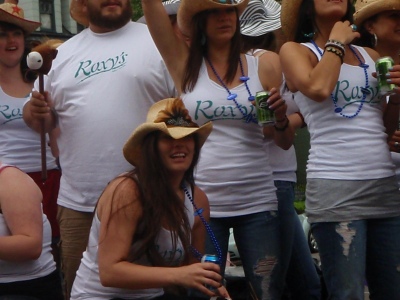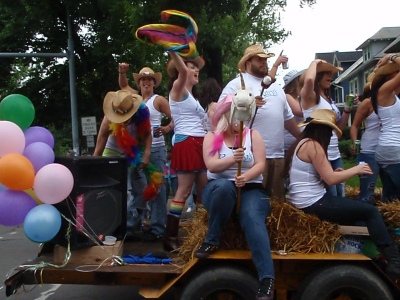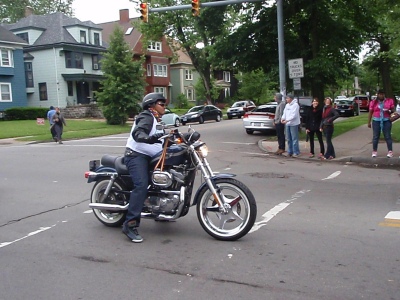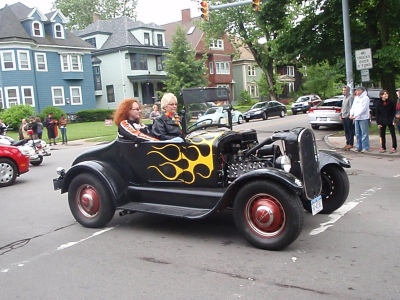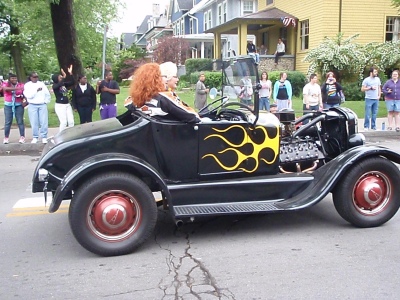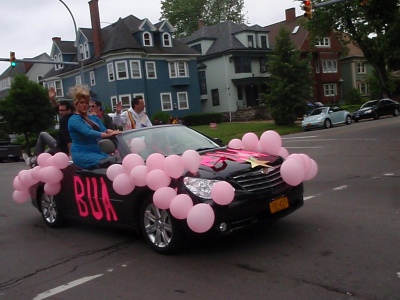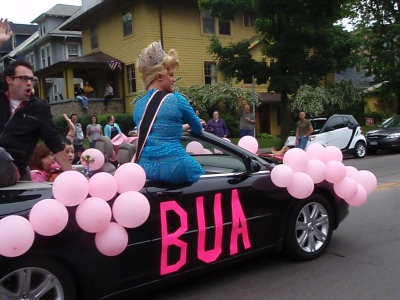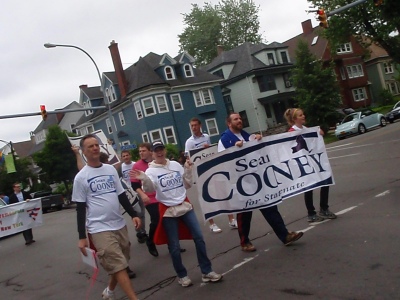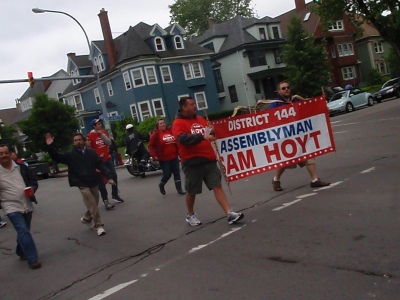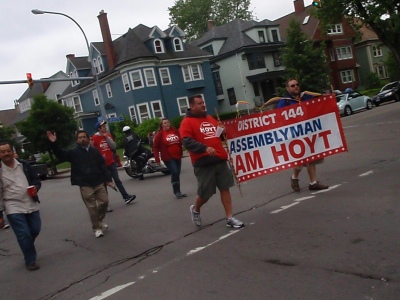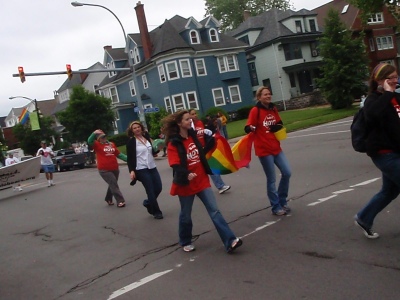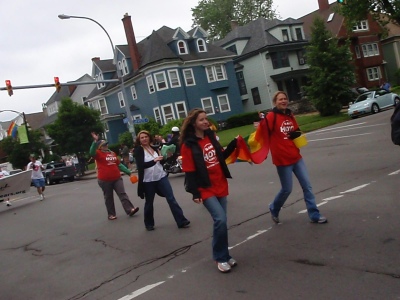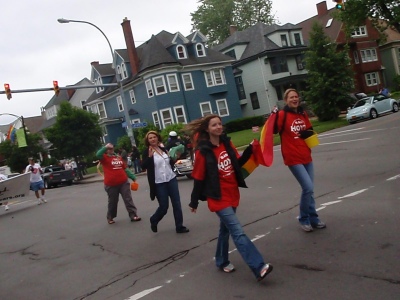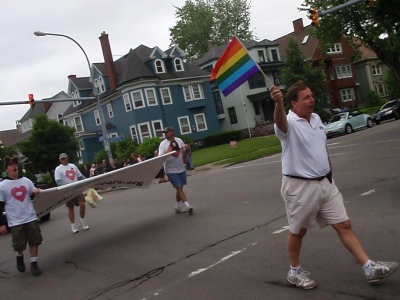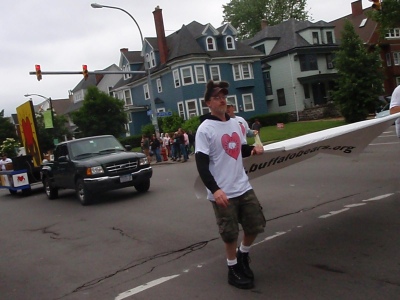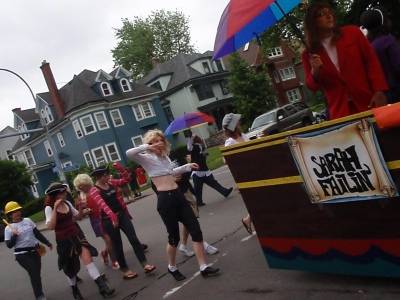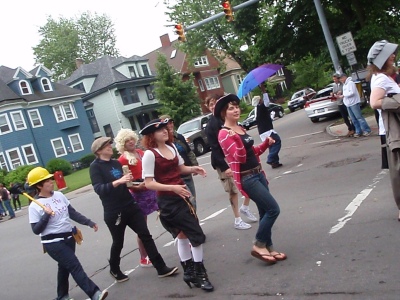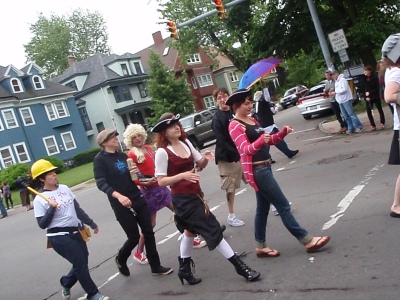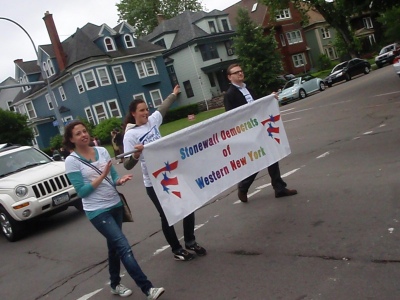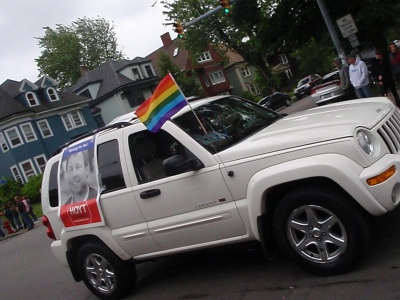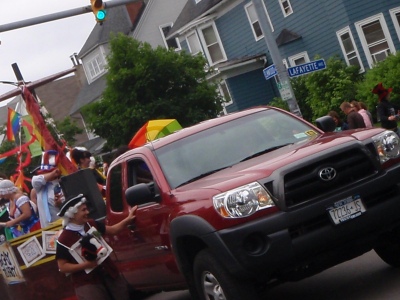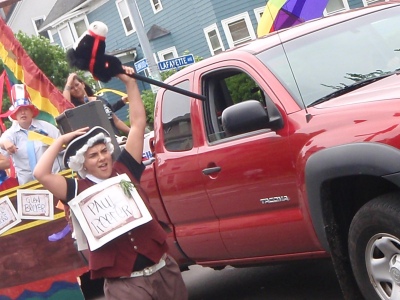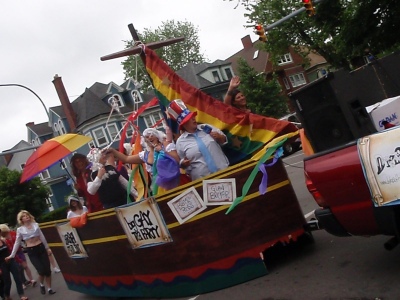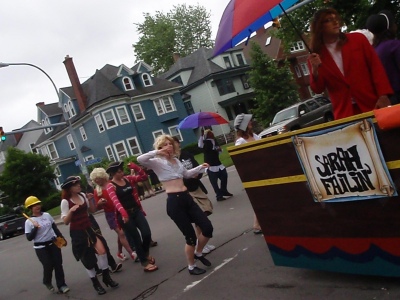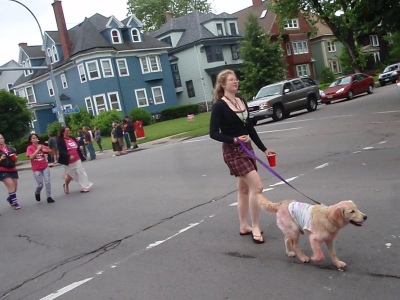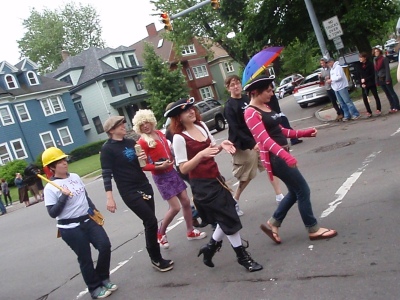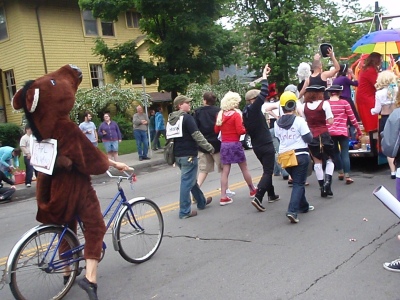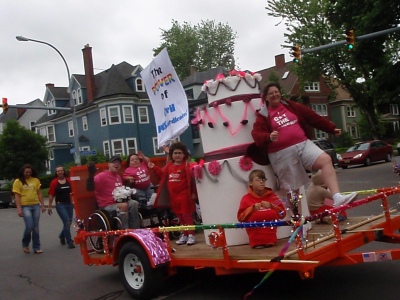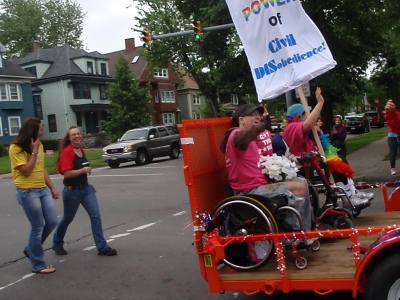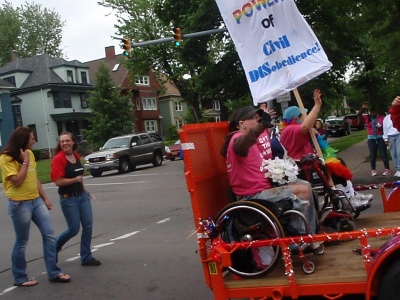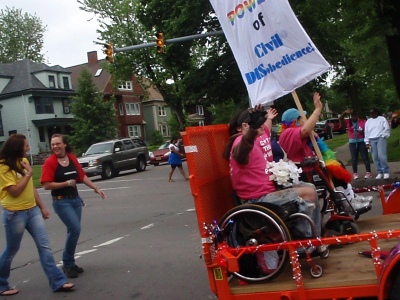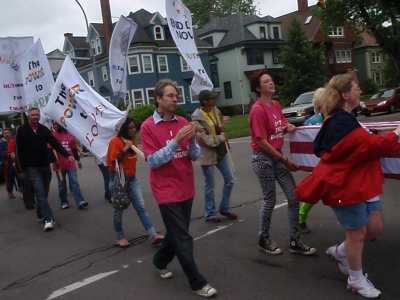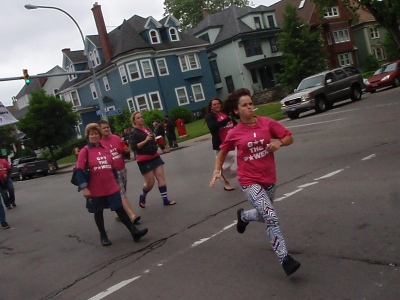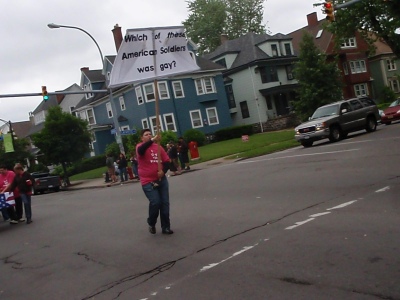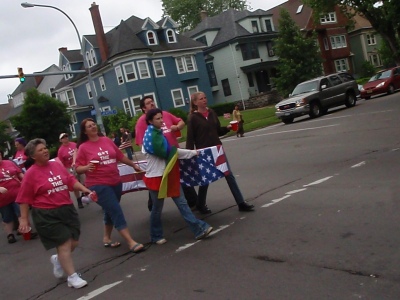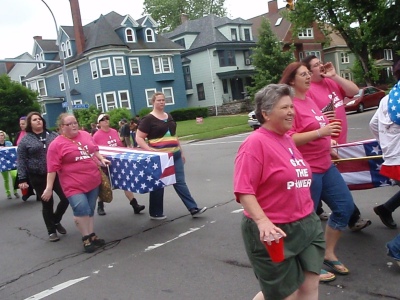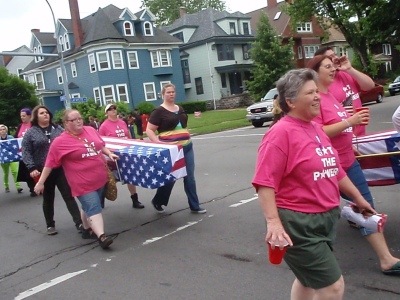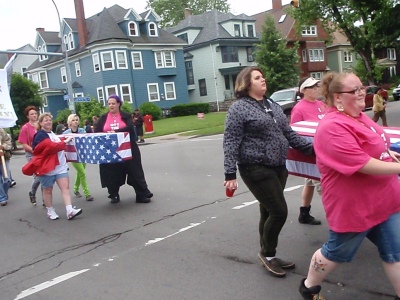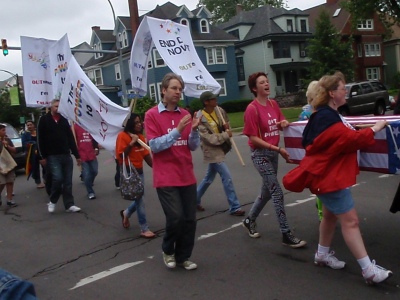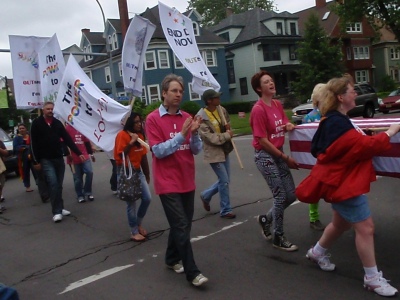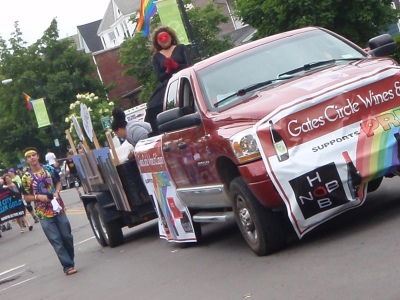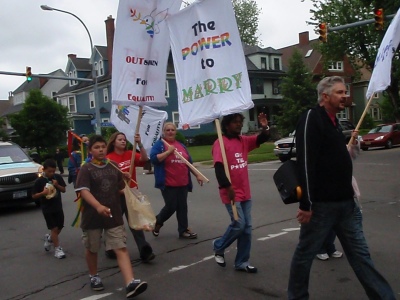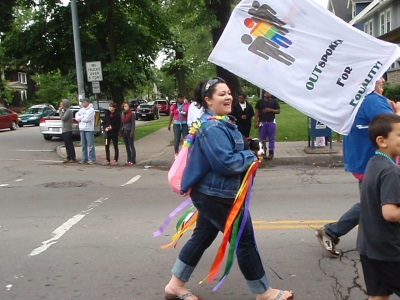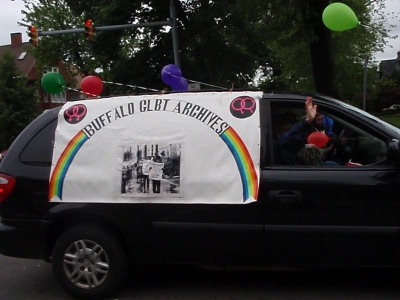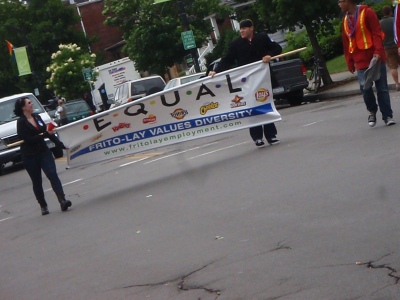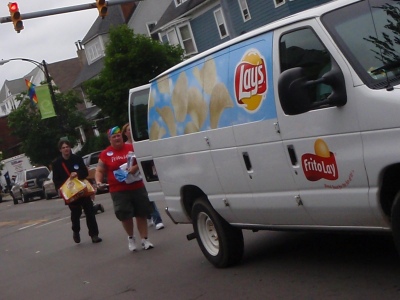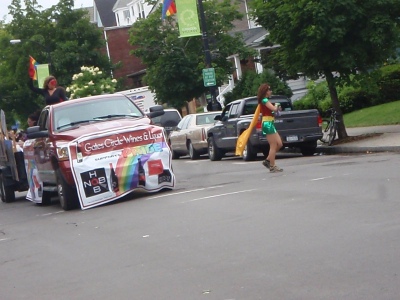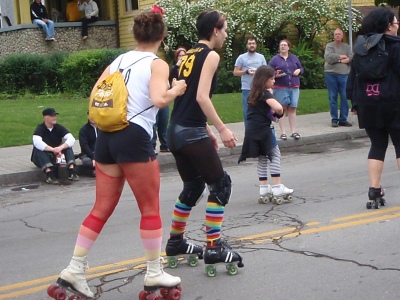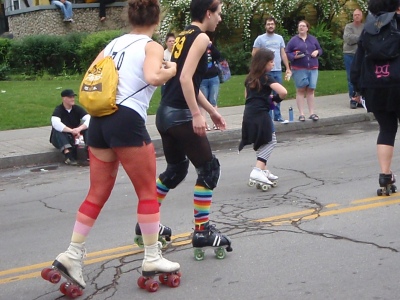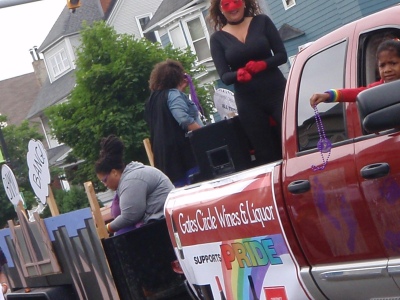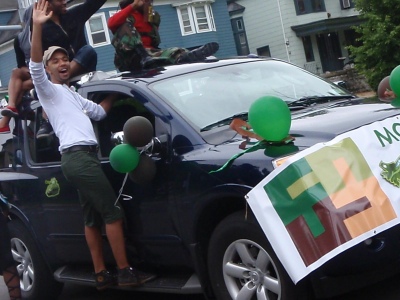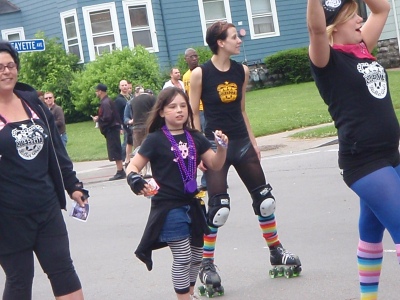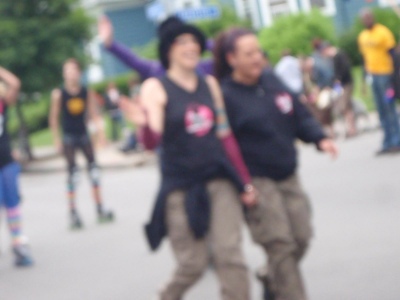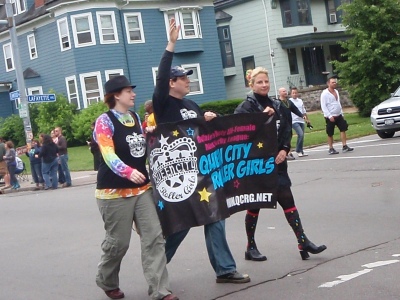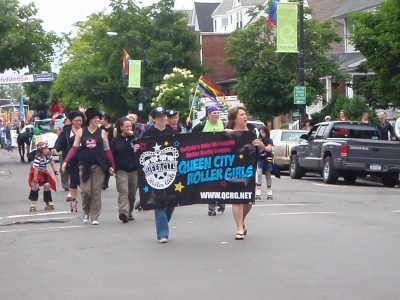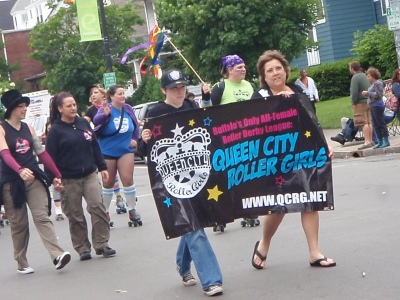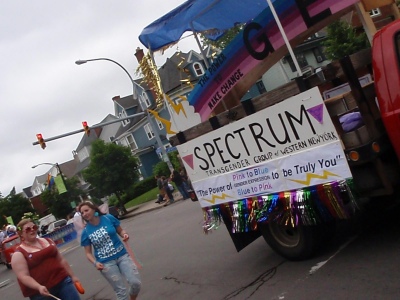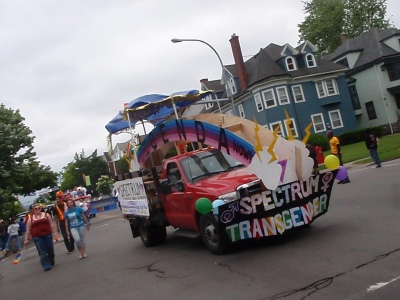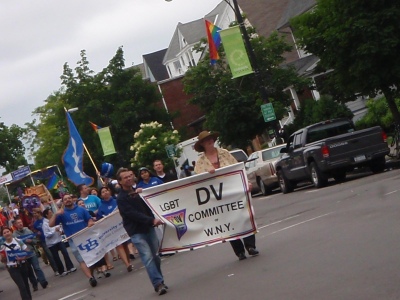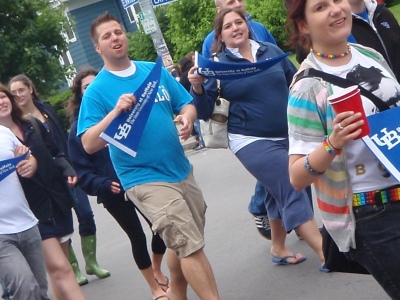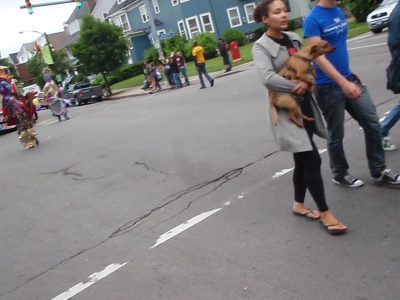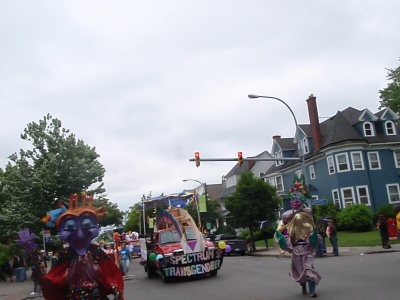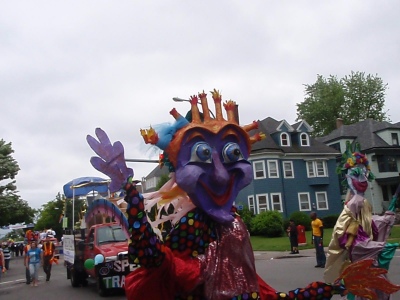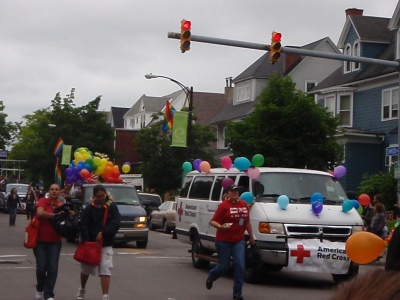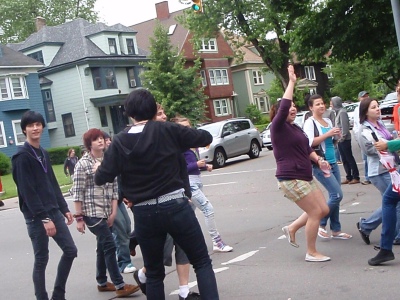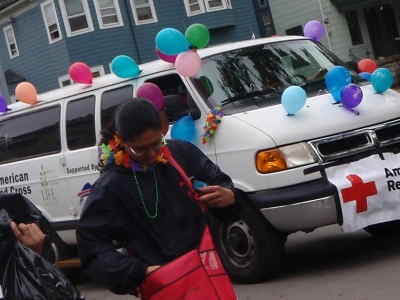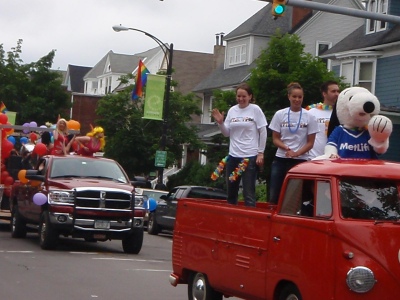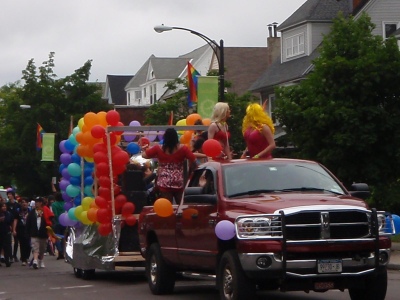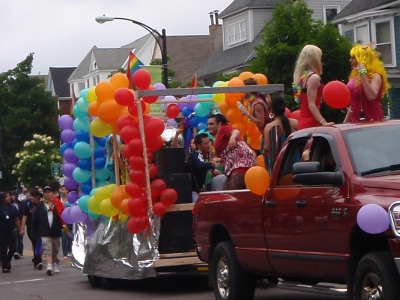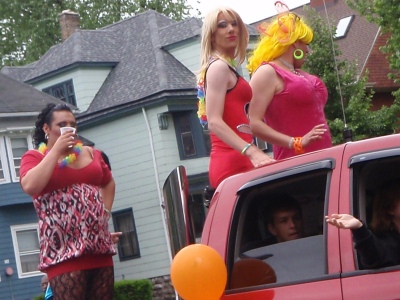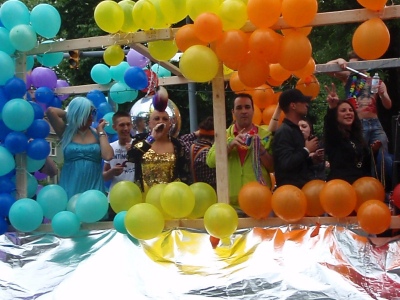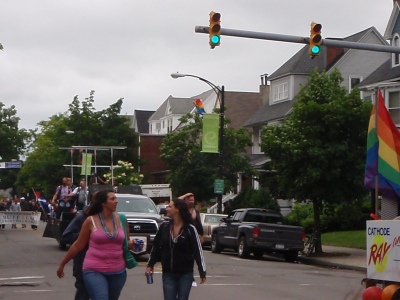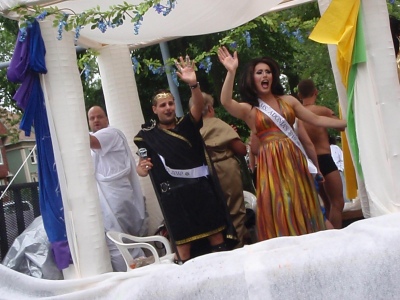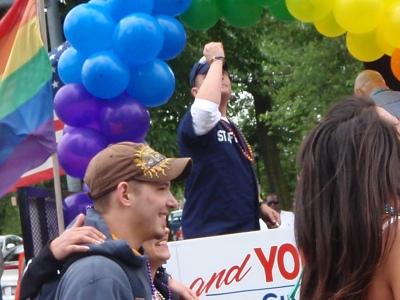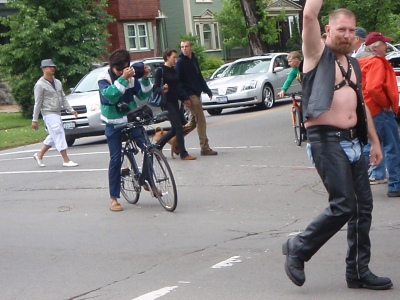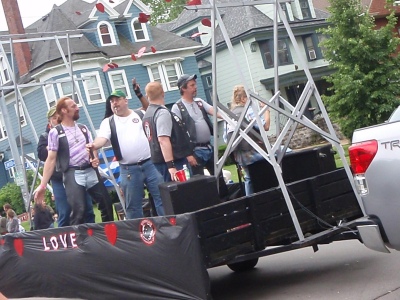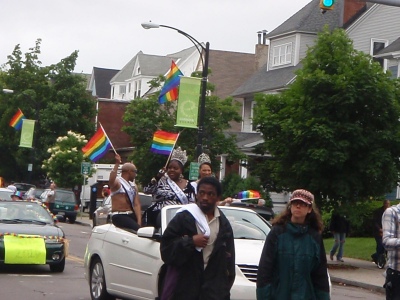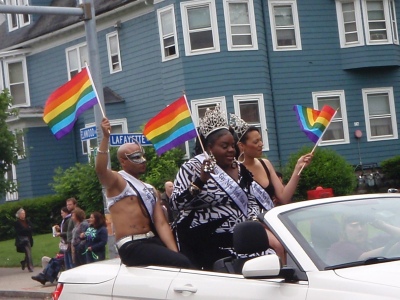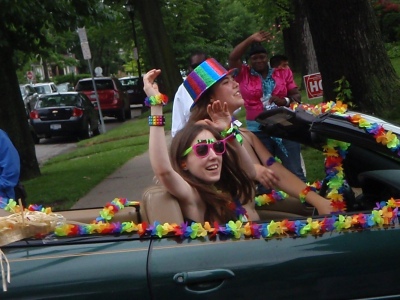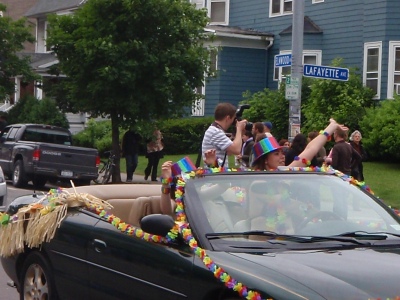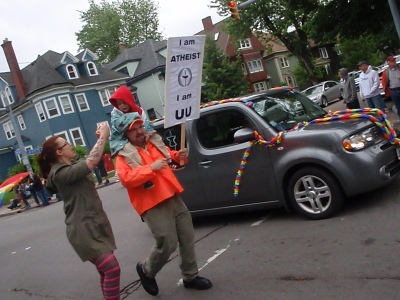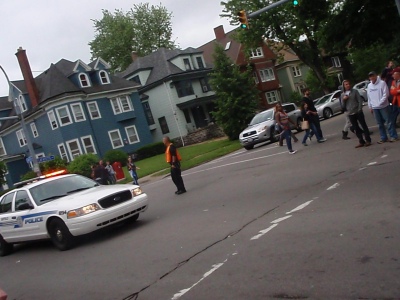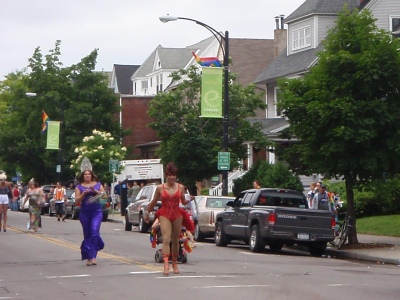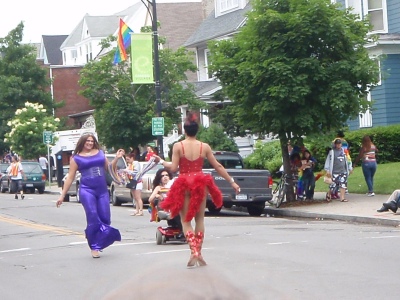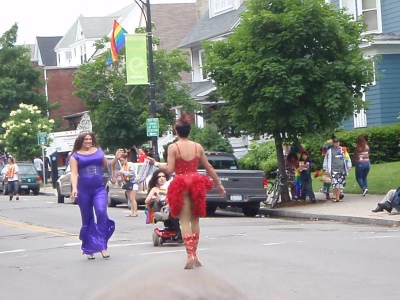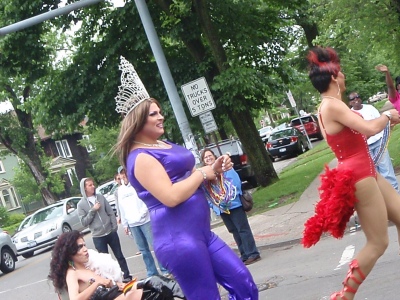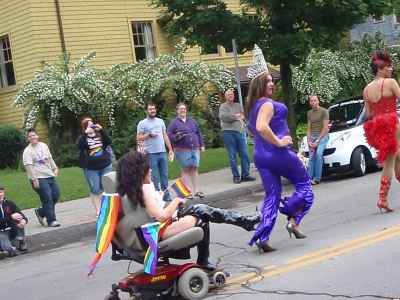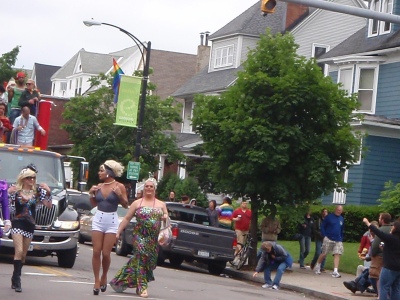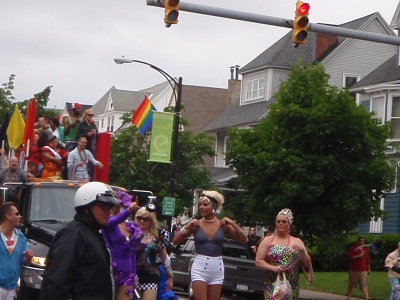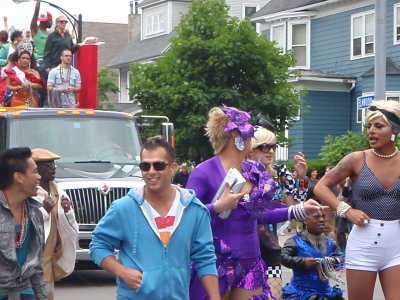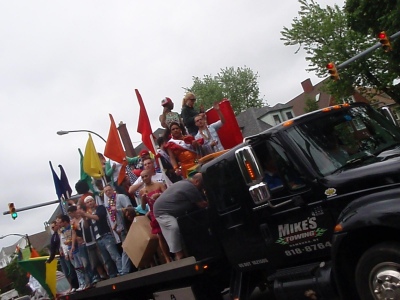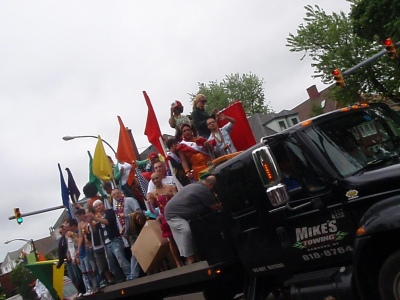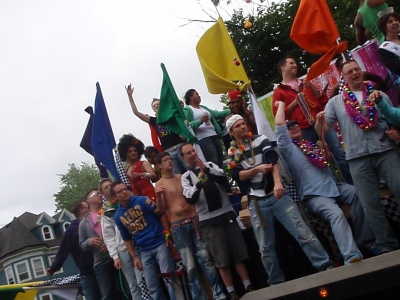 By the end I was getting sick of posting pictures so hopefully anoyone who was looking at them didn't get to tired of them. It was a good time. It was the 1st time I didn't see anyone I know. Well I think I saw the Person at The Stripteasers but not sure if it was her on elmwood, and someone called my name and wished me Happy Pride but I'm not sure who it was.
Permalink: http://estrip.org/articles/read/metalpeter/51849/Pride_Parade_2010.html
Words: 809
Location: Buffalo, NY
Category: photos
06/09/10 06:18 - 60ºF - ID#51838
The Stripteasers Part 2
So again Do to a crash I wasn't able to finish my stripteaser photos. So I tried to use my media and couldn't get it to work. So I'll just uplaod from where I left off about. Again if burlesque isn't your thing or if you are some place where those kinds of pictures might be frowned on, then You may not want to look at them. It really was a great time. The only thing I can remember story wise is a plane crash and something about Linsday Lohan. If anyone else remembers it feel free to ad it here.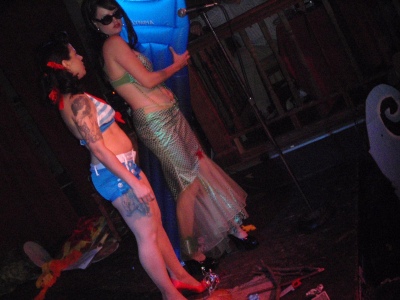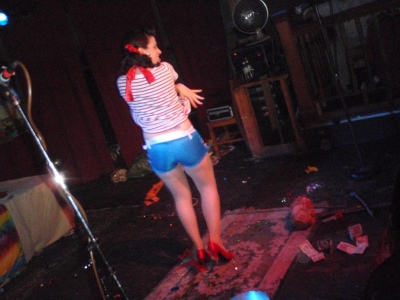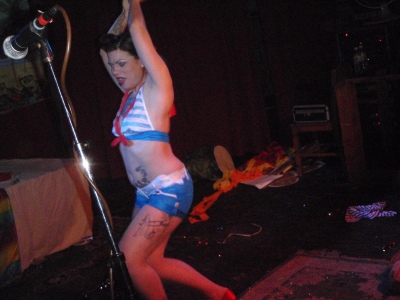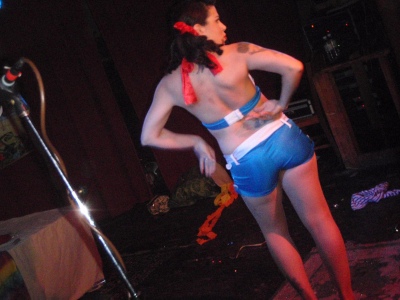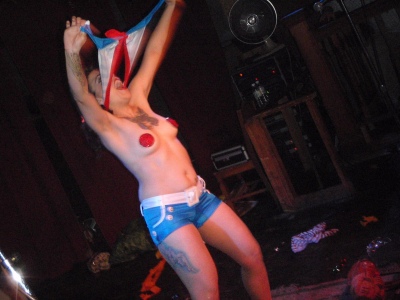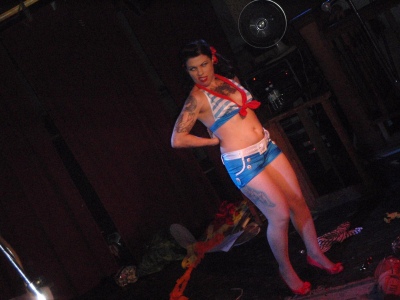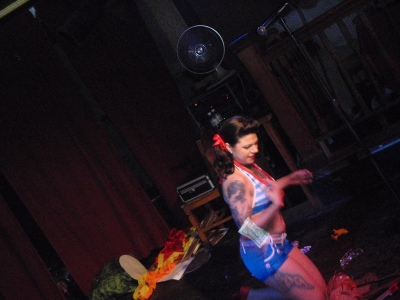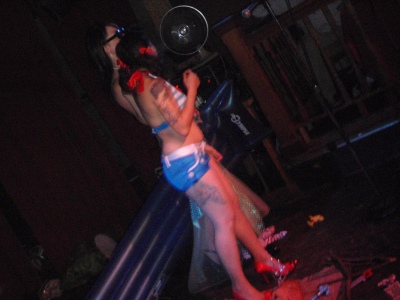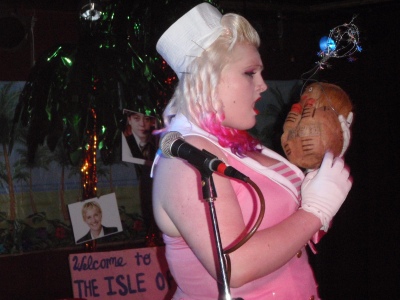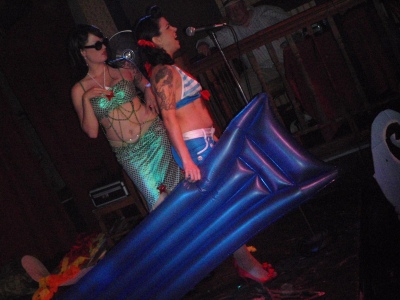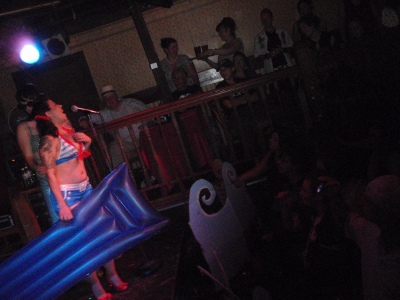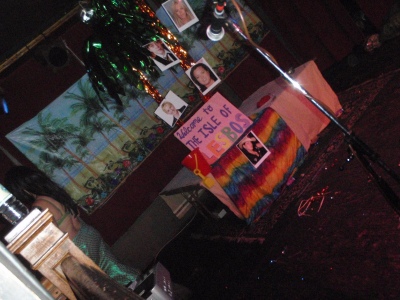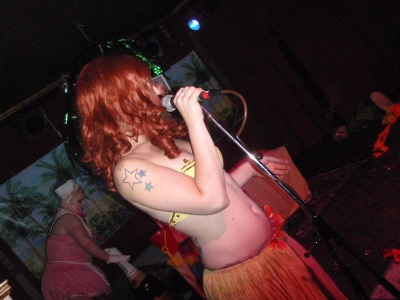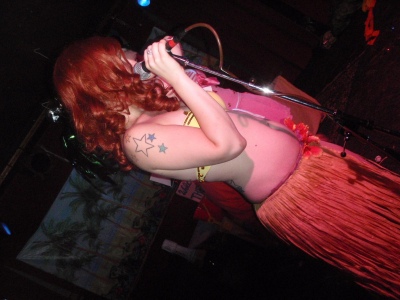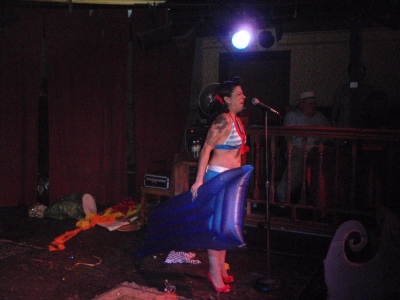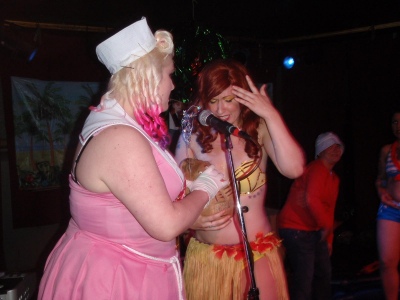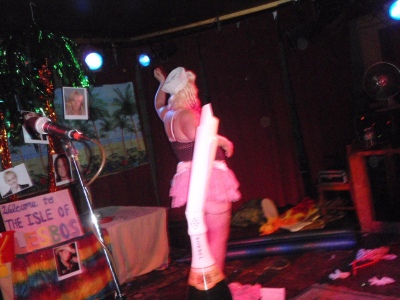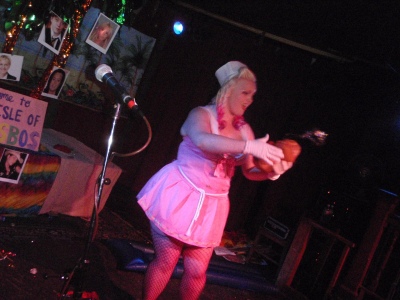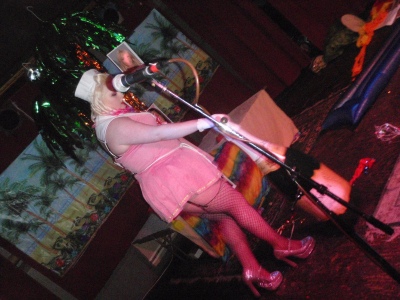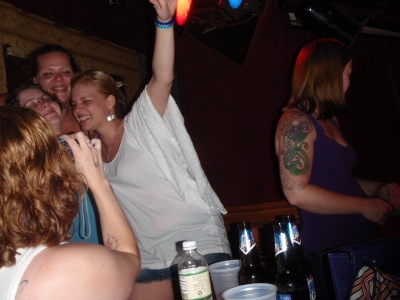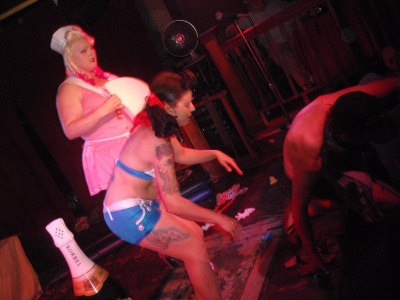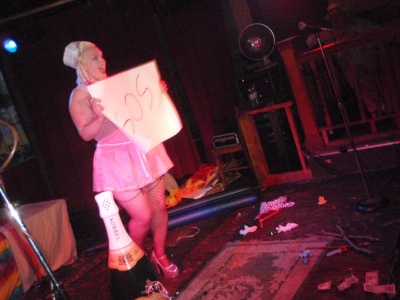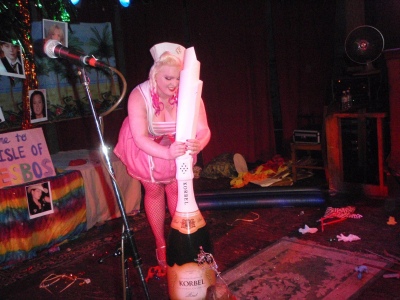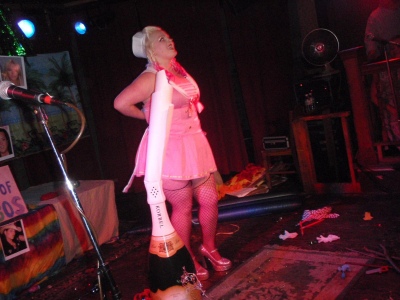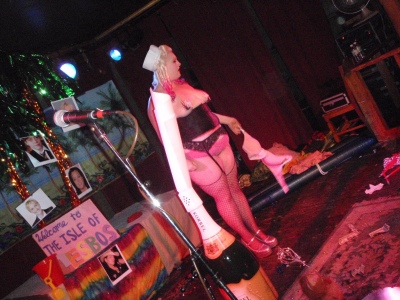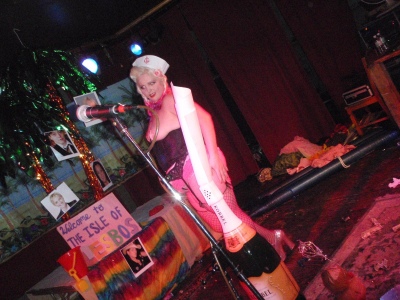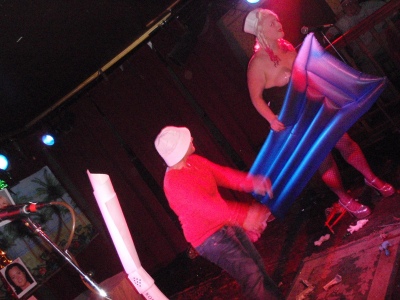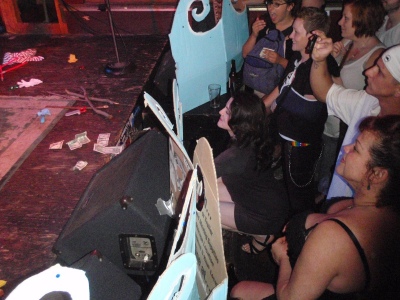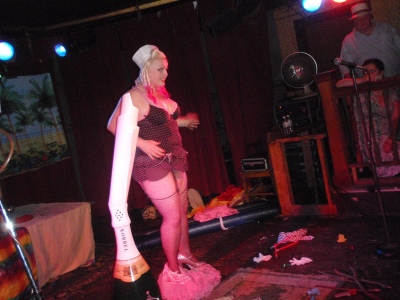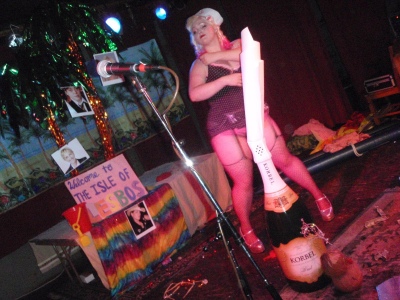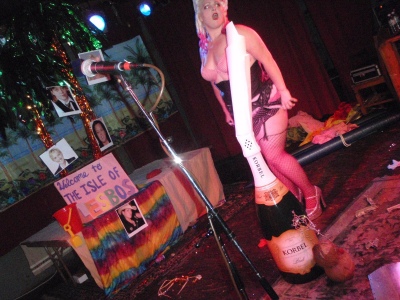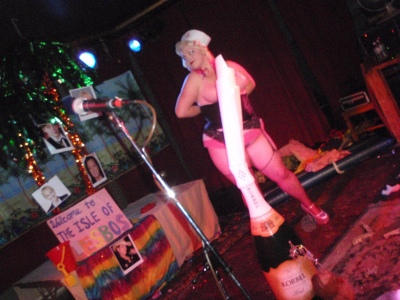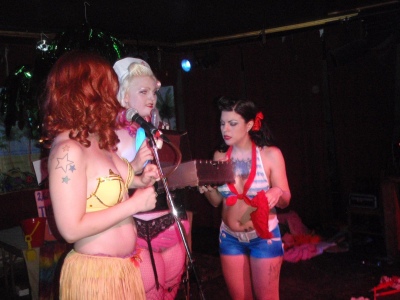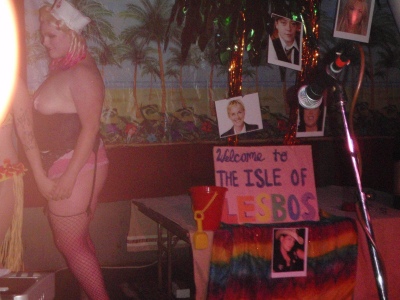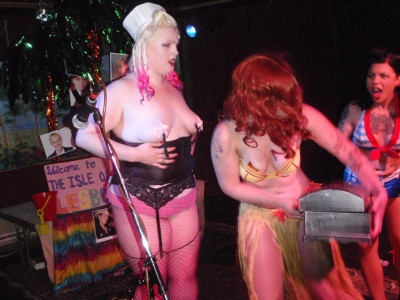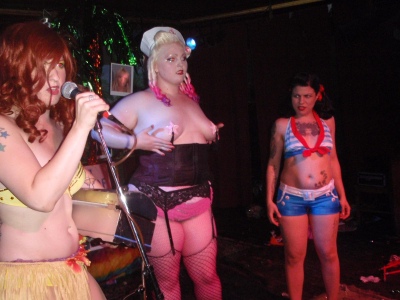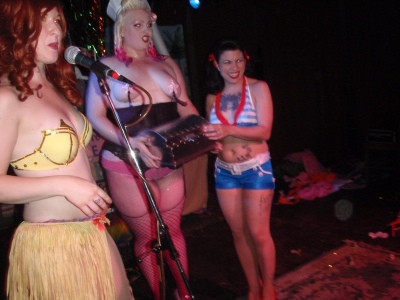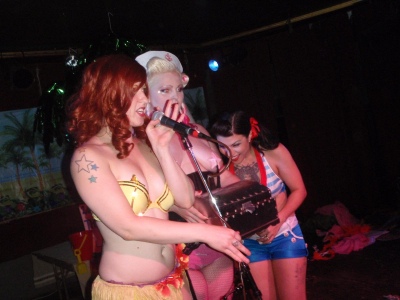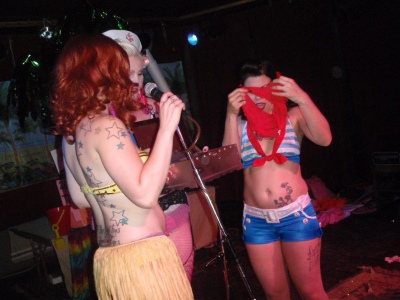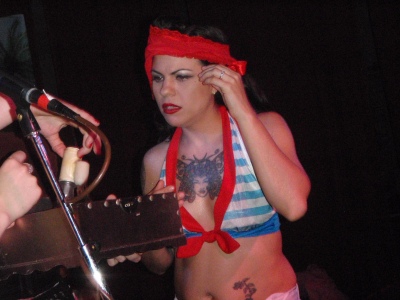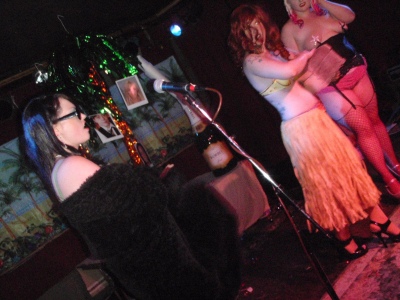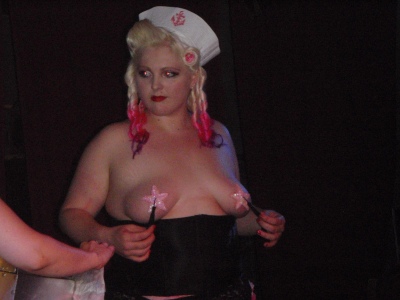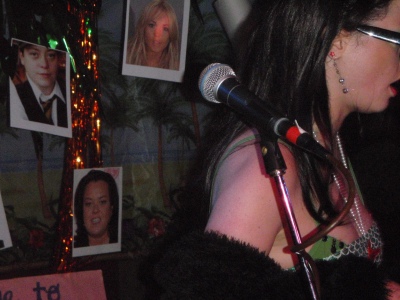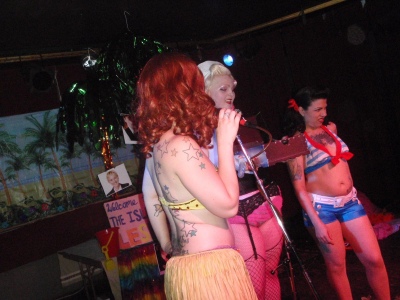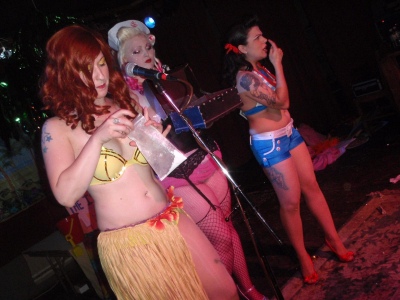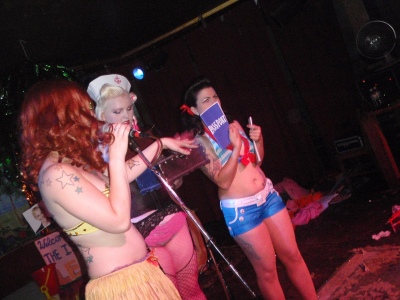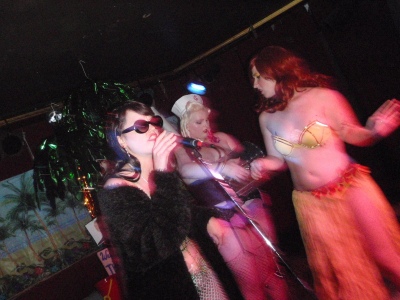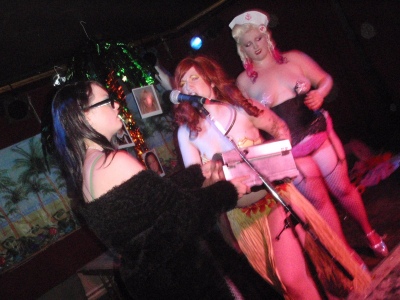 I think this about Where LL (not cool J joins the story)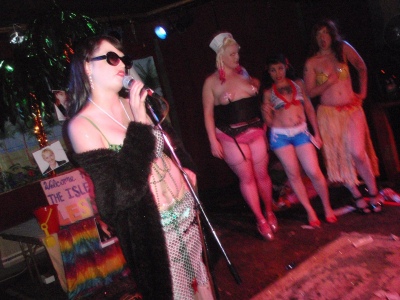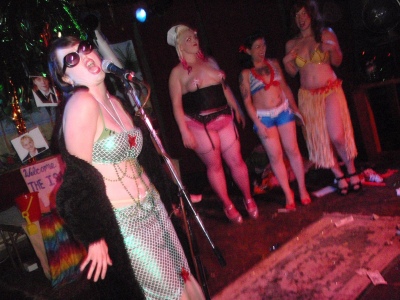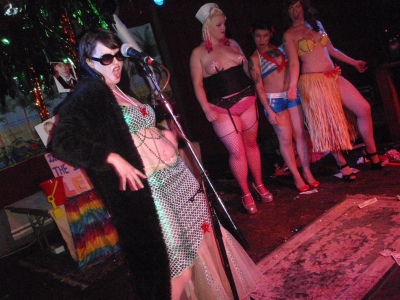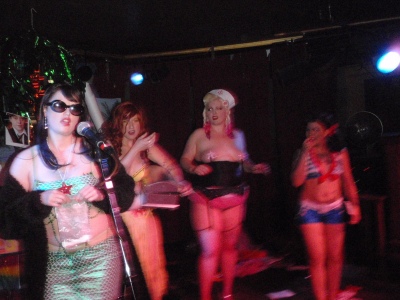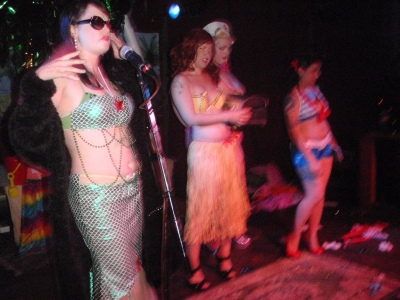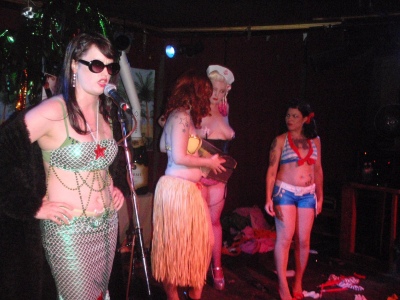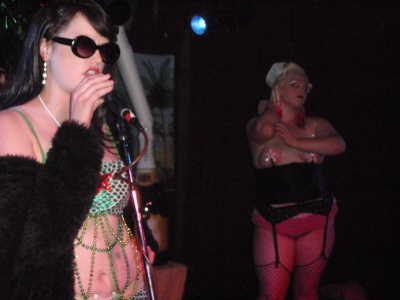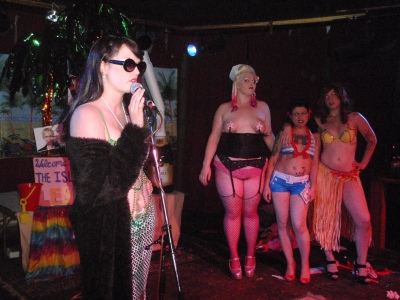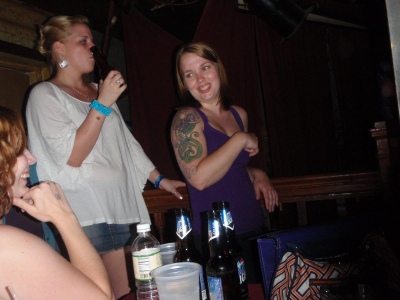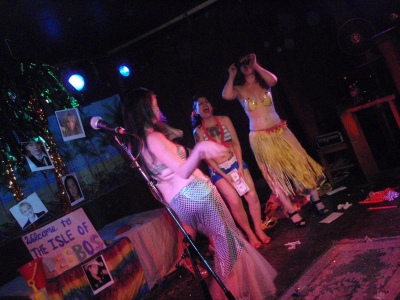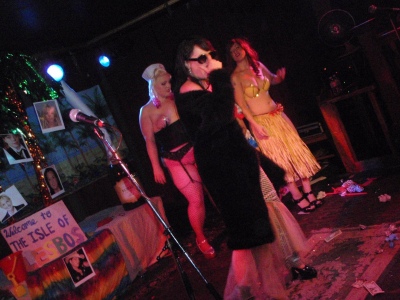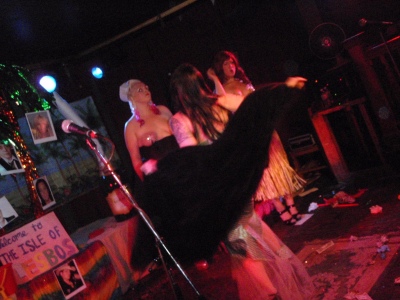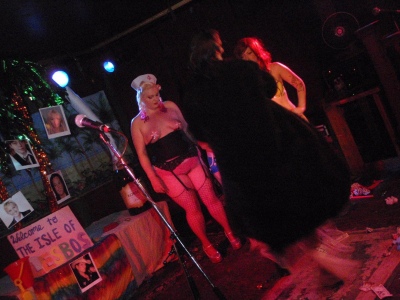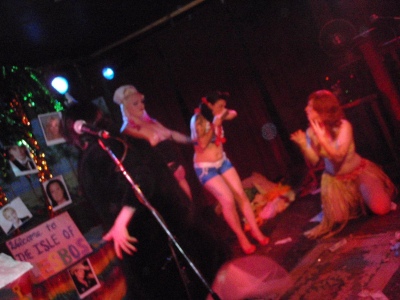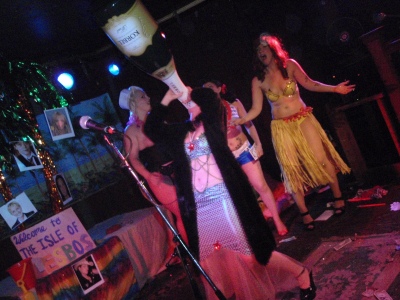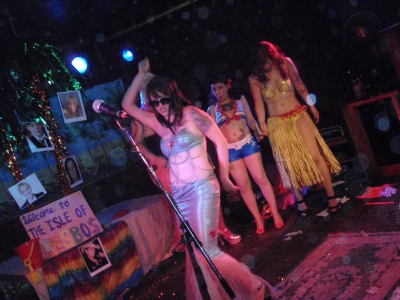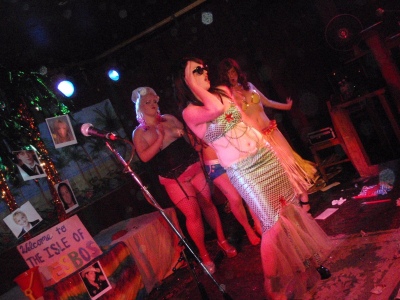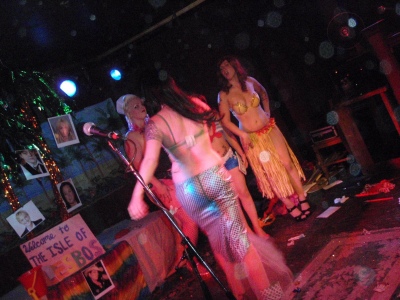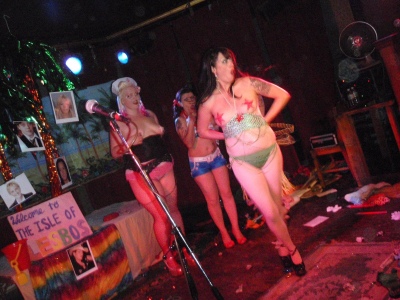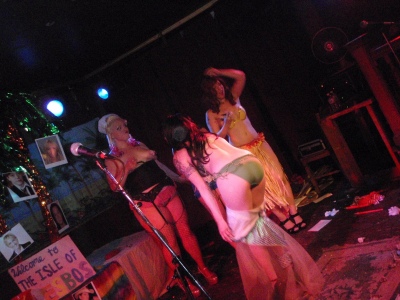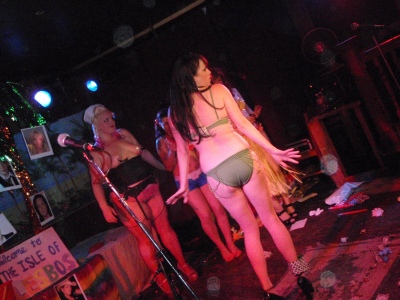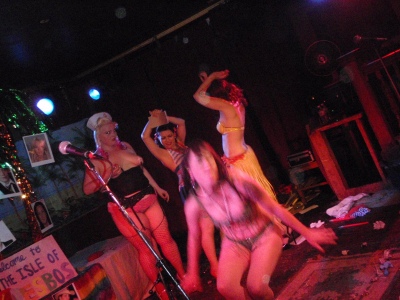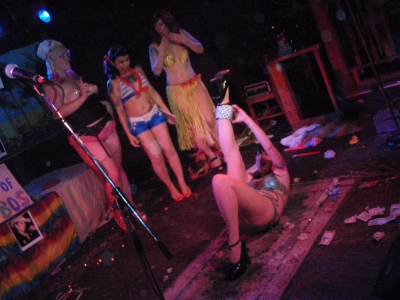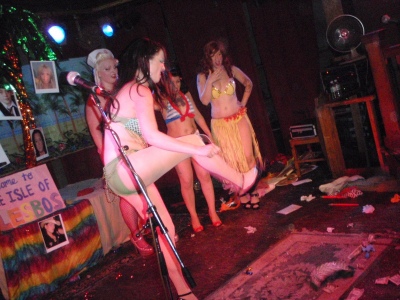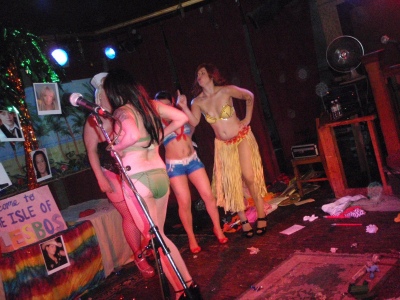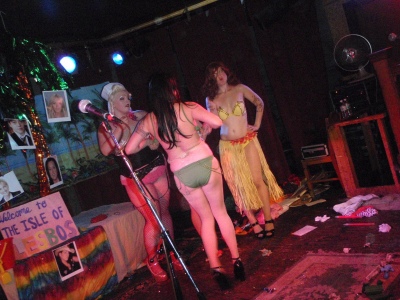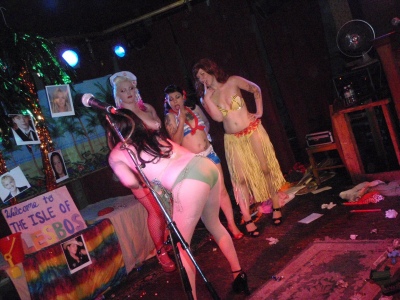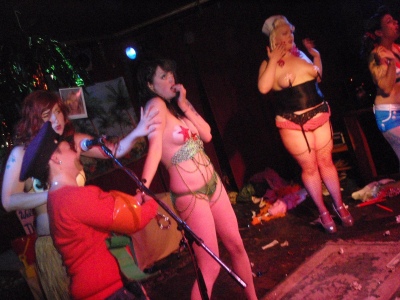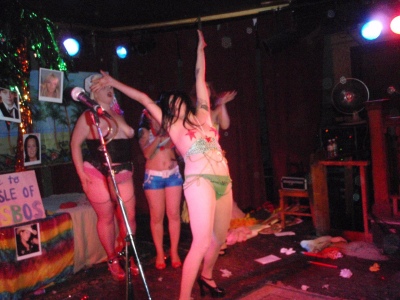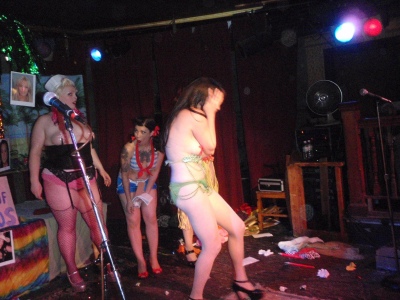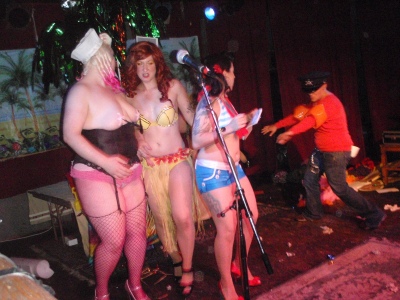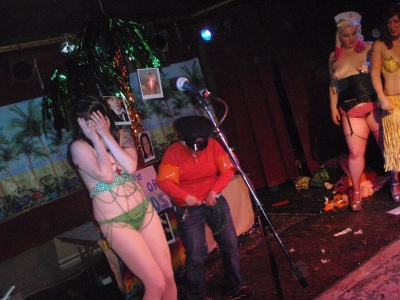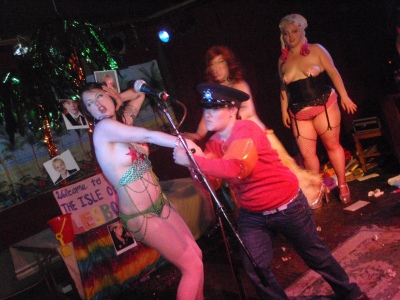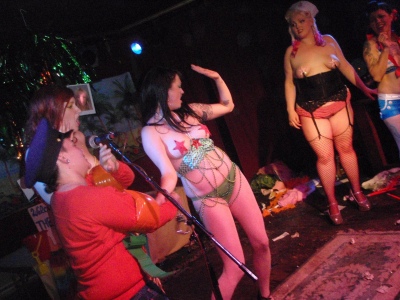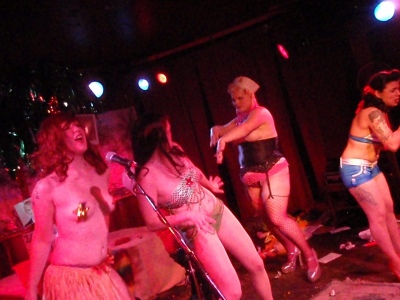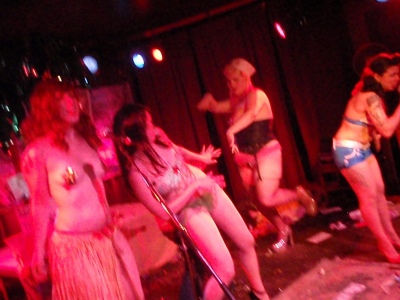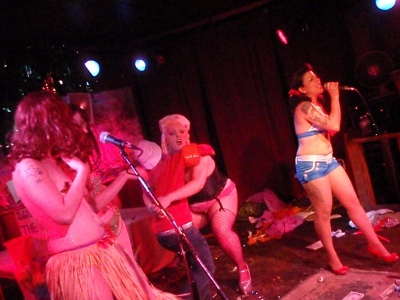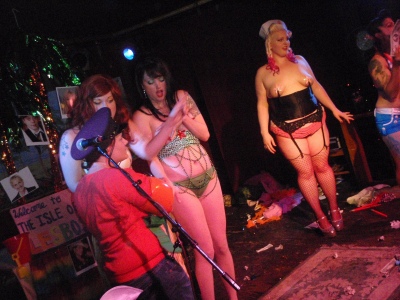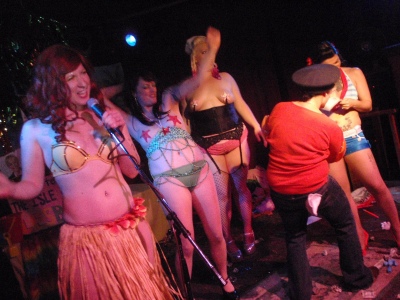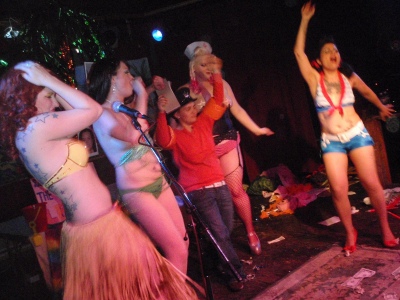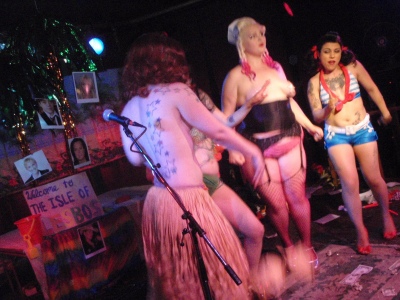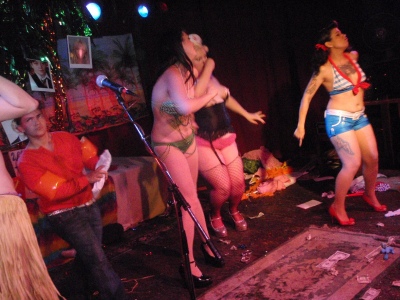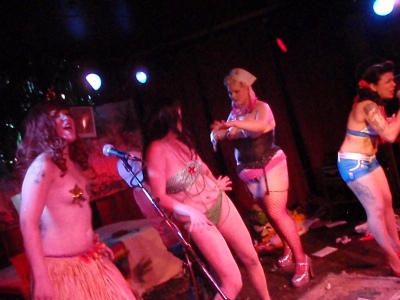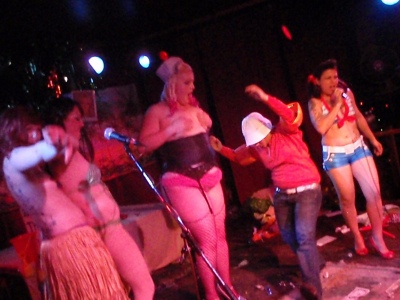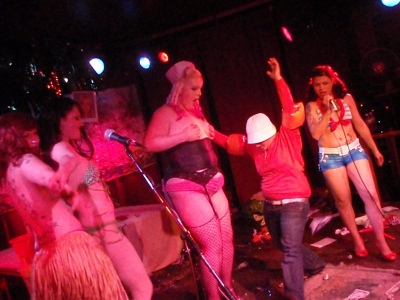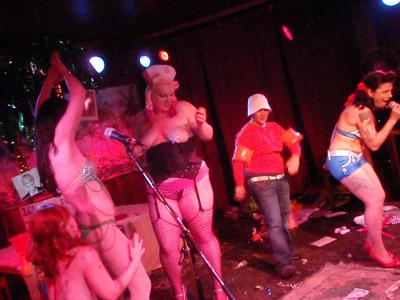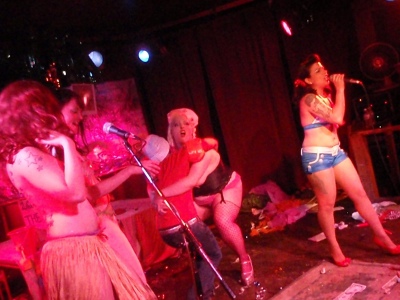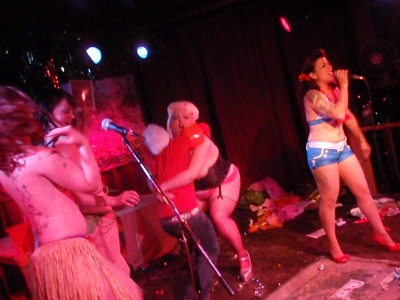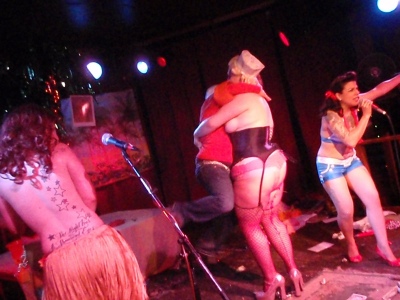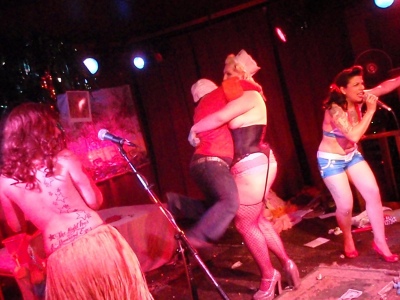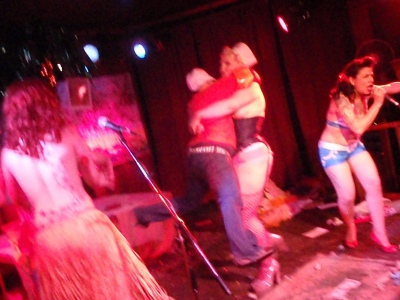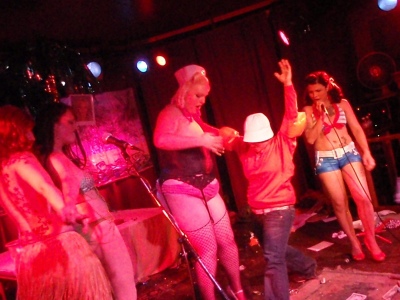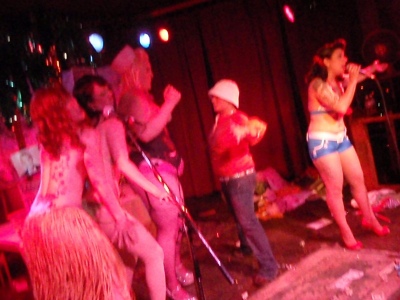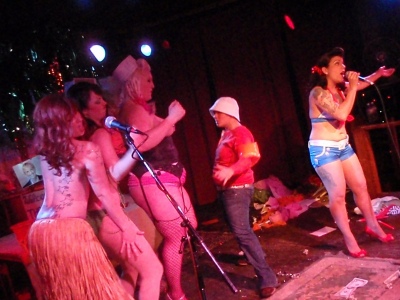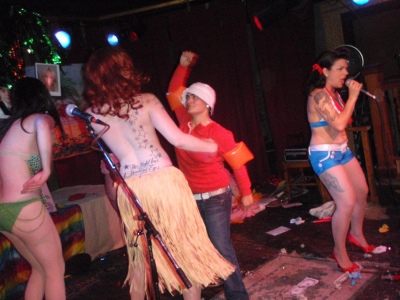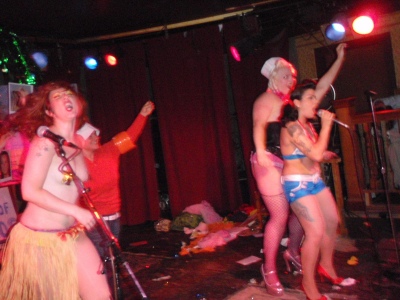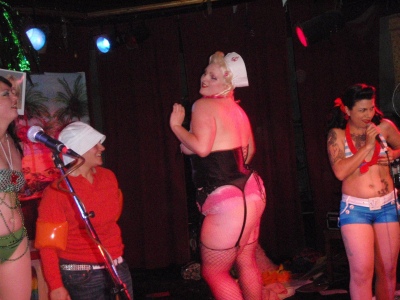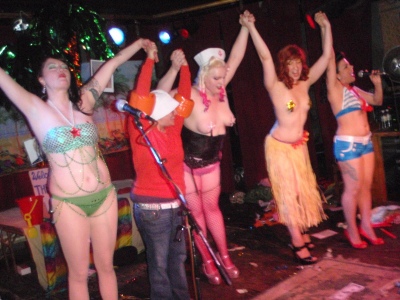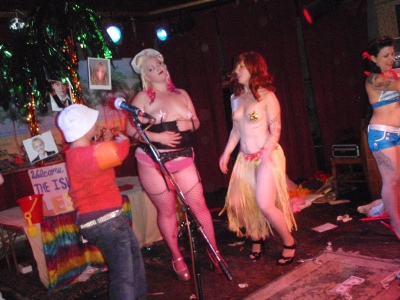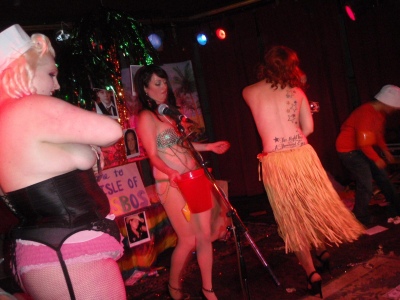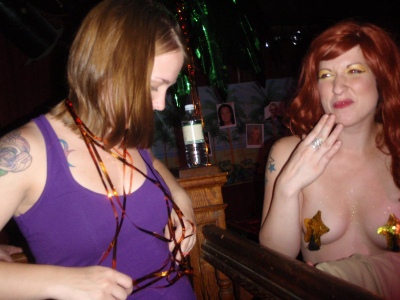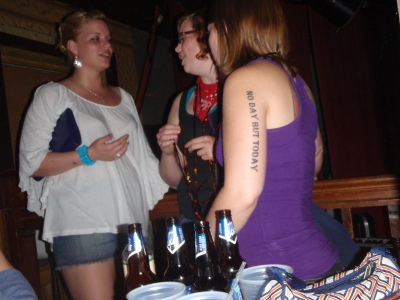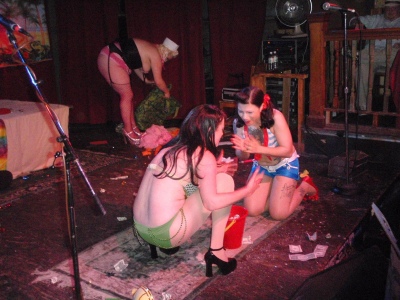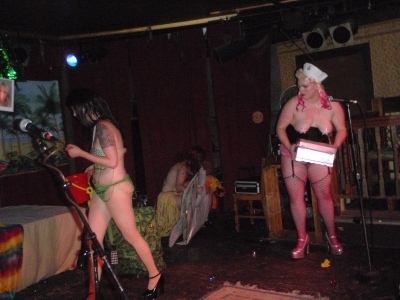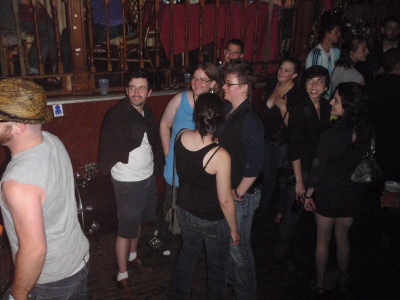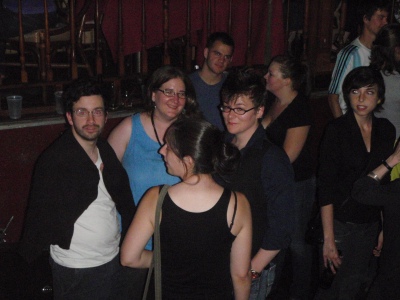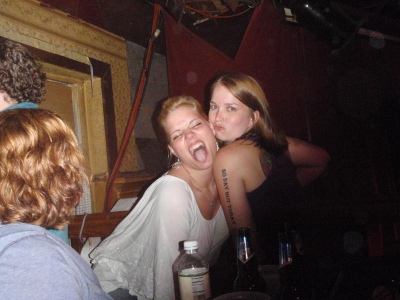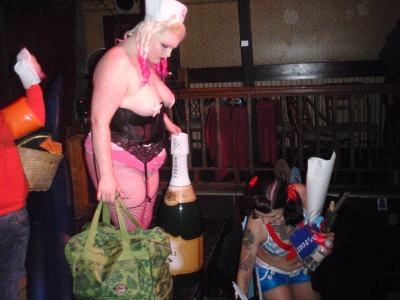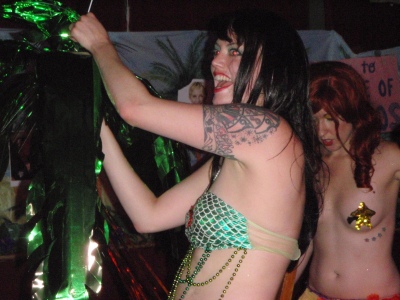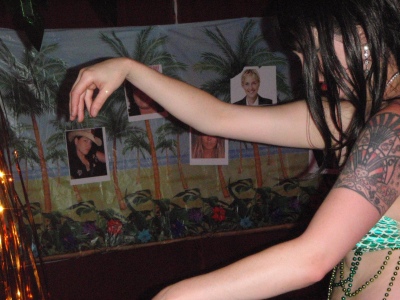 Again it was a great time the Stripteasers are all ways a great time. Hope you like the pictures.
Permalink: http://estrip.org/articles/read/metalpeter/51838/The_Stripteasers_Part_2.html
Words: 390
Location: Buffalo, NY
Category: photos
06/08/10 06:50 - 66ºF - ID#51828
The Stripteasers
So After Hanging with the girls for a bit and the bit of a mix up I headed down to get a good spot for the Stripteasers. There was a band that was very good before them and after them. But for now it will Just be Pictures Of around when the Stripteasers hit the stage.
Oh Before I forget I need to Mention that they are a Burlesque act. Yes there is a story and it is a great time, the photos aren't full nudes, again Burlesque not strippers. But if that isn't your thing or if that is something you shouldn't look at where you are on line then you may want to come back to this at a later time.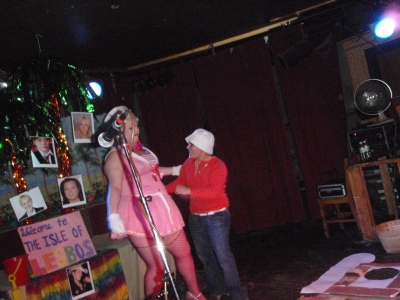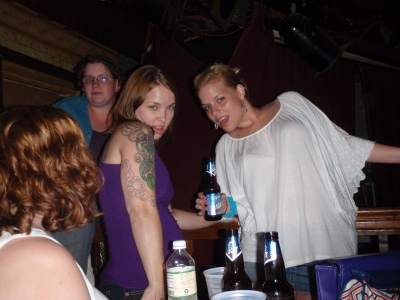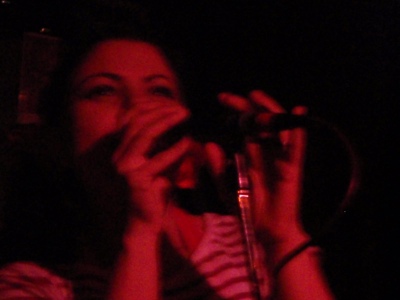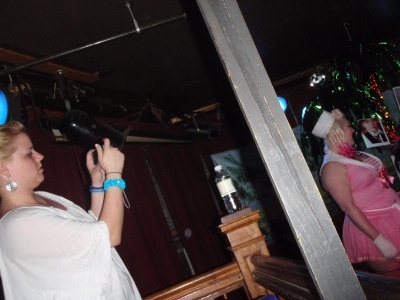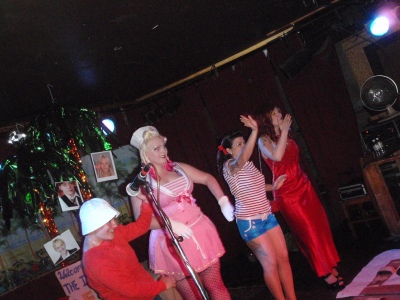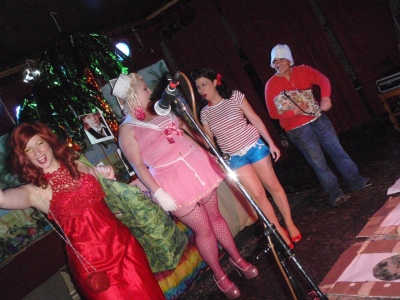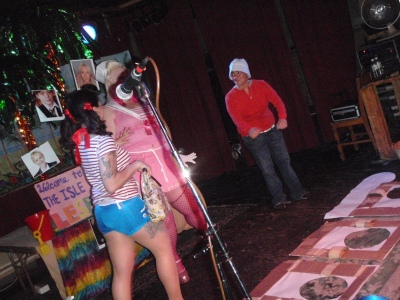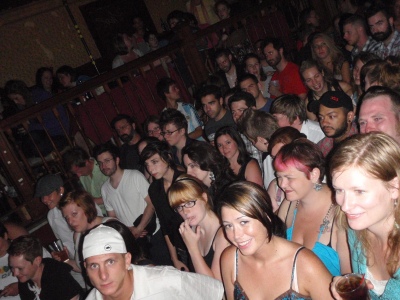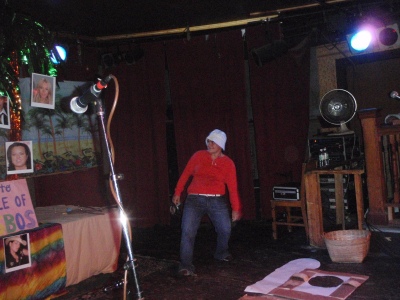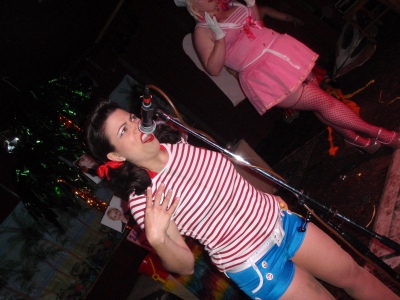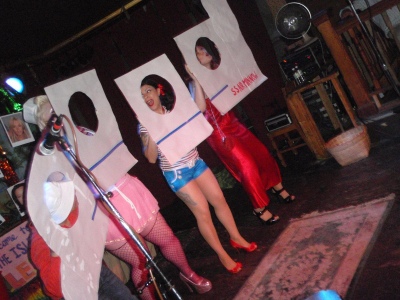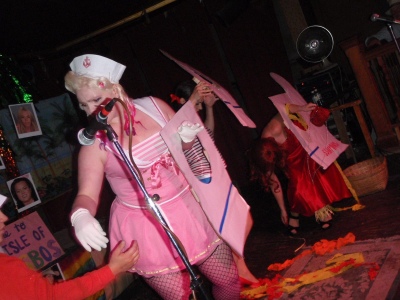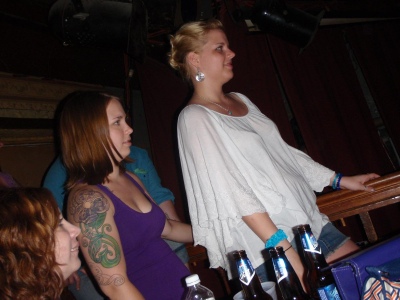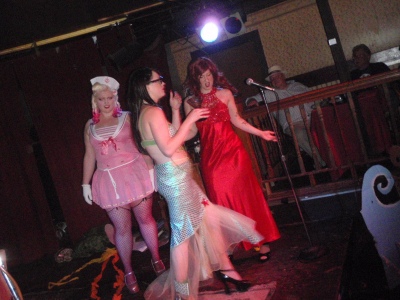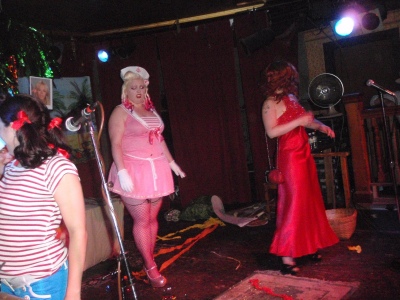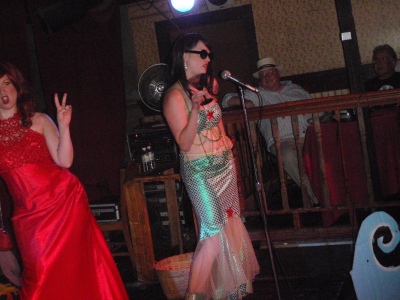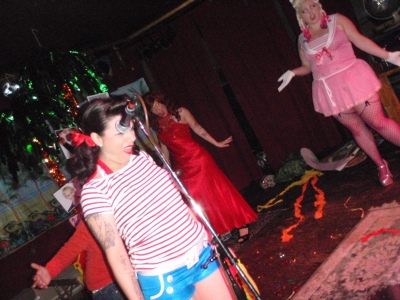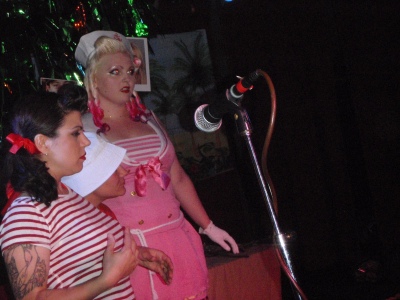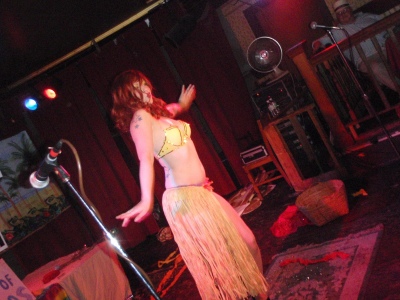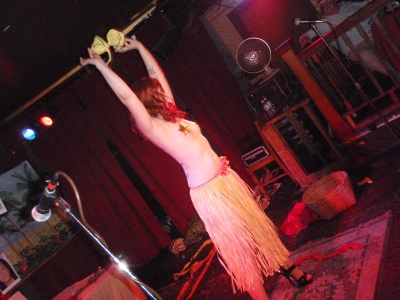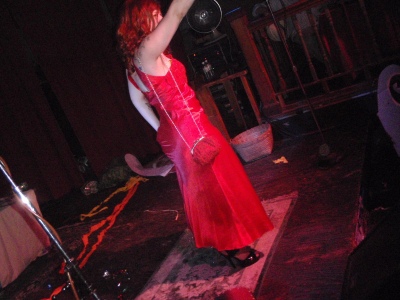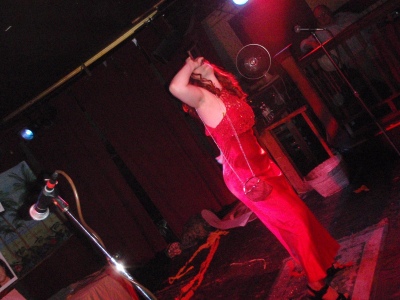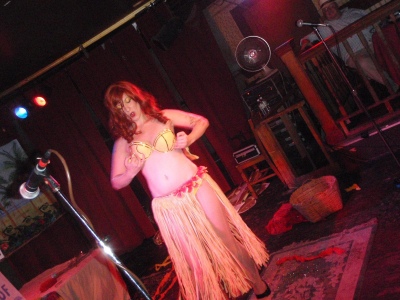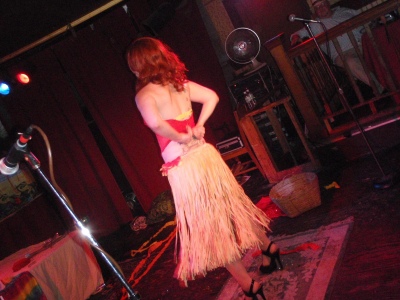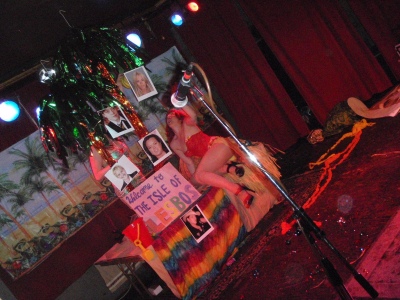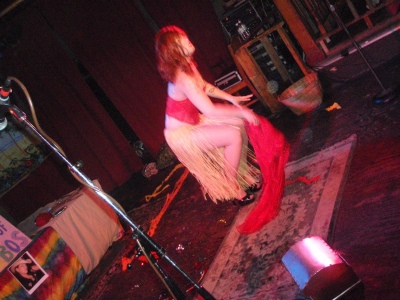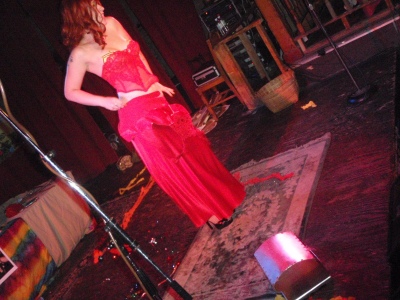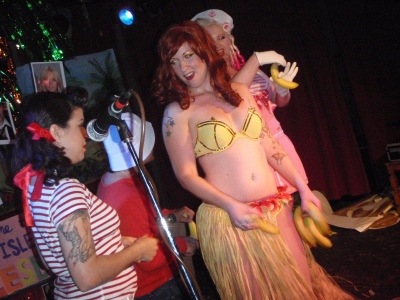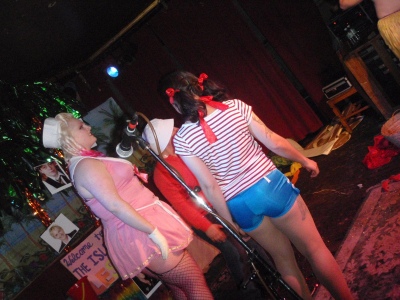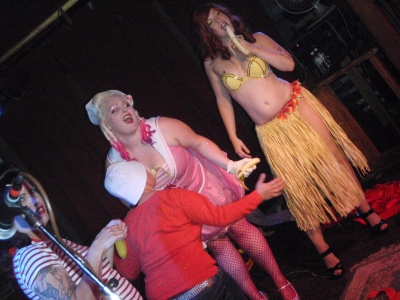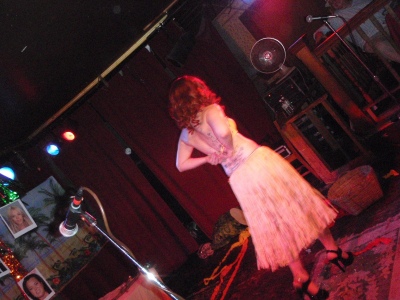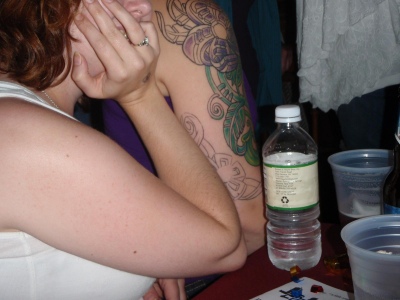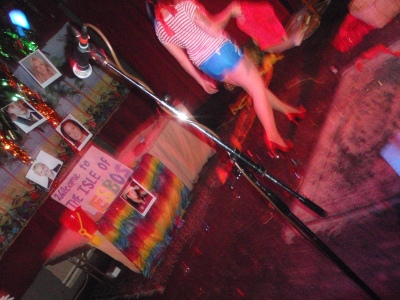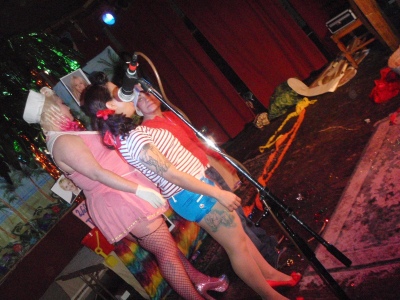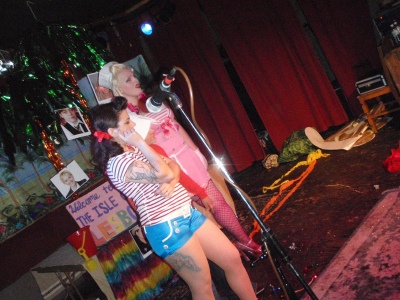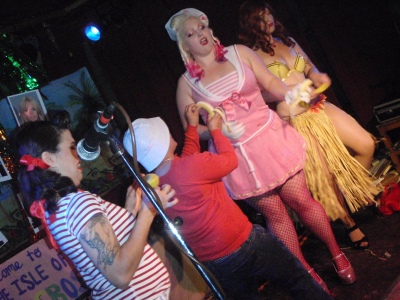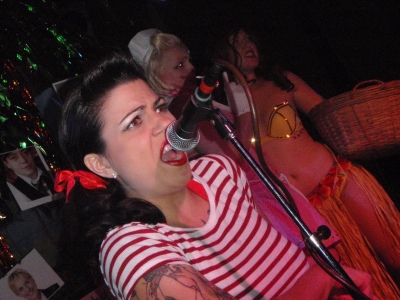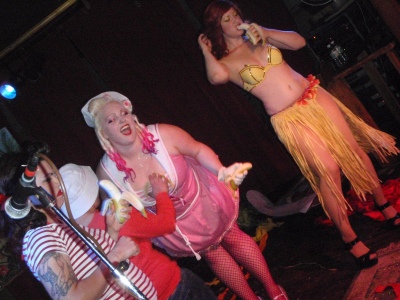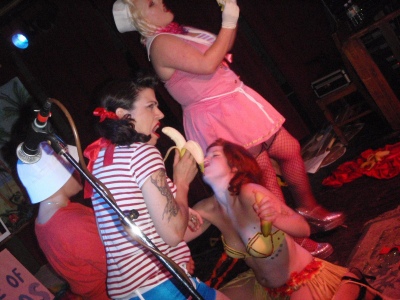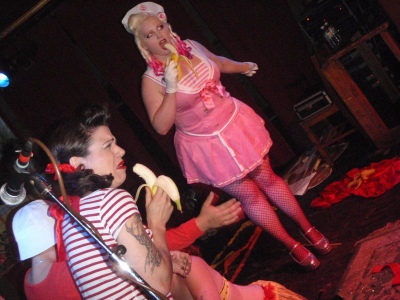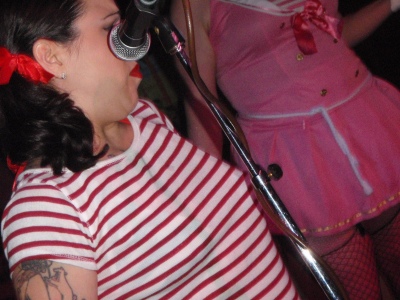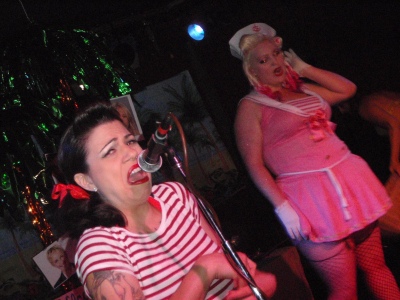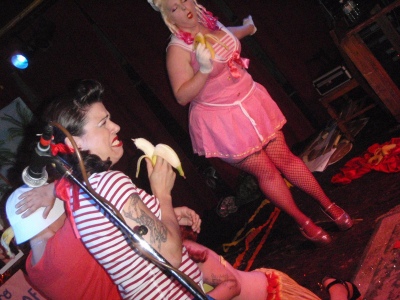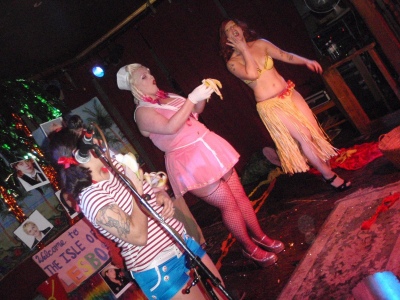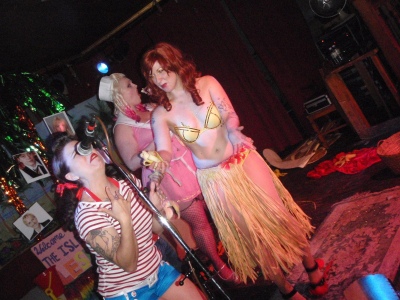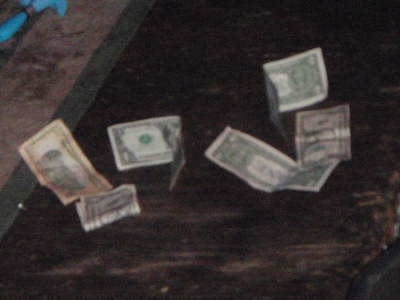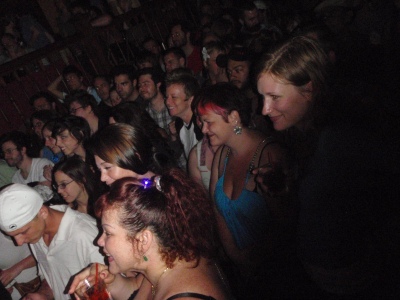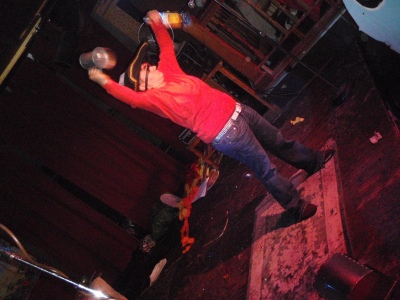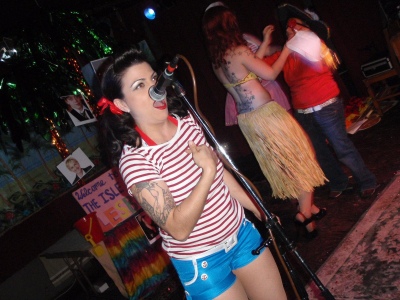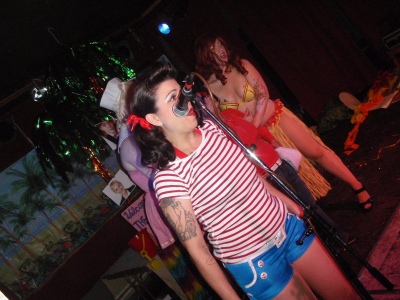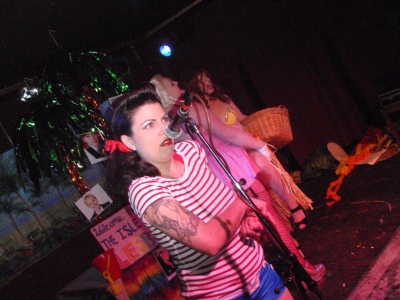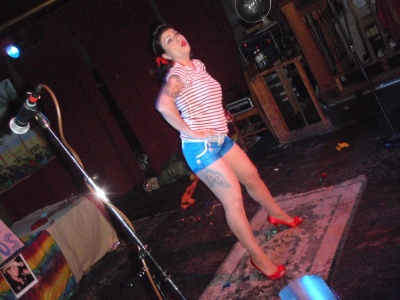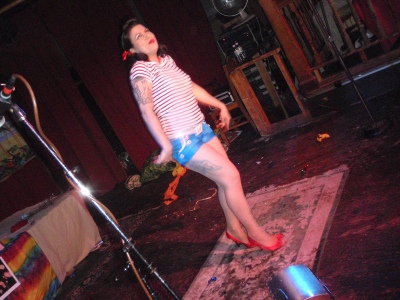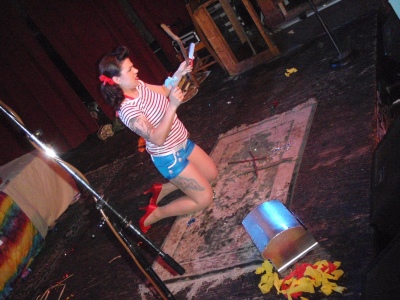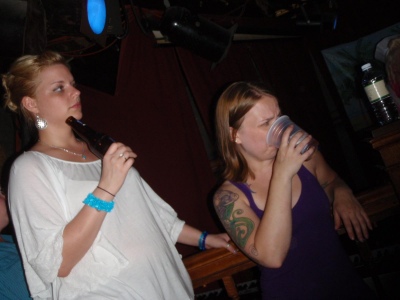 Permalink: http://estrip.org/articles/read/metalpeter/51828/The_Stripteasers.html
Words: 237
Location: Buffalo, NY
<-- Earlier Entries
Author Info
My Fav Posts
This user has zero favorite blogs selected ;(