Category: video games
12/01/08 07:11- ID#46899
the cake is a lie!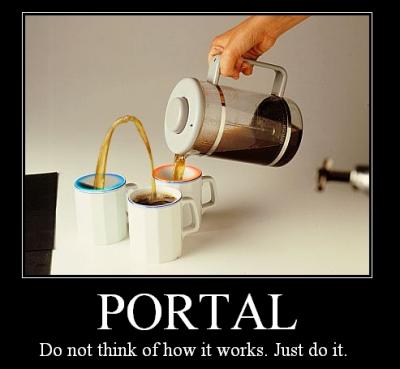 I just beat Portal. If you haven't heard of it, it's awesome. If you haven't played it, DO IT! I love puzzle games, and I love little robot voices - this is both, oh joy!
Check out my new user song!
This was a triumph.
I'm making a note here:
HUGE SUCCESS.
It's hard to overstate
my satisfaction.
Aperture Science
We do what we must
because we can.
For the good of all of us.
Except the ones who are dead.
But there's no sense crying
over every mistake.
You just keep on trying
till you run out of cake.
And the Science gets done.
And you make a neat gun.
For the people who are
still alive.
I'm not even angry.
I'm being so sincere right now.
Even though you broke my heart.
And killed me.
And tore me to pieces.
And threw every piece into a fire.
As they burned it hurt because
I was so happy for you!
Now these points of data
make a beautiful line.
And we're out of beta.
We're releasing on time.
So I'm GLaD. I got burned.
Think of all the things we learned
for the people who are
still alive.
Go ahead and leave me.
I think i prefer to stay inside.
maybe you'll find someone else
to help you.
maybe Black Mesa...
THAT WAS A JOKE, HA HA, FAT CHANCE.
Anyway this cake is great.
It's so delicious and moist
look at me still talking when there's science to do
when I look out there
it makes me glad I'm not you
I've experiments to run
there is research to be done
on the people who are
still alive.
and believe me I am still alive
I'm doing science and I'm still alive
I feel fantastic and I'm still alive
while you're dying I'll be still alive
and when you're dead I will be still alive
still alive
still alive
Permalink: http://estrip.org/articles/read/ladycroft/46899/the_cake_is_a_lie_.html
Words: 322
Category: video games
01/26/08 04:24- ID#43037
guitar hero 3
I bought guitar hero 3 the other day. I needed something new for my video gaming entertainment. It's SO much fun!!! There are 4 levels of difficulty: easy, medium, hard, expert. Easy is easy. Medium is tricky. Hard is almost fucking impossible. I haven't even bothered to look at expert yet.
You have to work your way through your career. You start off in a garage and get better gigs by playing well. Each level you have a face off with a celebrity. It has a great song list including 'The Metal' by Tenacious D!
So, my advice is, check it out, play hard, and be prepared when Croft returns to town!!!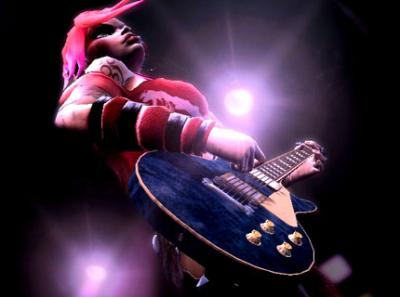 This is my character, are you surprised? Ha.
Permalink: http://estrip.org/articles/read/ladycroft/43037/guitar_hero_3.html
Words: 120
Category: video games
09/22/07 01:33- ID#41249
psychonauty!
Wow! The Psychonauts game has a rating of 12+. I'm wondering if that isn't too young for some of the comments in the game play. I was a little surprised by some comments here and there but overall it's not really a big deal. There is usually a load of inuendo built into these types of games (and movies) so it appeals to both kids and adults. But I have to say I was shocked when these lines came up!

"My husband may lose interest in me sexually but he will always love my apple pies."

"I have relied on the use of prescription medication to get me through the day for many years."

"When my husband drinks excessively I may threaten him with this rolling pin, though we stil love each other intensely."

"Look at that woman's breasts, they are huge."

Permalink: http://estrip.org/articles/read/ladycroft/41249/psychonauty_.html
Words: 141
Category: video games
09/21/07 03:39- ID#41239
psychonauts
I'm playing this game called Psychonauts. It's been pushing my giggle buttons all day. The whole premise is that you sneak into a summer camp for psychics and learn all these great mind tricks while trying to figure out who is stealing the campers' brains. You enter people's minds and collect figments of imagination and vacuum out cobwebs. My favorite part is that you also come across 'baggage' in which you need to find the tag so you can get rid of it. Brilliant! Of course there are more fun things you can do like learn the art of pyrokenisis and levitation. It's very entertaining.

I'm really starting to sift through my mind to locate baggage and try to find those tags, so I too can rid myself of them. It's a wonderful feeling. It made me feel like today was one of those last few days before Christmas. When the excitement is built up so high and most people are happier than usual, and maybe there is a layer of fluffy white snow falling gently in the night sky while you sip on your delicious caramel macchiato. Mmmm. To evoke a feeling like that, I think I mark today as a milestone in my mental restoration project.


Permalink: http://estrip.org/articles/read/ladycroft/41239/psychonauts.html
Words: 208
<-- Earlier Entries