Category: depressed
09/16/09 02:14- ID#49784
meep
Rory's dad isn't going to be able to make it to the wedding. I know he really wanted him there, and so did I. It makes me very sad.

More sad is the responses seem to be rolling in with the "NOs". Some people I expected not to be coming due to distance etc, others I was confident would be coming but turns out they're not :(

Then news of late has been completely tragic regarding 'almost marrieds'. The girl from Yale due to be married and gets murdered instead. Someone from work went to attend their cousin's wedding in Pakistan and the groom, his mom, brother and cousin all died in a car crash the night before. I swear if anything like that happened to me I would die of a broken heart.

Permalink: http://estrip.org/articles/read/ladycroft/49784/meep.html
Words: 133
Category: depressed
06/10/07 03:27- ID#39597
money, money, money
Must be funny. In a rich man's world.

I knew there was a lengthy process involved in getting my visa to work in Qatar. I didn't know it was going to cost me around $300 to do it. I don't have $300. I also didn't know I had to get a physical with a major work-up in addition. Physical, plus chest x-rays, tb test, urinalysis, blood work to test several functions, something to do with viruses and I forget the last thing.

Fuck knows how much that's going to cost. I don't have any insurance. I'm pretty sure a plain old physical would cost around $100, but that doesn't count all those other bells and whistles. Great.

I also have to pay the air freight costs up front and get reimbursed. Right, no money for that either. So looks like, unless I go rob the A-Plus, I'll be traveling over with only what I can fit in 2 pieces of luggage and a carry-on. Snap.

I've been having more bad dreams, lots of anxiety, more depressed days than happy days...and I have to babysit another 3 weeks. It's not how I wanted to spend my last month in Buffalo. But even if we get what we want it's not what we need.

Permalink: http://estrip.org/articles/read/ladycroft/39597/money_money_money.html
Words: 208
Category: depressed
04/18/07 05:57- ID#38946
yah
this is turning out to be a no good very bad day

Permalink: http://estrip.org/articles/read/ladycroft/38946/yah.html
Words: 12
Category: depressed
02/22/07 08:04- ID#38249
120 hours
I'm back from Boston but I'll talk about it in a later post. There is something more pressing on my mind right now. The 'promotion' I got has bit me in the ass.

I was under the persuasion that I was taking on these responsibilities and would be compensated. Today I find out that instead of being paid the 2 grand, this job has been turned into a 3rd internship for me. I don't get paid and I have to complete an additional 120 hours. This means I'm going to be working full-time to the end of the semester and not getting one extra dime.

To say I'm disappointed is an understatement. I feel like I've just been given a prison sentence for a crime I didn't commit. I guess there is a reason I identify with La Femme Nikita.

Fuck me.

Permalink: http://estrip.org/articles/read/ladycroft/38249/120_hours.html
Words: 140
Category: depressed
10/11/06 04:45- ID#25448
Nil ann ach an marbh: updated
I feel like I'm in a dream where I am in a car. I am the passenger and also the driver. I see many obstacles in the road ahead of me but I have no control. I cannot direct the wheels to avoid colliding with objects. I yell but I cannot wake the self that is driving. Lost in time I will step into the darkness once more. There in the comfort of my night, the world cannot see me. It is the only place I truly feel safe.

Ta mo chroise go bron
Oiche' s me liom fein
Speartha dubh go domhain, a choich
Uaigneas mor, go deo, a choich
Taim bronach, buartha' s briste
Nil ann ach an marbh.

It is Gaelic, from an Enya song.
Translation:

My heart is grieving
Night and I am alone
Endless deep black skies
Great loneliness, forever, and ever
I am sad, sorrowful, and broken
Nothing is left except the dead.



Permalink: http://estrip.org/articles/read/ladycroft/25448/Nil_ann_ach_an_marbh_updated.html
Words: 159
Category: depressed
09/05/06 05:00- ID#25443
15 things
Why you haven't seen me much on estrip in the last month:

1.I've been working 10-14 hour days
2.I've been babysitting my nephew, who has colic, every weekend because my sister has been very ill.
3.I get no sleep on the weekends.
4.I get little sleep during the week because our landlord has been remodeling his apartment all hours of the day and night.
5.I miss my Gramma horribly and am still grieving her death.
6.My other grandmother, aka Mamaw, had a heart attack and is in the ICU with neuphmonia.
7.I'm still battling my personal demons, aka depression.

Things I'd like to say:

1.I apologize to anyone who's feelings I hurt.
2.Sincerely, Happy Belated Birthday to Terry & Mike.
3.Happy Belated Birthday to Jen, I forgot your card too.
4.Thank you Ryan for the huge cake.
5.Thank you for coming PMT, Mike and Carey.
6.Some people refer to drama in my cohort as 'so high school'. I'd like to downgrade that to 'middle school'. That's what it is. There's so much bullshit flying around down we could fertilize a small African country.
7.I accidentally deleted some voicemails before I heard them, sorry if I never called you back.
8.I'm losing my mind. Desperately trying to hold my soul together without slitting my wrists (figuratively speaking, I'm not really into harming myself).




Permalink: http://estrip.org/articles/read/ladycroft/25443/15_things.html
Words: 222
Category: depressed
02/18/06 04:24- ID#25344
the black fact is, i was thinking of you
I've been feeling pretty blah shitty blah for a few days now. I feel like the chick that is always out in the lead on the snowboarding cross - setting the bar, clearing the path, doing all the work..... but I wipe out at the last minute only to be passed up by some other. It's a raw deal; one I find to be quite an unsatisfactory situation.
I had a great time tubing and I thought perhaps I was on the upside of this particular valley, but not so much. It appears it was only an illusion, a small hump in the valley floor. So I went and chilled with
(e:Jenks)
for a while. Thanks girl.
I came home to this little poem from my friend Jen which made me smile.
Are we friends, or are we not?
You told me once, but I forgot
Tell me now, and tell me true
So I can say, I'm here for you.
Of all the friends I've ever met
You're the one I won't forget
And if I die before you do
I'll go to heaven, and wait for you
I'll give the angels, back their wings
And risk the loss, of everything.
Just to prove my friendship is true
To have a friend, a friend like you
I still have a ways to go on this journey but the black fact is, all day I was thinking of you.
Permalink: http://estrip.org/articles/read/ladycroft/25344/the_black_fact_is_i_was_thinking_of_you.html
Words: 240
Category: depressed
12/19/05 01:13- ID#25292
blah
Permalink: http://estrip.org/articles/read/ladycroft/25292/blah.html
Words: 1
Category: depressed
11/05/05 01:02- ID#25250
lemons, lemons, lemons
So, my joy in only spending $200 to fix my car was short lived. Yep, you guessed it, Aqua Mouse won't start. One start to get it home and now it's dead in the parking lot. I could cry. I could scream. But I remember reading a quote by
(e:Jason)
, that when life hands you lemons say, "Hey, WTF is this" and throw them at people!!! Yah, I think I'll skip the crying, skip the screaming and just go straight into throwing. If you see a woman skillfully beaning people in the head with lemons, seek shelter.
Permalink: http://estrip.org/articles/read/ladycroft/25250/lemons_lemons_lemons.html
Words: 100
Category: depressed
10/28/05 02:30- ID#25246
of spray paint and pumpkins
Last night my friend came over to fix my car. He checked everything out, tested with his little reader thingy, and came to the conclusion that it must just be the battery. Granted, it still overheats and whatever, but at this point I'm just concerned with it running. So, he drives me out to the store where I drop $70 for a new battery. He gets it hooked up, we switch out a light bulb on my right blinker…it starts. Hurray. Today I got myself to the bank and got some spray paint for my costume. I thought things were kosher. I arrange to meet
(e:Leetee)
and
(e:Uncutsaniflush)
at their house for dinner. I thought I would just check out Party City near the Galleria Mall, because I'm searching for a motorcycle type helmet and someone said they saw some at that location. I go; I bob and weave my way through the ridiculous mob, no helmet. I'm bummed. I have to have a helmet, a red one. I can paint it red, but I need a helmet, with a face shield, or my outfit will be all wrong! Anyhow, I'm bummed. I get back out to my car, it won't start. The battery is dead, dead to the core. I'm already so stressed out that all I could do was cry. I'm just depressed about so many things; this was the last thing I needed at this moment in time. I took a picture because, in some way, there is a certain beauty that is found in sadness. Maybe you think I'm wack for saying that, but I think it's true.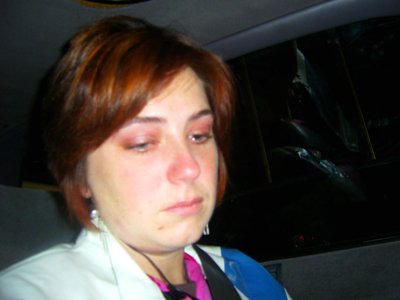 Thankfully Lee and Walt were nice enough to pick me up and take me back to their place where I dined on a most delicious homemade soup. Then
(e:Leetee)
and I went up into my favorite attic space and sprayed away at my 'armor'.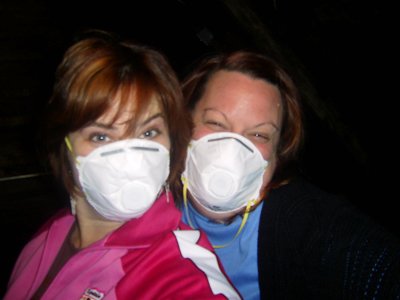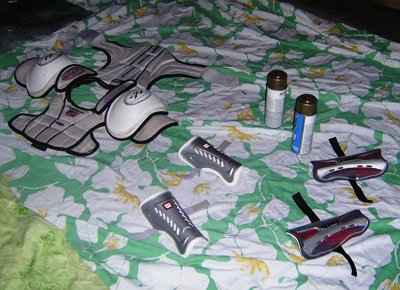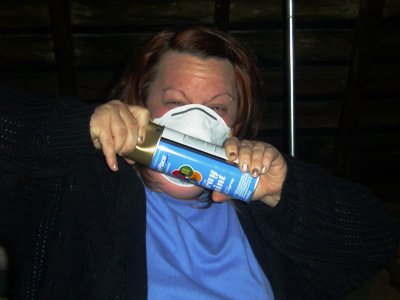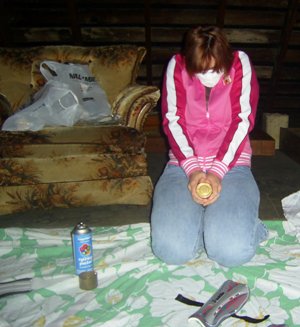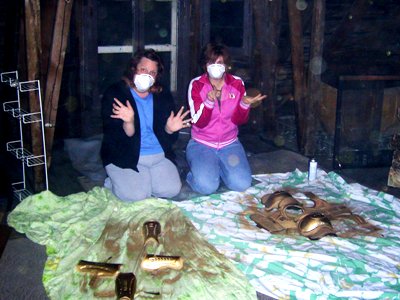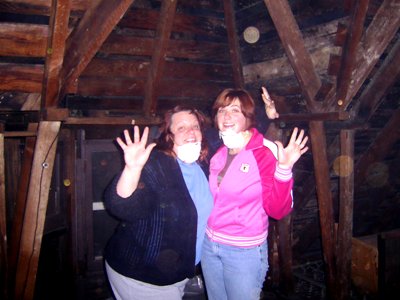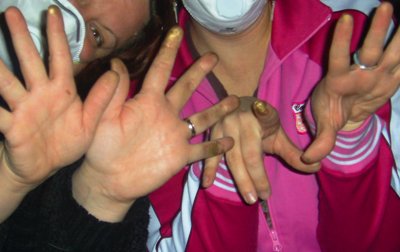 Lastly, we carved some pumpkins, and save the seeds for roasting.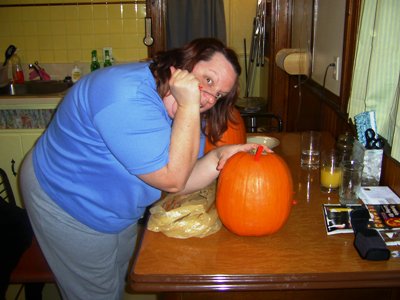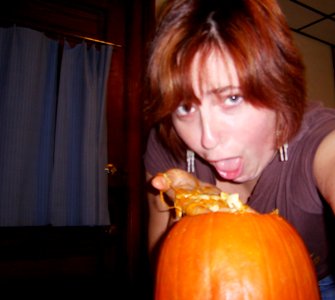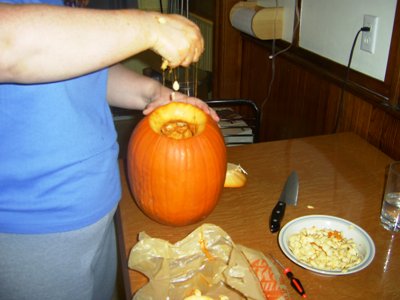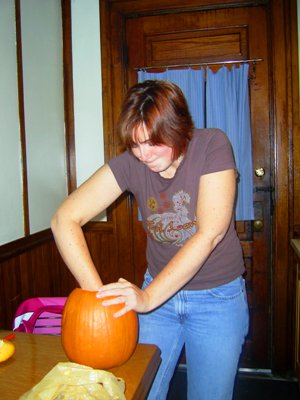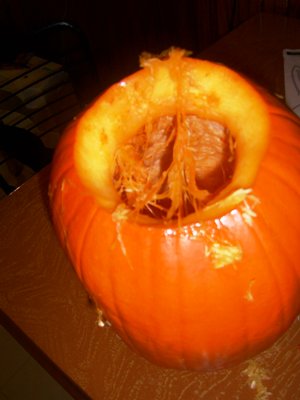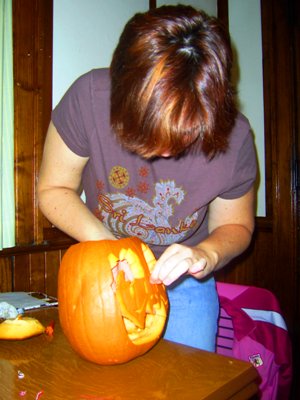 My car is still sitting in the parking lot outside Party City. Maybe not, maybe it got towed to impound. I don't know. Thanks for the talk
(e:Leetee)
. Nite ya'll.
Permalink: http://estrip.org/articles/read/ladycroft/25246/of_spray_paint_and_pumpkins.html
Words: 401
<-- Earlier Entries